How it usually works in classical music: You (a soloist or member of an ensemble) don't have direct contact with the people who come to hear you. The groups that present you find your audience.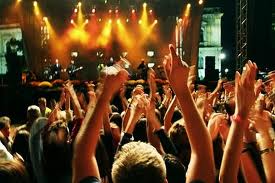 How it should be: You find — and build — your audience yourself. Or play a big part in doing that. Then you'll have an audience that's really your audience — fans who'll reliably come to your concerts, donate money, and buy your recordings. Msybe they'll even finance your recordings before you go into the studio.
And once you have fans like that, they'll help you enlarge your audience, by getting their friends involved.
This is the second post about this month's theme — classical musicians going out into the marketplace, and building their own audience.
So how do you do these things?
You start with what you already have. Friends, family, colleagues, your online networks. These people — no matter how few there might be — are the start of your fan base. You'll need to keep in touch with them, contact them often (weekly?) with news, music to listen to, tidbits, photos, stories about yourself (including personal stories), and links to your blog posts. And more. Anything that comes from the core of who you are, and keeps your people interested.
Don't just be serious. Have fun keeping in touch!
Give your people ways to participate, too. Let them remix your music, comment on it, send photos of themselves (you could feature a fan of the week), send graphics and text to use on your website, on CD covers, in your press releases, whatever. And that's just a start. How you do all this is a long story, something to continue in future posts, and also — for anyone who'd like to work with me directly — by phone, Skype, or email.
Let me know how you've done this, and I'll put it in the blog. .
And of course you don't ignore the audience that your presenters get. But you'll need to know who they are. Get their names and email addresses, however you can, from the presenter, and from the audience itself, right at your concerts. Talk to the people who come to hear you. Ask them to sing up for your newsletter, to friend you on Facebook, to follow you on Twitter. And then stay in touch.
This is a lot of work. I won't deny that. But it pays off. You'll have your fans, and — if they're really your fans —  they'll follow you anywhere. And tell their own friends, family, colleagues, and online networks about you.
Something to think about. Classical musicians, ensembles, composers, orchestras, opera companies — we have audiences. A nice, anonymous word. But out in the pop world, bands have fans. Who take a much more active interest in the music they love than our audiences do.

We should be like the bands.