And so — resuming my October theme, of building our own audience — how, exactly, can we do it?
(Well, it's November. But of course my schedule was upended by our lovely baby: here and here.] 
Let me start with some optimism. If you have any audience at all, you can make it bigger. If you believe in yourself, that is, and (of course) if other people want to hear your music. But don't assume they won't! You never know how big an audience you can have until you try to build one. And if you don't believe that anyone wants to hear you, why are you playing music, singing, composing  presenting performances! Even if what you do appeals to just a few people, you can find a few more. And inflame their passion for what you do.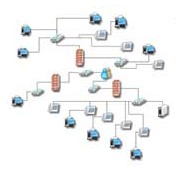 So if you're a student, and four friends come to your recital, along with your teacher and your family, maybe you can get eight friends to come. Or get your friends to bring their friends
If you're a composer, and you've sold 20 copies of your last CD (or 20 downloads), why can't you sell 35?
But let's aim higher! Why can't at least a few Juilliard students find fans all over New York, so they can sell recordings, and get 200 people showing up when they give concerts? (George Nickson, who took my Classical Music in an Age of Pop course at Juilliard last spring, told me he got 400 people at his recital the year before, when he was in Boston, graduating from NEC.)
Why shouldn't the young musicians in the Academy — Juilliard's project with Carnegie Hall — have eager fans their own age, showing up when they give concerts?
And why shouldn't at least a few alt-classical musicians — Maya Beiser, say — sell 10,000, 20,000, or even 50,000 copies of their tremendously appealing albums, crossing over from the art market (very limited) into the pop arena, without changing anything they do? (Bands that don't sound all that different from these people are, I'm sure, already selling in those numbers.)
Crazy thinking? No. To me it's crazy not to think this way.
So how do you start? More on that in posts to come. What you need to do depends on what your goals are. But there's one thing that everyone should do. Look at who your fans are now, and find ways to bind them to you very tightly, and to increase their number.
[George Nickson, by the way, invited some bands to share the bill with him. And played with them. So you might think it was easy for him to fill the hall. The bands had fans of their own. Which is true, but he also promoted extensively. And he had to devise a program that would be coherent — not, for instance, some music by the bands, and then, unrelated, some classical pieces. I've seen that done, and it's not convincing. Especially if you want to get some of the bands' fans to come to your future events!
[Which then is another key point about blended classical-pop programming. For a classical musician, that might just be a first step. You might later want to do fully classical concerts, but draw in some of the pop fans that came to your blended event. Which might not be easy. And which tells us that blended pop-classical programming isn't the simple no-brainer some people might think it is.]