I hope this post gets some reaction. It's an important challenge — or at least I think so — to something many people in classical music deeply believe.
We take for granted, in the classical music world, that we need to do outreach. That we need to go into schools and communities, and bring classical music to those who don't normally hear it. We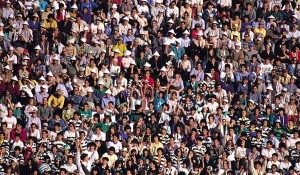 also take for granted that we need to do education, that we need to educate the rest of the world about our beloved art.
I won't say these things are bad. And they're certainly fundable. You may think I'm cynical, saying this, but I'm only being realistic. I've worked for a funding agency, talked for decades to funders, and served on funding panels, most recently last month. Funders always look to see what classical music groups — including the biggest — are doing to reach people outside their normal audience, and we nod with approval when we see programs in (just for instance) minority areas. These can be specially crucial to government funders, because the funding comes for tax dollars, and won't be readily granted if classical music is seen as something that only reaches upscale, elderly white people.
I'm not saying that all this is bad. Classical music in fact has a cultural problem, as a largely white art, with a shrinking audience, and around it (in the US) an emerging non-white majority. And classical music groups do need to build ties to everyone in their communities.
But (in my view) here's something crucial that's missing. We don't do much to reach what I'd think is our most natural audience — people just like us, who don't listen to classical music. Take music students. Many schools (maybe most, maybe all) have programs that teach them how to do outreach and education. Few schools (if any) have programs to teach them to reach an audience their own age. Just about all of them — this certainly is true of nearly every student I've ever taught — have friends who don't listen to classical music. These friends, culturally speaking, are just like the students. They watch the same movies, hear the same bands. But they don't listen to classical music, which in some cases (or, maybe, realistically, many) means they don't even go to the students' own concerts. Concerts their friends give.
So shouldn't we fix this? Go back a generation or two, and classical music had an audience no older than the population at large. If you graduated from music school, and joined your town's orchestra, the audience at your concerts would include many people your own age.
That's no longer true, and it's one of the biggest reasons the classical audience has, over many years, been shrinking.
So why isn't it our top priority to fix that? Why are we doing social service instead? Why are we educating people, when instead we should be inflaming them, turning them on, making them as excited about classical music as we are?
I'll suggest some answers — not happy ones, I fear — in my next post.
And I hope it's clear that I'm not against social service. Or education. I just think it's painfully odd that we stress these things more than building our most natural, and most needed audience. Isn't it clear that, if our audience was bigger, our community reach would be, too, and our chance for community service so very much greater?
This continues my October focus on commerce — on how and why classical musicians should find and build their own audience.