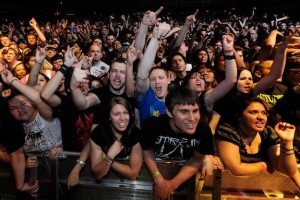 On Twitter I got a passionate objection to my previous post, in which I said that outreach and education — as a focus for all of us in classical music — should be replaced by a direct and passionate search for a larger, younger audience.
The objection, from a terrific musician in the alt-classical world, was that by going into schools, and otherwise reaching younger people,
we can show that being passionate about something, anything really – can change your life. It's about setting an example of passion-driven learning and hard work – and that could be done through arts, sports, anything.
I'd love him to post this (and more) here as a comment. And how wonderfully his passion is burned into his words.
So i think it's important to say that I'm not against outreach. But when students at music schools are encouraged to go into schools and minority communities, while nothing is said or done about reaching an audience of people like them — their own age, their own demographic — then something is wrong.
Why? Because we need that audience. We used to have it. Up through the 1960s, the audience for classical music was no older than the population at large. In one study, done in 1955, a major orchestra found that half is audience was under 35. (See my blog sidebar on the age of the audience for details.)
When our audience started to age, it started to shrink. We need to rebuild it, and one way to start is for young classical musicians to market themselves to people their own age — people who in so many ways are just like them (and are their friends), the only difference being that the people we need to market to don't yet listen to classical music.
If we don't do this, classical music may well die, because its audience will disappear. No amount of outreach or education can fix that. And if we want to do outreach to instill the values and passion the musician on Twitter so eloquently wrote about, then even more do we need to build up our audience. The bigger our audience, the bigger an impact we'll have on the world at large, and the better we'll be positioned to do whatever work with kids seems most important to us.
And the same is true about reach minorities. If we found a young, excited new audience — and it was as multiethnic as the audience for hit TV shows — then we'd have changed the complexion (pun intended) of classical music more than we ever will by going into minority schools. And, again, if we do want to go into minority schools (and we should), we'll be far better positioned to do that.
So why aren't we doing this? Why aren't we finding ways to reach the audience of people just like us, who don't happen to listen to classical music? (And it's not just people in their 20s we need to reach. I know people in their 40s, classical music professionals, who say that no one they know of their own age is going to classical concerts.)
The most basic reason, I think, is quite simple. We don't believe we can do it. We don't believe these people can be reached. We think the classical audience will always be what we see now — older people, 60 and over, well off (for the most part), and wedded, with so much love, to the standard classical repertoire.
But if that's true, we're dead, because this audience isn't being renewed. Younger people — even those in their 50s — aren't joining it. Studies done by the NEA showed that in every age group (except those 65 and above), the percentage of people who go to classical concerts is dropping. If you believe that the audience always will be what it is now, then you also believe (if you follow the implications of your belief) that it's going to be smaller, and that it may someday vanish.
And why don't you believe that we can find a younger audience?
I'll address that tomorrow or Wednesday.