While we're still talking about CD covers, I thought I'd add a few likes of my own. Starting with this one, which I've loved ever since the recording came out on LP in 1962: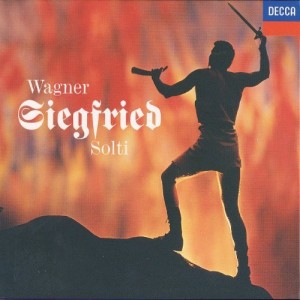 Of course it's Siegfried, from the Georg Solti Ring.  And there couldn't be a more iconic image from the opera, showing the moment  (at the end of the first scene of the third act) when Siegfried heads up the mountain toward Brünnhilde and the magic fire. If I remember correctly, it's a photo of Wolfgang Windfgassen, who sings Siegfried on the recording, in a live performance.
This image just grabs you, as soon as you see it. Certainly that's what it did to me, when I got the LP set as a birthday present (I was in college) just a month after it was released. The image was wider on the LP cover, of course, but it holds up wonderfully on CD.
And then, from the old days, this: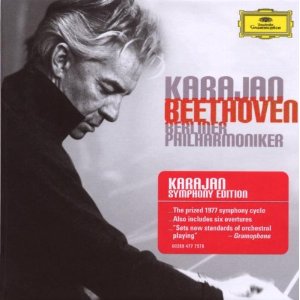 Or maybe it's not so old. Maybe it's a relatively recent Karajan reissue. But certainly it's an artist from the past, from an age when the old traditions still were alive, but when jet travel and recordings had created a very marketable new kind of superstardom. And in this image, the new kind of marketing swings into action, to give Karajan an elite kind of grandeur, as if all the past profound glory of classical music had entered into him.
I might complain that the Beethoven symphonies aren't as entirely monumental as this photo might suggest. (What would the man depicted here do with the First? Or the Eighth?) But the photo is gripping. Whether or not you know Karajan — whether or not you know classical music — you'll surely think,  almost with awe, "This is somebody."
Among modern covers, I love the John Eliot Gardiner Bach cantata series, which Gardiner released on his own label, Here are two of those recordings: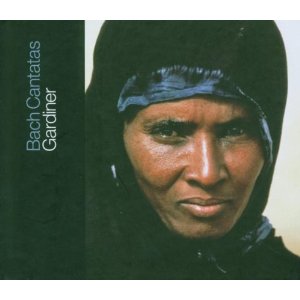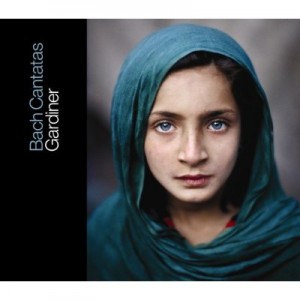 These mesmerizing images, all by the same photographer, all showing people from outside the western world, serve to brand the series. And they brand it unforgettably. They tell us that the music is profound and deeply human, and that it takes us deep into our souls (which is where the eyes of the people in the photos seem to look). And that it's universal, with a scope that reaches far beyond the west.
I might question that last point. When I immersed myself in Bach cantatas, a decade ago (I was reviewing two CD sets of all Bach's work), I found that, in repeated doses, Bach's Lutheran religion — which seemed glum, dank, and hostile to the world — started to oppress me. It seemed anything but universal. It seemed to come from a state of mind I couldn't share, and didn't want to visit, or at least not very often.
Gardiner, though, might disagree. And if he does — if, as I'm guessing, he wants this music to be seen as truly universal — I doubt if he could find a more eloquent or moving way to show us what he means by that. For which I honor him.
Here's one I came across by chance, when I was downloading other CD covers: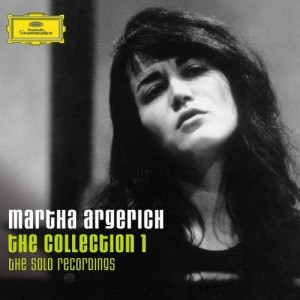 The young Martha Argerich. Like Karajan, clearly somebody. Though in this case, someone unpredictable, maybe even wild. Which makes it so appropriate to have the photo out of focus. Still she drills deep into me, even though I barely see her eyes.
Then this, from New Amsterdam, a small label that records new music (and lost its brand new office in Superstorm Sandy):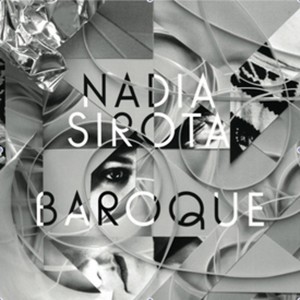 All their covers are striking, and beautifully crafted. Which shows that even small labels can find terrific graphic artists. It's all about your taste and your determination, which don't have to be limited because you're short on cash.
ECM's covers, as commenters noted, are always striking: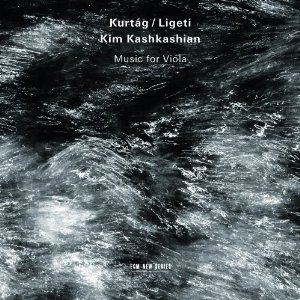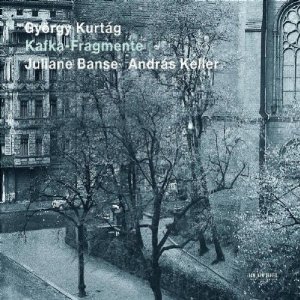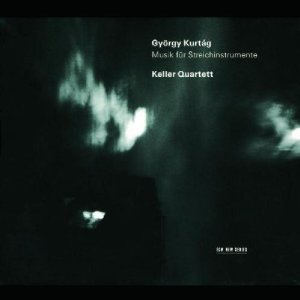 And they're always black and white, which helps brand the label. You recognize an ECM album when you see one, and you're ready to believe that it's an outstandingly artistic production, in every respect, including the music.
Finally, Naīve, a French label commenters not surprisingly have mentioned. It's worth visiting their website, to see how fine design pervades it, how CD covers arouse (the precisely right word!) interest in their recordings, even if now we don't shop for CDs in stores, and might not even buy them. And how — here, for instance — even what might seem like straightforward classical releases come alive in their graphics.
From the many Naīve CDs I might choose, here's one (on the outer edge of their array of styles) from their ongoing Vivaldi series: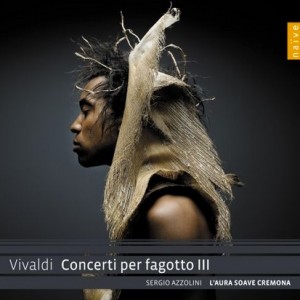 Whoa! you might say. What could this have to do with good old classical Vivaldi? But Vivaldi's music was flamboyant in its day. Flashy! Theatrical! In William Weber's striking book, The Rise of Musical Classics in Eighteenth-Century England: A Study in Canon, Ritual, and Ideology, I've read about old-guard English connoisseurs, with Corelli as their musical touchstone, thought Vivaldi's music signalled the end of civilization.
So it's not crazy to crown a Vivaldi recording, in our age, with an image radical for us. And this one seems doubly appropriate, because (at least to me), it's woodsy, evoking trees, moss,  shadows. And the bassoon has a wood-like tone.
Here, to conclude, are two CD covers from Naīve's Vivaldi opera series: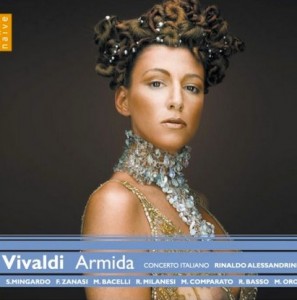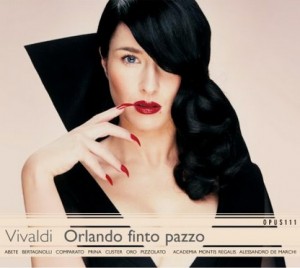 Whoa again! How could these images — which, someone might say, belong on the outer edge of fashion photography — relate to Baroque opera?
One reason for the disbelief might be the idea that Baroque music is serious, and that Baroque opera is very un-flashy, because of the stately succession of da capo arias.
But that's a misunderstanding. The very word Baroque means flashy. Or, as Wikipedia defines it, it's a "period of artistic style that used exaggerated motion and clear, easily interpreted detail to produce drama, tension, exuberance, and grandeur." That's in every realm of art, from architecture to music. 
And the da capo arias, rather than coming off as stately, when they were the rage, instead were insanely flamboyant, with extravagantly costumed singers transforming the repeat of the A section into a fairyland of ornaments, in which any trace of the original melody could barely be heard.
On top of that, Baroque opera was wildly sexual, because its stars were castrati, many of whom had extravagant — Baroque — sex lives. They were superstars. And those that weren't gay were not just appealing lovers for aristocratic women, but safe ones, because they couldn't get anyone pregnant.
Add to that the flamboyant lives and dress of the prima donnas, and the sexual tension in the audience, as men and women went from box to box, conducting flirtations and affairs in public.
All of which would be redoubled in a Vivaldi opera, because Vivaldi himself — at the time of his life when he toured around Italy, leading his operas — was a  walking scandal. He was a priest who never said mass. That in itself was scandalous. And on top of that, he lived with not one, but two young women, one of whom often sang the leading women's role in his operas. People in the 18th century drew the same conclusions we might.
And so a Vivaldi opera performance — with Vivaldi playing his violin with insane virtuosity, and his presumed lover Anna Girò, lavishly dressed, singing his extravagant music on the stage — was a scandal on parade.