J'ai longtemps habité sous de vastes portiques…
…dont l'unique soin était d'approfondir
Le secret douloureux qui me faisait languir.

(For a long time I lived under vast porticos…
…whose only purpose was to bury, so deeply,
The unhappy secret that made me suffer.)

— Baudelaire, "La vie antérieure"
I went to a vocal recital. Doesn't matter where, or who sang. I'll just say that she's an older soprano, a star in both opera and lieder, nearing the end of her career. The setting and audience were genteel. When the singer and her pianist appeared, I thought of a scene from The Graduate, the scene at the Taft Hotel. Dustin Hoffman blunders into a party, and sees older people, who look (the women especially) as if they'd stepped out of the 1930s. Which was perfectly plausible, since those people would have grown up — would have been formed — in the '30s. But it's far less plausible for the singer and pianist — she in a gown, he in white tie — in 2008.
Then came the concert. It was built around groups of songs, in which composers set the same poets. Rückert, Goethe, Baudelaire. Estimable, thoughtful, serious. But let's look at the Baudelaire group. We weren't reading the poems, or hearing a lecture on them. We were reliving them, or at least reliving them as they were set to music by French composers. Which meant that the singer and pianist were reliving them, too, and that rather than think about them, or experience them distantly, they should have hit us right in the gut.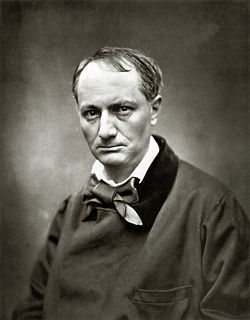 Did that happen? Of course not. Which isn't to say the performance was bad. By normal standards, it was quite good, thoughtful, nuanced, expressive. But that's not enough. Baudelaire is far more than that. He's uneasy, troubled, sick, sensual, seduced by evil, drenched with regret. Is that what we felt, hearing those songs? Of course not. The concert was far too genteel. If the spirit of Baudelaire had emerged — if all of us wondered what secret we hid, what secret was making us suffer — the unspoken rules of the concert would have been violated. It wouldn't have been artistic, thoughtful, genteel. It would have made us uneasy. We would have been troubled. We would have had fantasies, of nudity, jewelry, decay. Is that what we'd come for?
The form of the concert at war with its content. The form: formal, genteel; constrained and respectable. The content much less so. The difference never acknowledged.