If you want to know why classical music has receded from our culture, just watch some of Captain Blood, the classic (and wonderfully silly) 1935 pirate film, starring Errol Flynn. It might as well be an opera. Its plot, dialogue, and aesthetic are almost operatic, and so is its score, by Erich Korngold.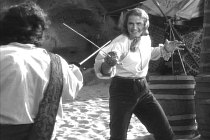 Which meant that in 1935 you could go to the opera, and go to the movies, and see practically the same thing. So opera was close to everyday life, in a way that it just can't be now.
Why not? Because the horizons of our culture have expanded. Last year I saw Sofia Coppola's Marie Antoinette film, and not long after saw Don Carlo at the Met. Coppola shows the French royal court as a dizzy, corrupt place, full of modern references (dance music from our own time, shoes from our own time), and full of individual aristocrats, each with his or her own personality. Verdi might have been a great composer, but through no fault of his own he lived in the 19th century, and in Don Carlo he shows us the Spanish royal court as the 19th century might have imagined it, formal, a little stilted, and full of aristocrats who (apart from the leading characters) sing anonymously as members of a chorus. You really can't do that any more. Through no fault of its own (to repeat the phrase), the opera looked like an old movie.