My first post in this series got more comments, the first day it was online, than anything I've ever posted here. So now I'll give my argument in more detail. My thesis, as I've said, is that the classical music era — which began around 1800, when the classical music world as we know it now began to take shape — is ending.
Why do I think that? Here are my reasons, starting here, and continuing in later posts.
1. The classical music audience is disappearing. The classical music audience is now, on the average, more than 50 years old. There's a common belief that it's always been this old, but I've uncovered data that shows this isn't true. Some of it goes all the way back to 1937, when, as part of a large-scale study of American orchestras, audience surveys were taken at the Grand Rapids (Michigan) Symphony and the Los Angeles Philharmonic. How old were these audiences? Much younger than the audience now. In Grand Rapids, the median age was 27. In Los Angeles it was 33. Or we can look at 1955, when the Minneapolis Symphony (now the Minnesota Orchestra) studied its audience, and — just like the Los Angeles Philharmonic two decades earlier — found a median age of 33.
In the early 1960s, a study by the Twentieth Century Fund, a major foundation, found that the median age of the performing arts audience was 38. This, the authors of the study said, was the same for all the performing arts disciplines, classical music included.
From the 1980s on, there are several sources of data. The National Endowment for the Arts has published periodic studies of the classical music audience. According to these studies, the classical music audience was (on the average) 40 years old in 1982, and 49 years old in 2002 — a steady process of aging. And at major classical music institutions, the audience seems to be older still. In Minnesota, the median age of the orchestra's audience had gone up to 48 in 1985, and 51 in 1989. At one of America's largest orchestras (which I can't name, because I was given the data privately), the average age of the audience was around 50 in the late '80s, and now is 58. And subscribers (an important part of the audience, because they're the ones who go repeatedly, and tend to give money) are even older — their average age is 64.
So clearly the audience is aging. And — most crucially! — this isn't a recent development. It's been going on (if we trust the Minnesota and Twentieth Century Fund data) for more than 50 years. A trend that's been established for that long has to reflect some kind of deep-rooted cultural change — and the change it represents, I'd guess, is that our culture, over a long span of time, has lost interest in classical music. Certainly there's other evidence that this is so. Just look at classical music on television. In the 1950s, it was broadcast on network TV. In the '80s, it was common on PBS; now we hardly see it at all.
And this is where the age data starts to look devastating. If the audience has been getting older for 50 years, then clearly younger people aren't coming into it. And in fact NEA figures show that the percentage of people under 30 in the classical music audience dropped in half between 1982 and 1997. But that's not all — the percentage of people from 30 to 45 has been dropping, too. Here's a chart I've made from NEA data, showing the age distribution of the classical music audience (the percentage of the audience in various age groups) in 2002, plotted against the age distribution 10 years earlier. (The figures are adjusted to reflect the changing distribution of these age groups in the population at large.)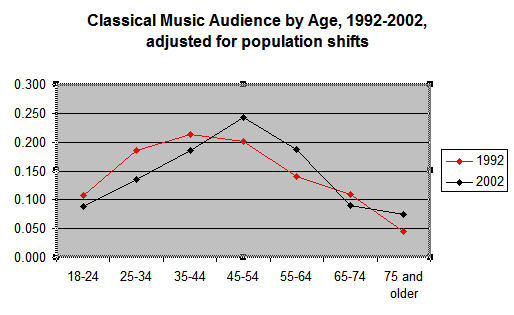 What does this chart show? Look at the peaks of both curves. In 1992, the largest part of the classical music audience was 35 to 44 years old. In 2002, the largest part of the audience was 45 to 54 — which means it was the very same people who were the largest part of the audience in 1992, now grown 10 years older. This gives us a vivid picture of an aging audience, an audience whose core is growing older, and isn't being replaced.
Will this be the last generation of classical music listeners we'll ever see? (Or at least the last generation attracted to classical music as it's currently performed?) I might put it this way. Some people, of all ages, will continue to join the classical music audience. But there won't be as many of them as there used to be. Remember that the percentage of people under 30 in the audience collapsed between 1982 and 1997. If fewer of this new generation went to classical concerts when they were young, fewer will go when they're older. Especially in our current age, when– far from turning to classical music — people over 45 now buy more pop records than younger people do, and the AARP, responding to this trend, now promotes pop music tours, as a way of attracting new members.
All of which ought to mean that the audience of the future will surely be smaller — and maybe a lot smaller — than the audience we have now. (Unless, of course, there's some giant change in the way classical music relates to our culture.)
(I apologize for repeating things I've said before. But I've worked out this thesis in greater detail than I ever have before, and I need to get it all down in one place. For more detailed age data, including citations for some of my sources, see http://www.artsjournal.com/sandow/2006/11/important_data.html one of my previous posts.)
In future posts, I'll give two more reasons why the classical music era looks like it's ending:
Classical music institutions may not be able to sustain themselves (already some of them are acting as if the current funding model doesn't work any more)
Our culture has decisively changed.