I'm mildly embarrassed to be reading a new book on entrepreneurship, because I've always thought "entrepreneurship" is an "if you have to ask…" situation. That said, I've been a superfan of Peter Thiel's, author of  Zero to One, since his 2011 New Yorker profile. The tagline of one of his companies, Founders Fund, is "We wanted flying cars, instead we got 140 characters"; I can see everyone's dog's Halloween costume on Twitter but have been flying on essentially the same airplanes since I was seven. The title of the book references how companies usually grow by going from zero to n: you make a typewriter, and then you make more typewriters. Going from zero to one, though, is making a typewriter and then making a computer.
"The Mechanics of Mafia" chapter in Zero to One recommends running your start-up like a cult:
In the most intense kind of organization, members abandon the outside world and hang out only with other members. We have a word for such organizations: cults. Cultures of total dedication look crazy from the outside. But entrepreneurs should take cultures of extreme dedication seriously.

…It's a cliché that tech workers don't care about what they wear, but if you look closely at the T‑shirts people in Mountain View and Palo Alto wear to work, you'll see the logos of their companies—and tech workers care about those very much. The startup uniform encapsulates a simple but essential principle: Everyone at your company should be different in the same way—a tribe of like‑minded people fiercely devoted to the company's mission.
(The chapter is excerpted on Wired.)
Reading this made me realize that I only have two pieces of classical music merchandise. Not exactly the point of Thiel's chapter, but what in culture is run like a cult? Arguably, "the whole industry" because people from the outside don't feel they don't have access, feel they can't get "in." But what arts brands are strong enough that they would make people inside and out of the business what to be affiliated with them?
One of my pieces of merch is a "San Francisco Opera at the Ballpark" "baseball" t-shirt from a simulcast the company had to the stadium for opening night. I think I unsuccessfully tried to justify going to the ballpark broadcast "for research" (hot dogs, nachos, Mike's Hard Lemonade, air, jeans) instead of to the gala (wine? Spanx?), but I scored a shirt anyway.
The other is a Leif Ove Andsnes t-shirt from the Ojai Music Festival. It's says L.OVE Andsnes stylized to look like LOVE, in red and white. I saw that on Twitter and asked a friend from the festival to send one to me. I've never been to Ojai and I don't work for Andsnes, but I wanted that shirt. I mean – look at it (cute pianist not included with purchase):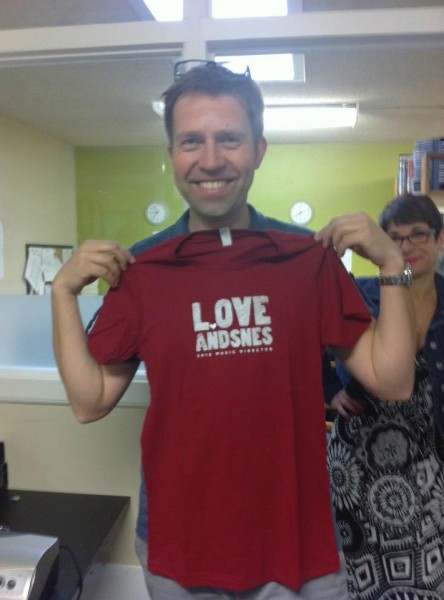 These two items I have are from happenings I didn't attend. How many people, though, wear Grateful Dead t-shirts who never saw The Grateful Dead live? In the arts, who wants to wear the proverbial "band's" shirt, and why don't we see more of our cult symbols out in the world? Are the artists, ensembles, organizations and venues from which we don't have souvenirs not creating experiences worth remembering? Or are we just not doing a good enough job of making people pay money to be brand ambassadors because they want to transmit our stuff?
The brand merchandise–beyond that of sports teams–that I see most in New York is that of The Strand bookstore. Their website has four pages of different Strand bags; people who haven't read paper books in years proudly carry those bags. The book bags might be keeping that book store in business. The Strand is a concept beyond a store. No one goes to The Strand (OK, maybe someone) when they're looking for a specific book; they go to The Strand because it's an experience and because it's iconic. NPR–king of the tote–is now a brand bucket for individual shows and podcasts, some of which have also achieved cult status in addition to the parent brand. "Did you hear the NPR show about…" is common cocktail party chatter, but cult members back that up with donating and proudly carrying groceries in the tote bags.
Cult members talk the same, dress the same, believe the same truths, know the same insider information, and are working toward the same goal. A Tweet from the Icelandic record label Bedroom Community: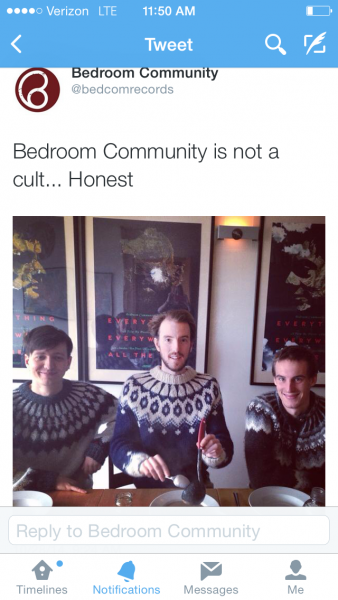 Should we be trying to create cults around organizations and buildings or for specific artists? Venues such as  Lincoln Center, Carnegie Hall, and Walt Disney Concert Hall all feature iconic buildings: would it help sell the art being presented there to have the buildings promoted on shirts, bags, mugs and posters? You can't read or see The Strand live, but that is, in its outward form, a cult. Alternatively or additionally, should soloists be generating items for purchase at their concerts and on their websites beyond CDs?
Taylor Swift fans with her CDs. Nothing cultish about these photos! (found online and retweeted by Swift)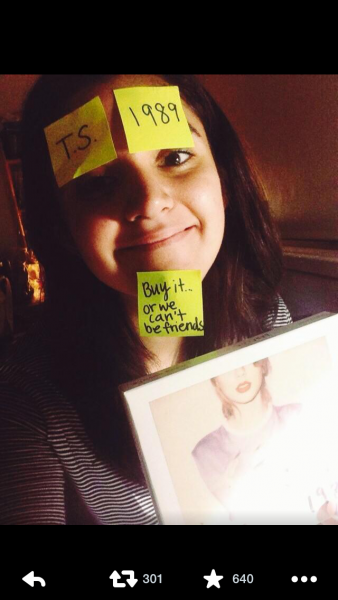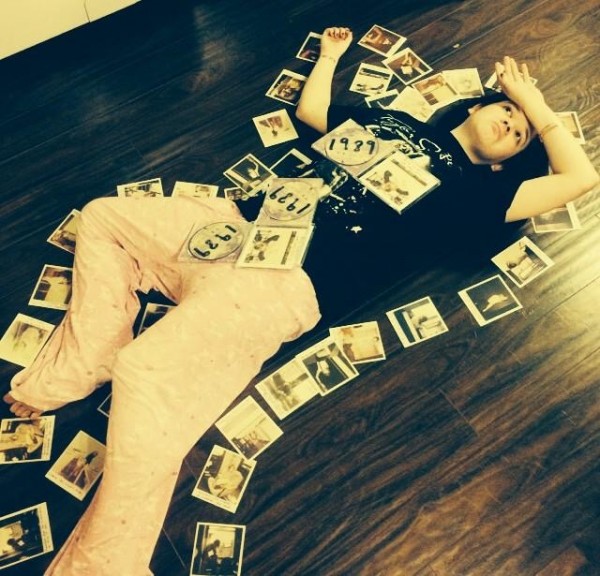 I have so many t-shirts from college that I hired a woman from Minnesota whom I found on Etsy to make a queen-sized quilt out of them, and I still have a drawer full to wear to sleep. So many people were wearing college-branded clothing when my mom and I visited the Dartmouth campus that she–without irony–asked our tour guide if students received a box of merchandise upon acceptance. I still have my t-shirts from my high school musicals that, thankfully, still kind of fit, and I still have shirts from my two college musicals. (I'm especially proud of the shirt I made for my production of Pippin that's just a black shirt with white letters that say "Think about your life.") I have four Yankees shirts and two hats.
Cult branding serves a myriad of purposes. You see a shirt, you like it, you want one, whether you know what it means or not. When I see other people in Dartmouth clothes on the street, I always stare at them a little too long, knowing that if we were paused somewhere, I'd say, "What year were you?" They'd say "oh-four" or "ninety nine" – never "class of [full year]," because that's not cult speak. You see a Yankees hat, you think, yeah, go Yankees (well maybe not this season). In high school, every team would dress up on the day of a meet or game (I was on the swim team…in more of a 'cheerleader' capacity), so people would see you and know you were part of that cult. We'd wear those high school musical shirts every day for weeks before the shows. The branding serves to both identify other cult members and to outwardly advertise a product.
We should want this. For new albums, new festivals, and new projects, creators should have a mind toward cult-tendencies: what would make people fanatically want to be a part of this, and what would make people who are already a part of this want to prove that they are? The word "culture" means both relating to the arts and a way a certain group of people live their lives. Why, then, isn't culture more of a culture?