Lin-Manuel Miranda, who was truly excellent in the recent City Center production of Merrily We Roll Along, started a series of Tweets that are continuing to this moment of Sondheim lower back tattoos (#sondheimlowerbacktattoo). This started when Miranda Tweeted back at theater publicist [I've since been corrected on Twitter – "Theater Publicist-in-the-making"…well congrats or I'm sorry, @mrtylermartins, You've Arrived!] Tyler Martins's suggestion of a Sondheim tramp stamp: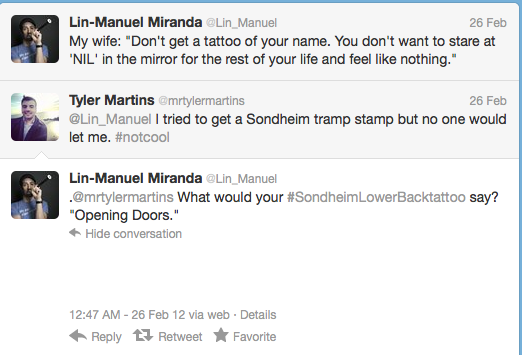 You can read all the potential Sondheim lower back tattoos here.
My favorites are from Betty Buckley (!!),

Josh Charles, The Good Wife star and Jeremy Geffen–Carnegie Hall Director of Artistic Programming–doppelgänger:

…and Laura Benanti,

Would that I were the lucky girl who got to explain tramp stamps to Stephen Sondheim.