« Engaging Art: The Next Great Transformation of America's Cultural Life | Main | Our Conversation Starts Thursday Morning »
June 12, 2007
Write Your Comments/Questions Here
by Douglas McLennan
Use the form below to submit your comments and questions. You can write as much as you want. But it will work best if you confine your post to one topic or idea. All contributions will be added to the blog online and archived as part of the permanent record of this event. We will be selecting excerpts from these comments/questions to project to screens in the room. Following our discussion online? Please contribute and tell us where you're writing from.
Posted by mclennan at June 12, 2007 12:50 AM
COMMENTS
A big part of this remarkable and badly needed conversation has been an emphasis on practical ideas and new ways for orchestras and other arts groups to stay commercially viable and communally valuable at the same time. I'd like to describe and I suppose to hype one experiment being launched this week right here in Nashville.
The Nashville Chamber Orchestra (NCO) is about to announce the launch of NCO UNCOVERED, an on-line subscription or membership program that will give fans, locally and we hope worldwide, a look inside the building of a concert season. It's sort of a fan club and sort of a documentary or news channel. Starting with this week's season-closing Gypsy Nights concert (Friday), and running for a year, NCO Uncovered will post a regular stream of audio, video and documentary content on its members-only site, in hopes of opening up the orchestra's creative process and humanizing its members.
Uncovered is a direct extension of the NCO's motto: "music without boundaries." We're trying to break through the wall between orchestra and audience and reveal the inspiration, perspiration and challenges that have traditionally been off limits to audiences. My own feeling is that when audiences only see an ensemble in performance, where the emphasis is on a perception of effortlessness and polish, a kind of estrangement can set in. A certain breed of fan is attuned to appreciate the music, and that's good. But so many more fans might be won over through an understanding of the work involved getting to a place where effortlessness seemed possible.
We hope Uncovered fleshes out the orchestra, turning the phalanx of suits and dresses into a community of real people, with whom Uncovered members feel free to communicate on line. We want to encourage and answer questions, prep audiences for upcoming shows, profile our guest artists and generally reveal what it means to commission and stage new works many times a year. We believe that will translate to empathy and curiosity, which will be the life blood of a social network built around the NCO and the community of Uncovered members.
Our Uncovered blog just went live a few days ago. Please visit for a more complete description of the project. Your first stop should be www.nco.org and the blog is prominently linked on our home page. There's a video that describes what we're doing and that will introduce you to some of the NCO's musicians. We're eager for feedback. I'll be at today's meeting on Engaging Art, and look forward to meeting some of you.
Craig Havighurst
Uncovered Writer/Producer
www.stringtheorymedia.com
* NCO Uncovered is a partnership with ArtistShare in New York, a company that's helped dozens of artists earn revenue through sharing of the creative process. The NCO's project is being made possible in part through a grant from the Andrew W. Mellon Foundation.
Posted by: Craig Havighurst at June 21, 2007 9:12 AM
It seems that if you want to engage today's "audiences" in symphonic music it will have to brought to the listener in a venue/medium that he/she is accustomed to accessing. Get em hooked on a cool ring tone or a new alternative rock song based on a symphony and maybe you can lure them into a symphony hall. Or at least a bandshell during the summer at a festival! Make the concert experience a multimedia one otherwise all is lost.
Posted by: Leslie August at June 21, 2007 12:22 PM
It always makes me a bit nervous when people start talking about changing something that has worked for hundreds of years. Tarting something up is... well... tarting it up. What is it we're really talking about here?
Posted by: George at June 21, 2007 12:22 PM
Technology has always changed culture. Bill Ivey is talking about piano manufacture. Well - a piano is technology. Paper is a technology. Computers are technology. f they're all just tools, aren't they supposed to be in service to us, rather than us in service to them?
Posted by: Carol Hill at June 21, 2007 12:25 PM
Having not yet read the subject book, I would like to ask if the book addresses international travel for the arts world?
Posted by: Curt Wilson at June 21, 2007 12:28 PM
You don't have to change the music just change the way people get to or find the music. You can call it "tarting it up" but isn't that basically what all marketing is? I think you have to speak to your target audiences in a language they can relate to and understand. If that means the mass media of MySpace or YouTube so be it.
Posted by: Leslie August at June 21, 2007 12:35 PM
One way to think about technology is to find ways to use it to "better" accomplish things that orchestras have always done. For instance, using evite to invite and organize groups of people to come to the symphony together. Getting concert listings onto online public calendars such as Google Calendars to better promote the concerts. Including sound clips on the orchestra's website so that potential ticket buyers are more familiar with the music when they buy tickets. All of these uses of technology don't change the actual experience of the symphony - they just make it easier to attract and engage potential concert-goers.
PS - a shoutout to Robert Levine from Milwaukee! ;) Megan
Posted by: Megan Holbrook, MSO Board Member at June 21, 2007 12:35 PM
Bill Ivey says that the audiences we know are aging. This, I think, ties directly into the issue of encouraging young people and "emerging leaders" to work in the nonprofit arts - how can you imagine encouraging younger audiences if the producers and presenters of this art can't identify with this group?
Posted by: Angela Han at June 21, 2007 12:41 PM
If they're all just tools, aren't they supposed to be in service to us, rather than us in service to them?
Absolutely! The challengem then, is knowing your audience - or who you want your audience to be - and figuring out which technologies to use to reach them.
Posted by: Michelle at June 21, 2007 12:44 PM
Just as it has proved difficult to attach a workable business model on search engines and their popularity, I wonder how the arts industry can attach a viable economic model to a more participatory culture?
Posted by: Aaron Flagg at June 21, 2007 12:47 PM
What is a greenhouse orchestra? We all want to know.
Posted by: Ann D at June 21, 2007 12:50 PM
In the slide about folk art the word "depth" was used - is the better word, "breadth?"
Can somebody with a psychology background speak to "perception compression?" ie, is it possible that breadth and depth are inversely related - the more multi-level activities that one engages in, the less depth one really experiences/retains as related to the actual art event? Does new media favor one over the other?
Posted by: Captain Chaos at June 21, 2007 12:51 PM
What struck me in Vanessa's presentation was the vocabulary was so foreign to me. "Greenhouse orchestra, cosplay, etc" are new to me. That suggests a disconnect.
Posted by: Anonymous at June 21, 2007 12:52 PM
How do we adapt what is primarily a non-visual art form to new interests that are largely visual? Do we need more integration of classical music into other art forms? How?
Posted by: Nancy March (from Tucson) at June 21, 2007 12:53 PM
The role of the professional musician in the new age is changing. Blurring of lines between amateur and professional. Are we looked up to as mentors or as competition?
Posted by: Mark Table 37 at June 21, 2007 12:53 PM
Is the future orchestra experience going to be accessed through a plasma screen on the wall?
Posted by: Rebecca Stone at June 21, 2007 12:53 PM
The music is not the problem...whew! That is good news...the even better news is that we are coming to the point of change and engagement in symphonic music that we are just beginning to discover...new possibilities are scarey! Perhaps, the listening to a symphonic presentation will radically change in the future...however...the engagement for many will remain within their own soul...and the experience especially of clasical music will remain within the context of the human heart.
Posted by: Scott Peter Leigh at June 21, 2007 12:54 PM
The way we teach our musicians to be professional musicians in our music schools and conservatories hasn't changed in 100 years. Our professors often have a myopic prejudicial point of view. As a result, many of our orchestra have removed themselves from an always changing cultural society.
Posted by: Barry Kolman at June 21, 2007 12:54 PM
Following Vanessa Bertozzi's presentation, the conversation at our table focused on the fact that we could not have even had this conversation at a League Conference 5 years ago. A small step, but a step nonetheless.
Posted by: Michael Lawrence at June 21, 2007 12:55 PM
What is the statistical evidence that the current decrease of participation in live arts events is a one-way trend as opposed to one part of a up-and-down long-trend "sine wave?" Are we just looking at too small of a timeline sample? Are we really measuring the wrong thngs?
Posted by: Captain Chaos at June 21, 2007 12:55 PM
Can you take a poll of the various hi-tech efforts used by Symphonies represented in the room? Here's a brief list from the Pittsburgh Symphony:
Message Boards
Blogs
Podcasts
MySpace Page
Website Video Previews
YouTube Videos
Posted by: Jeff at June 21, 2007 12:55 PM
Comment from my table following Vanessa's talk: How does an orchestra approach and plan for this new age of cultural engagement when our genre is steeped in history and presented as a classical legacy? How can the consumer have input on this kind of historic content?
Posted by: Angela Han at June 21, 2007 12:56 PM
Speaking as a parent of three young adults, I know that my sons have found their own way into the world of the arts. A love of art comes in many forms. I, for one, was a rock and roll baby who would never have imagined my life as it is now - immersed in the orchestra world. How do we help them find their way to "our" art? I dont know that we can. All we can do is provide access and wait.
Posted by: Jenifer Akers at June 21, 2007 12:56 PM
I believe that an important starting point for this conversation is to recognize the generational diversity and perspectives present in the room. As administrators in this industry, we are not exclusively "boomer generation" and the expertise of Gen X and Y colleagues could provide valuable leadership in this area.
Posted by: Megan Denell at June 21, 2007 12:57 PM
In what ways do these forms of engagement represent opportunities and/or challenges for orchestras?
The greatest opportunity, I think, has to do with building a strong community, at which the orchestra is the center. By letting people "behind the curtain," we're forming deeper and more lasting bonds with those who will support - and fight for - the orchestra for years to come.
Posted by: Michelle at June 21, 2007 12:57 PM
It is important tofocus on the process and fundamentals of engaging communication, and not on the technology tha creates it. we each have to adapt the means to serve our missions and goals. most importantly, we need to constantly seek out information from young people and not only older and experienced people. the innocence of an unbiased mind is where true insight will be found.
Posted by: atonalprime at June 21, 2007 12:58 PM
A greenhouse orchestra? It's an orchestra freed from the constraints of funding. An orchestra that could experiment, try things with the purpose of failing (and succeeding too). But the point is - how are you going to experiment if the only thing you can worry about is keeping the doors open?
Posted by: Don at June 21, 2007 12:58 PM
Marin Alsop raised the problem of "musician malaise" yesterday. Isn't that what drives the Chloes away from our concert halls?
Posted by: Fred Gouveia at June 21, 2007 12:58 PM
Greetings from Madison, Wisconsin!
Many, many kudos for this deep dive into conference innovation. Hope the format adds insight to the sloppy, glorious, surprising, and disconcerting things that can happen when a normally passive audience directly engages with the "professionals" on the stage (or the dais, in this case).
Posted by: Andrew Taylor at June 21, 2007 12:58 PM
At an arts seminar earlier this year, we learned that technology, such as instant messaging, emails, and blogging, actually "disengages" people because they substitute personal contact with electronic communication. My 17 year old stepdaughter would rather send text messages to her friend over a 3-hour period than just call her and have a 1/2 hour conversation. So if we're trying to reach these young people via electronic means, how do we balance communicating with them via their preferred means, but yet encourage them to get engaged with our live event?
Posted by: Samantha at June 21, 2007 12:58 PM
Our table is looking at the challenges of on- demand, interest in a deep learning experience,and active participation. We have lots of opportunities to work differently to co-create value today with our audiences and communities and to be facilitators, organizers -- adding new meaning and attracting new participation. What resonates immediately is the need to be social, the interest in digging deeper. Orchstras provide these opportunities already, But as institutions we can't just serve all of this up top down. How do people find us, and how do we prepare to provide what they need on demand and according to this vast array of interests?
Posted by: Sandra at June 21, 2007 12:58 PM
Who will be the new gatekeepers of quality and standards in this transformation? How might this shift change our understanding of what interaction is necessary for a real arts community?
(table comments)
Posted by: Aaron Flagg at June 21, 2007 12:58 PM
This conversation is great. How interesting to be able to comment immediately on our thoughts! An interesting point raised at our table though, is who we are trying to reach with new technology. The audiences we have are not necessarily tuned in to blogging and iTunes and camera phones. The audiences we do not have at our concerts are. So, are we reaching out to new audiences to the exclusion of our current ones? Another great question was what role new technology could have in a concert experience. I asked, why not allow people to blog during a performance? Perhaps then, they wouldn't whisper their comments to each other so much during the performance? "But to what end would we do something like this experiment?" I'm asked. It would be to involve the audience in the performance. "That is because young people don't have the attention span." I disagree. Involving the audience in the performance could bring a new level of interest in the performance and excitement about contributing. How wonderful!
Posted by: Rachel Ligatti at June 21, 2007 12:59 PM
As we all look at what we can do to bring this younger, more technologically adept audience to our product, I'd like to know what organizations are doing? Can we poll who is conducting podcasts, blogs, RSS feeds, etc.? What have they found to be successful and unsuccessful?
Also as we begin creating and implementing these technological items how can we all better know the hindrances associated with union/musician's contracts. We need a resource center to better help us implement these great resources quickly instead of being consistently stalled and bogged by legal issues.
Posted by: Andi Bordick at June 21, 2007 12:59 PM
Marin Alsop raised the problem of "musician malaise" yesterday. Isn't that what drives the Chloes away from our concert halls?
Posted by: Fred Gouveia at June 21, 2007 12:59 PM
If we are afraid of this 'new' environment then the people we are trying to engage can only react with fear. We have to shake off our trepidation and embrace our fears and if we make mistakes, at least we've made them bravely!
Posted by: Rachel Hyde at June 21, 2007 1:00 PM
Marin Alsop raised the problem of "musician malaise" yesterday. Isn't that what drives the Chloes away from our concert halls?
Posted by: Fred Gouveia at June 21, 2007 1:00 PM
In practice, "luring young patrons into the classical concert hall through orchestral rock shows and the like" simply does not work. It may create an audience for that product, but only for that product.
Posted by: Steve Collins at June 21, 2007 1:01 PM
I continue to be concerned about the concept held by many young people that everything on the Web should be free, including downloads and podcasts. The young people making claymation films and putting them up on the Web have no or very few, financial obligations. I wonder how many of them will want to do do this artistic work and offer it free of charge in the future when they have bills to pay.
Posted by: Gayle Ober at June 21, 2007 1:01 PM
Isn't part of the problem significant barriers to entry? As an example, as a teenager I became deeply involved with comic books. Cost of entry- walking to comic shop, couple of bucks to sample product. That led to collecting, attending conventions, and now social networking online. What does a kid who wants to get into classical music have to do? Well, they have to get to the orchestra hall, which in many cities is not easy. They have to plunk down a good chunk of change on a ticket. They have to dress in a way that is unnatural to them, and then if they actually enjoy what they hear, they may make the mistake of clapping, which gets terrible hissing from fellow concert goers.
There are many elaborate strategies we should all be testing and developing to engage new and younger audiences for sure, but perhaps the first steps are right in front of us. Casual concerts, low ticket prices, and performances in the community (where possible)
Posted by: SB at June 21, 2007 1:01 PM
In 15 years as a professional going to concerts, I've heard good honest booing at a concert only one time. It was well deserved and remains one of my favorite memories. Frankly, I wish it happened more often.
Posted by: Andrew Berryhill at June 21, 2007 1:02 PM
I was excited to join in this discussion and participate with the folks in Nashville, however, the online format is not what I had anticipated. I had expected that there would be a way to hear what the speakers were saying, or at least to see the comments of those in attendance. Without either of those elements, it makes online participation difficult. Maybe for next year you could do live feed of the speaker, or have the comments of the attendees be posted to the web immediately. The topic is wonderful--I just would like to be able to follow the discussion.
Posted by: Jenny Sargent at June 21, 2007 1:03 PM
Hi all, am following this from New Zealand. I think a large part if the issue is that symphonic music is traditionally thought of as an aural experience, whereas technology now is perceived as "visual and/or interactive", how do we merge the two without losing "integrity"?
Posted by: Megan Gyde at June 21, 2007 1:03 PM
Young people do love our art...the problem is we are too concerned with "royalties" that our music is beginning to be left behind in the masses - do we need to rethink this economic aspect of the art??? I know it is scary to think about, but a vital point to whether we are participants in this new engaging of arts or just viewers....
Posted by: Michael at June 21, 2007 1:03 PM
Is the word "arts" - in the context of the USA in 2007 - a unifier or a divider? What is the overtone of the word? Do the millennials understand the whole concept differently?
Posted by: Captain Chaos at June 21, 2007 1:04 PM
INTERACTIVE PAST: Tomatoes tossed at Shakespearian actors.
INTERACTIVE FUTURE: Attention deficit disorder.
???????????????anthing's possible??????????????????????/
Posted by: Sean Sutton at June 21, 2007 1:04 PM
Does the Boston Pops incident prove that the audiences need to be involved in the concert experience despite all our efforts to encourage them to be passive?
Posted by: Anonymous at June 21, 2007 1:05 PM
We should be careful in "educating" the public that we give the impression that the public is ill prepared to attend a concert unless they are well versed about a program they are interested in attending. While we should have information available to those who seek it, we need to make clear that being well read on a particular piece is not a prerequisite for enjoying a performance. Sometimes, a performance that doesn't move the listener can be due to a shortcoming of the composer or performers, rather than a lack of education of the listener.
Posted by: jon mosbo at June 21, 2007 1:05 PM
Interesting that orchestra musicians seem to feel more free to express their appreciation of their colleagues' during rehersals and performances (feet shuffling, bow tapping, even some stomping), than do audiences.
Posted by: Robert Levine at June 21, 2007 1:06 PM
Check out reactee.com it is a great way of using text messages (via a T-shirt) to promote your orchestra in your community
Posted by: gaby poler at June 21, 2007 1:06 PM
Does the Boston Pops incident prove that the audiences need to be involved in the concert experience despite all our efforts to encourage them to be passive?
Posted by: Erika at June 21, 2007 1:07 PM
I struggle personally with the idea of sacralization ... ON one hand, it seems a dismaying perversion of what the live concert art is supposed to be about -- communication, unity, etc. But do I really want the opposite -- some yob loudly voicing his disapproval during Beethoven's "Eroica"? Though I hate the words "high" and "pure" and what they imply about other artistic traditions (low? impure? Can you imagine applying these terms to people?) I do innately believe there is something high and pure about live performance of music. How could I not?? That's why I'm here. So how do we talk about that without casting aspersion on other art forms?
Posted by: Jayson Greene at June 21, 2007 1:07 PM
With the rate at which we are moving for instant gratification and passive participation, what end is our inevitable future? I'm afraid.
Posted by: mollie fry at June 21, 2007 1:07 PM
Arts vs sports. What's changed over the past 30-40 years that sports attendance has skyrocketed and orchestra attendance has, at the least, not grwn in the same way? Not newspaper coverage or the nature of either sports or concerts. So what else?
Posted by: Robert Levine at June 21, 2007 1:08 PM
Is there an economic angle for orchestras in a tech-mediated participatory music culture, Aaron has asked. No, nor, was there an angle in home pianos or amateur choral societies. These networks and resources create the fertile musical culture in which orchestras can flourish. The new participation in barreling ahead. Are we going to be part of it, or irrelevant to it?
Posted by: Ted Wiprud at June 21, 2007 1:08 PM
I am glad I finally can peep in. It was difficult for a non-blogger to find. From my perspective, I think it makes great sense that we look to tap into the cultural arts to attract people to the tradition of classical music. Personally, I feel classical music for most common fans starts at an early age as part of a "culture" that parents might impose (not necessarily just because they learned music in school), but for cultures such as those of minorities (myself included) classical music was no where near my neighborhood. The cultural arts can be welcomed into the communities so that we can show respect, appreciation and use it as a catalyst to attract people to the orchetsral environment. This must be something you already know, but I need validation. Does the book reveal any study or concrete evidence that there is a link between orchestra audience growth and the cultural arts? Do you feel that with the lack of music education in our schools- especially in minority communities- we need to concentrate on pure involement (whatever genre) and stray from a focus of purely classically focused development tactics?
Posted by: T. Ramirez at June 21, 2007 1:09 PM
Why are we frightened to have the audience talk, respond or interact with the artists? Are we worried we will lose ownership of our art form?
Posted by: Anonymous at June 21, 2007 1:09 PM
Samantha,
As one of the chronic IM/TXT'ers I must say I disagree. Mediated communications is nothing new, it's the multitasking aspect that has changed. I can sit here, watch the presentation, IM with folks back to the office and add to this blog... I'd have to duck out altogether for a phone call.
If I choose to go to a concert it's a leisure time decision, same with going to a baseball game or the ballet. It isn't to "engage" with the performance.
Just a different perspective...
Posted by: SB at June 21, 2007 1:10 PM
Do we need to reflect about what we are asking of new audiences? Money and time seem to be resources people are less willing to part with. I occasionally sit at rehearsals thinking about what I could be getting done at the office. What must a new concert goer be thinking? Does engagement need to have an element of removing the risk for first time concert goers?
Posted by: Jeffery Sells at June 21, 2007 1:11 PM
Check out the League's Innovation Forum for updates and a catalogue of the newest in orchestra innovations, including podcasts, streaming, etc. Located on the League's website.
Posted by: Jan Wilson at June 21, 2007 1:11 PM
Are people looking for a social experience in the concert hall? Do we need to 'market' the social aspect of these kinds of events?
Posted by: Harold Grant at June 21, 2007 1:12 PM
There was a ripple of wry laughter when the "greenhouse orchestra" was defined -- an orchestra freed from financial constraints??
A pony would be nice, too.
Posted by: Jayson Greene at June 21, 2007 1:13 PM
If audience surveys show that the majority of our adiences once participated actively in the music making, what is our role in encouraging continued participation in civic music groups? How will continued participation result in audience growth and retention?
Posted by: Diane Syrcle at June 21, 2007 1:14 PM
I disagree with the idea that arts "fans" do not interact like sports fans. We as a culture have the capacity to discuss our feelings and experiences - particularly from external sources. Listen to the young people who hang around to chat after a concert. Today's teenagers/college students/young adults have no problem divulging personal information throughout the world via blogs, MySpace, Facebook, and the like. Why not encourage public response to arts events in the same way that sports bulletin boards light up with irate fans after the latest Sunday disappointment or victory?
Posted by: Eric Near at June 21, 2007 1:14 PM
PAST: Tomatoes thrown at Shakespearin actors.
FUTURE????: Attention deficit disorder.
Posted by: Sean Sutton at June 21, 2007 1:15 PM
There is a greenhouse orchestra, the New World Symphony. We have certain fiscal constraints, but function as a laboratory. If you'd like to collaborate, let us know.
Howard Herring
Posted by: Howard Herring at June 21, 2007 1:15 PM
There was a ripple of wry laughter when the "greenhouse orchestra" was defined -- an orchestra freed from financial constraints??
A pony would be nice, too.
Posted by: Jayson Greene at June 21, 2007 1:15 PM
Lynne Conner's comments about arts audiences not being as "engaged" as sports fans is very interesting. I know from personal experience that audience members discuss what they've seen on stage at the theatre, heard at the symphony or experienced from a film. Maybe we should offer more chances for our audiences to engage in this way post concert or post event.
Posted by: Janice Nelson at June 21, 2007 1:15 PM
(table comments) Orchestras need mosh pits...
The high barriers of access to this art form are frustrating. (money, education, etc.)
Musicians playing and talking about the art is a step to help remove those barriers. The advent of blogging also opens (reopens) the field of music criticism to everyone
Posted by: Anonymous at June 21, 2007 1:15 PM
We could all try putting laptops in our lobbies so that audience members could add comments which could be posted in the concert hall before the second half starts. There is a real tension between types of audience and how they like to experience a concert.
Posted by: Christopher Deacon at June 21, 2007 1:15 PM
The football analogy was very interesting. Certainly the audience doesn't approach our offerings in the same way - so then do we feel duty bound to provide this kind of information?
Posted by: Harold Grant at June 21, 2007 1:15 PM
The anology to sports only works when the rules of the game are known and are clear.
Posted by: Anonymous at June 21, 2007 1:16 PM
It strikes me that this entire session has become a metaphor for the kind of multitasking that is necessary today, to make sense of the variety of technological input we receive constantly. Here we have at least five simultaneous streams of information, at the same time similar and different.
Posted by: Mike Peluse at June 21, 2007 1:16 PM
I often wonder what some of these composers would react to seeing us being so stoic in our concert halls? They wrote the music to be background music, aesthetic music - not to be "worshiped" as we do.....
Posted by: Michael at June 21, 2007 1:17 PM
We need a cultural modulation such that society will be interested in symphonic music. Let's max out technology to lead ears to the concert hall.
Posted by: Dennis Sullivan at June 21, 2007 1:18 PM
I love the full-circle natue of the arts! The groundlings were able to comment directly to the performers and characters in the performance. The "I want to participate too" emotion is strong in me as well. The first thing I feel after seeing a wonderful ballet performance is that I should take a ballet class next week. I go home, put on my favorite CD, and dance around the living room. I feel the same way after seeing a wonderful concert. After seeing Carmina Burana, what do I do? Crank the CD!!! I want to sing along too! Wouldn't it be great if we could harness that energy at our concerts! Why can't we? Perhaps that desire to participate too is the core reason for the amateur artists these days. It's the background of why people want to blog and share their thoughts. It's a celebration of what is best about the arts, they ignite our emotions!
Posted by: Rachel Ligatti at June 21, 2007 1:18 PM
How we balance the audience interaction and engagement in real time while an orchestra is performing is key to getting back to a interactive concert experience. This would also change how musicians are trained to perform for their audience.
Posted by: Paul Jan Zdunek at June 21, 2007 1:19 PM
Some thoughts from my table: We wonder if you polled the various age groups in this room about the level of fear about decreasing audiences, would the concern among the younger group be less than the older? Is that an indication of experience or change in culture?
Posted by: Vanessa Rose at June 21, 2007 1:19 PM
I've been musing about the divide between professional and amateur, about the ways in which our commitment to the highest artistic standards might actually have contributed to a profound chasm between Us and Them. This wasn't the intended outcome, nor does it need to be our future - but we surely need to get smarter about just who our orchestras are here to delight and amaze (and it may not be Us, either).
Posted by: Katherine at June 21, 2007 1:20 PM
With adventurous progrqamming (i.e. melding latin tango w/contemporary Argentinian music - or a silent film masterpiece w/ contemporary orchestral score), we find new audience members, along w/ the old - and the conversation precedes and follows the performance. But what we need is a downloadable ring tone from each concert and a playlist accessed from Naxos.
Posted by: anonymous at June 21, 2007 1:21 PM
I love the advance of new techs, so I hope one day my husband would conduct his orchestra from home, so we would be able to interact more with each other.
Posted by: A Conductor's wife at June 21, 2007 1:21 PM
Young people ARE including clasical music in their playlists - this could be observed if we actually made the effort to inquire what youth are thinking.
Posted by: atonalprime at June 21, 2007 1:23 PM
I've grazed, discarded, examined further and ultimately programmed more contemporary music in the last two years as a result of online music providers (both purchase and library) than I would have done without this technology. It has been a powerful reminder of the joy of exploration and new experiences.
Posted by: Rachel H at June 21, 2007 1:23 PM
Lynne uses examples that are theater, not music. Listening to music has always had a different aesthetic - I do not think you can use the staged arts to point to a direction for classical music. Listening to classical music usually lends itself to a more focused enviroment. Just because an audience is quiet does not mean that they are passive. Hence the term "active listening."
We, in the world of classical music performance, need to take up the gauntlet of music education in the schools. Opening the ears of young students and encouraging critical listening is one way to ensure an audience for the future.
Posted by: John Kieser at June 21, 2007 1:26 PM
Real Estate

Let's put it all into perspective, please. In 18, yes EIGHTEEN, 88 (1888), the Boston Pops was founded to "attract a broader public with lighter musical fare". Now that we are down the line a bit, say a mere 120 years, we are still searching for a broader public for classical music, but we are now, unfortunately, in fifth gear, ergo, panic mode.
Thank you, American Symphony Orchestra League Congress and Arts Journal, for this public conversation on Engaging Arts. As an American born arts manager working here in Europe, it is a refreshing way to discuss our common lot simultaneously in differing time zones.
Before leaving home this morning, in the erudite company of a chaired professor in musicology no less, one willing and even dedicated to accompanying eighty 11-12 year olds to a rehearsal for a classical concert, I printed out the first 86 pages of this now international discussion for good reading material in a commuter train full of kids (some of them with decidedly Euro-American DNA): The Netherlands Philharmonic was rehearsing for next Sunday's concert, a bel canto extravaganza with diva Edita Gruberova, the grand finale in The Concertgebouw of this year's 60th anniversary Holland Festival.
I look forward to reading the book that has initiated this discussion, surely. I anticipate the discussion as it unfolds this coming evening (afternoon for you in Nashville). I feel, however, that I must react to the blog as it has unfolded 'til now.
We 'here' (and I assure you, the grass is always greener), as opposed to you 'there', complain to the government regularly that arts subsidies are not now quite sufficient to engage those ideal, broad publics (young, old, black, yellow, white and of course, red and purple and not speaking our specific language) as specified in our 'targets' for continued financial support. You 'there', as opposed to we 'here', complain that those said ideal publics are just not interested anymore (but whose fault is that, certainly not the true artist's ). Ergo, despite the significant salt water pond between, classical music is complaining on both sides of the Atlantic about a decrease in interest. So we oldies webblog together to explore ways in Engaging Art.
I welcome the discussion, certainly, and yet, after reading 20% of the 86 pages produced up 'til this moment (European time), I have yet to read the words I am yearning for:
knowledge,
education.
'Choices are overwhelming' writes Douglas McLennan. Absolutely spot on.
But what if we cannot choose?
'I insist on peak experiences', he continues.
For sure, but maybe some kids have never, ever, had one.
'technology rules': certainly,
so why isn't everyone interested in absolutely everything as absolutely everything is so easily accessible?
'fan cultures' are now supreme:
right again, but Lang Lang has a smaller following than Justin Timberlake...if only the difference was in perspective.
Ok, I admit, I finally did see the word I was breathlessly awaiting:
education.
"When did education get separated from core programming?" queries Alan Brown.
Answer: never did, never will.
Some things worth learning need to be learned first to be appreciated.
A few pages later, Ed Cambron asks: 'How do we deal with choice?'
I would prefer he asks: how do we deal with those unable to choose?
Answer; we educate them and in doing so, give them a choice.
Mr. Cambron goes on to suggest that an orchestra's repeating a programme parallel to opera house schedules would work wonders. I precociously suggest, only if programmed parallel to a series of romantic sit-coms (would the world have fallen for Friends in just one season-?).
I would love to agree with Mr. Cambron, but reserve the right to hordes of tickets to those repeat performances for those yet to reach puberty and musically 'challenged' as it were. I gladly bequeath the same education on the school children of today that I was fortunate to have: one Grandmother enamoured of Richard Wagner, the other of Tony Bennett and a Mother who got to sing under Stravinsky and was in love with Nadia Boulanger. All of them made sure I attended the Boston Symphony Orchestra as often as possible, lovingly so, also making sure I watched 'Uncle' Lenny Bernstein on TV as well as the Ed Sullivan Show (where Tony B would perform from time to time).
Why? Because good music enriches you, it enlightens you, it can be thrilling. So irregardless of subsidies and patrons and ticket sales and careers, great music we cannot live without. And if we, the over forty crowd, are able to appreciate it, are able to choose it, it is because we have been exposed to it before we reached puberty, that decisive time in which we reject things in order to define ourselves in positive impulses.
In real estate, there are three keys to success: Location, Location and Location.
For engagement in the arts, there are but three keys to success:
Education, Education, Education.
Cynthia Wilson
Amsterdam
wwclassics

Posted by: cynthia wilson at June 21, 2007 1:29 PM
If you want to have some real fun but intellectual conversation regarding classical music in general or even a specific concert, team up with a local cafe or bar and do music trivia before and/or after a concert. I think we all know that sports fans have a great deal of knowledge (trivia, stats, etc.) about their interest, why shouldn't concert-goers?
Posted by: Justin at June 21, 2007 1:30 PM
From the New Zealand Symphony Orchestra; we began blogging last year and have found that our audience use it mainly to give us feedback about our concert activity, but they also use it to 'get personal' with our musicians. Also people who have no physical link to the NZSO - i.e. can't get to concerts - have begun to use it to connect with us.
Posted by: Rachel H at June 21, 2007 1:31 PM
Wow - that could make for some abrupt tempo changes!
Posted by: Anonymous at June 21, 2007 1:31 PM
The way we teach our musicians to be professional musicians in our music schools and conservatories hasn't changed in 100 years. Our professors often have a myopic prejudicial point of view. As a result, many of our orchestra have removed themselves from an always changing cultural society.
Posted by: Barry at June 21, 2007 1:32 PM
Our discussion time is far too short in between speakers. Stop interupting!
Posted by: Liz Wheeler at June 21, 2007 1:32 PM
Listening behavior is different than attendance behavior. Many of us have music on our ipods that we would not go to hear live in concert. Much of the symphony concert draw is social. In other words, perhaps we don't go to symphony concerts because we have the music on our ipods.
Posted by: Table Comment at June 21, 2007 1:34 PM
Atul thinks we need an orchestra Wiki; the rest of the table thinks it's a wonderful idea.
Posted by: Robert Levine at June 21, 2007 1:34 PM
In my recent experience, one of the most successful ways to engage an audience was the most low-tech -- just talk to them. At both symphonic and chamber music events, when either the music director or a participating musican gave out some information or personal insight about the music to be performed, it went a very long way toward helping the audience feel included and engaged. Of course, this was an audience already present in the hall, but it seems to relate to some other comments here about getting audiences to tell us what they want. Their responses to an simple act that reaches out to them leads me to think that the more we can do that, the better off we will be, whether we do it via the internet, traditional mailings or from the concert stage. When we present more adventurous programs, inviting the audience to come along for the ride rather than demanding that they do inevitably produces more positive reactions to music about which, only a few moments before, they had grave suspicions. And it doesn't "tart anything up" or demean the listeners. Not a brilliant suggestion perhaps, but a low-cost one - and it's surprising how few institutions make it a regular practice.
Posted by: mardi at June 21, 2007 1:35 PM
Mr. Tepper mentioned that he had to recalculate his spreadsheet because we were so far off the other cultural genres. What does that say about our industry? Are we relevant any more?
Posted by: Anonymous at June 21, 2007 1:37 PM
I really enjoyed Lynne Conner's comments. It was interesting to reflect on the history of acceptable audience behavior. Perhaps we shouldn't be surprised that as appropriate behavior became more prescribed and restrictive, fewer people have chosen to participate on fewer occasions; particularly where "live" behavior could be observed. This seems particularly contrary to our more casual and participative lifestyles...
Posted by: Judith Konen at June 21, 2007 1:38 PM
Conservatory education has changed plenty in 100 years. Theory includes atonal and jazz harmony, history has everything up to post-minimalism and beyond, and the presence of popular music in academia is secure and vital. And then there's the flowering of historically-informed performce practice. Can we retire "academic" as a perjorative term?
Posted by: Anonymous at June 21, 2007 1:39 PM
For me, the reason for having this seminar is to find a way to justify the fact that the arts are relevant to everyday life - to communities, to education - which of course is much more of an incentive to provide funding for the arts than '"just a concert". It is an excellent and necessary topic to examine. But I am not convinced that blogging is an effective means of addressing the issues. Too many people yelling in a room - this topic needs a much more focused approach, IMHO.
Posted by: Valerie at June 21, 2007 1:40 PM
Mr. Tepper mentioned that he had to recalculate his spreadsheet because we were so far off the other cultural genres. Quantity is not the same as quality. (And popularity is not necessarily the same thing as relevance, either.)
Posted by: Matthew at June 21, 2007 1:43 PM
The CSO audience member has a point. Not everyone likes Lygeti just as many are baffled by Jackson Pollock. We don't need to pander to those views, but we shouldn't laugh at them either, if we hope to connect to a broader community.
Posted by: Christopher Deacon at June 21, 2007 1:52 PM
I've noticed that towards the middle of the event, more people are ignoring their laptops and focusing instead on the speaker. Does the commenting get old after a while? Do people run out of things to say? Or is it just lack of attention span? (Perhaps the fact that I'm writing this meta-comment during the speaker's time speaks of my own attention span.)
Posted by: Eric Near at June 21, 2007 1:54 PM
Some brilliant comments there... I liked the one comparing the interactivity of Opera performance to the inactivity of a Symphony Concert.
But in Opera we are expecting miraculous feats from our singers, and that prepares us to listen carefully, live with the soloist, and, finally, reward her/him with applause if we feel to do so.
In a concert that would mean knowing all the players in the orchestra and knowing all the solos in the piece being performed, to be able to fully appreciate the heroic efforts of the players. Maybe then the applause would come naturally?
If we would like to move to this direction, we should present the orchestra more as a group of talented individuals (they all should acquire some kind of pop-star aura!), and we also should be able to educate the listeners to the repertoire beforehand. As some other writers commented, we all come back to the education of the potential concert goer. There seems to be no way round that!
Posted by: Sasha Mäkilä at June 21, 2007 2:02 PM
Eric Near pointed out the fact that people aren't commenting, but i think it is more an issue of the people who are here aren't familiar with this format yet and can focus more easily on convential, old-fashioned talking.
Posted by: atonlprime at June 21, 2007 2:03 PM
Gerard,
As always you were inspirational .. inspiring complicity!
I am proud that you represent the Chicago Symphony Orchestra Association.
Judy Konen
Posted by: Judith Konen at June 21, 2007 2:04 PM
I have to admit, when I walked in here today, I felt I was a part of something huge: a valuable and contributing member of something that is spanning the globe and something that has the attention of important organizations and individuals. Interesting as we are discussing how participation makes people feel.
Posted by: mollie fry at June 21, 2007 2:05 PM
The distribution method and media format are unimportant. It's the product that is paramount. Whether you manufacture drills or lasers, it's the quality of the hole that you're really selling, not so much the tool.
Posted by: Anonymous at June 21, 2007 2:09 PM
The new participatory activities described here today and by Greg Sandow in his earlier posts will no doubt develop in ways we cannot predict. But are they really relevant? Our table feels that the old notion of participation -- learning to play an instrument -- is a proven way of creating the informed, engaged, alert audience member Gerard McBurney invoked. What other participation does an orchestra need?

Posted by: Todd at June 21, 2007 2:12 PM
Many of these comments reflect the doom and gloom we have come to expect in this field. However, there are incredible initiatives that we've heard abou this week that suggest the we are responding to these opportunities. Let's here more about this.
Jim
Jim Hirsch
Executive Director
Chicago Sinfonietta

Posted by: Jim Hirsch at June 21, 2007 2:12 PM
Clive Gillinson's point about the Wall Street Journal being the #3 newspaper - because it is credible is well taken. In the Blogisphere the same thing is happening when doing the Blog searches... (Similarly with YouTube) they are rated about their credibility based in part on the number of readers and subscribers to these blogs. Orchestras can participate in this online world and if we are open to this process, our work will speak for itself. And as Clive says it takes an act of faith
Posted by: Rebecca Krause-Hardie at June 21, 2007 2:12 PM
Molly Sheridan is right - we shouldn't be afraid of involving the audience more. similarly, we should not be afraid to present new works to our audience. mozart and beethoven wrote so many works beacuse patrons recognized the importance of supporting new music and also the potential excitement it can create.
Posted by: atonlprime at June 21, 2007 2:12 PM
McBurney gets it exactly right!
Bravo. (worth the price of attending the conference) In contrast to
the letter writer, my reaction to that concert was to find and
purchase a CD of the Legetti concerto, a piece I had not previously
heard.
Evan Richards
2473 Waubesa Hill Road
McFarland, WI 53558
erichards@evanrichards
Posted by: Evan Richards at June 21, 2007 2:14 PM
Thanks goodness Clive Gillinson is not single-handedly responsible for the future of classical music. For it would cease to exist outside of the 10 major cities.
Posted by: Ted R. at June 21, 2007 2:14 PM
I'm interested to know how the speakers feel about talking to an audience to whom so many may seem 'disengaged' by reading, typing and only half listening. Do they feel as if we adequately appreciate their performance?
Posted by: Anonymous at June 21, 2007 2:15 PM
I'm interested to know how the speakers feel about talking to an audience to whom so many may seem 'disengaged' by reading, typing and only half listening. Do they feel as if we adequately appreciate their performance?
Posted by: Anonymous at June 21, 2007 2:15 PM
if product was truly paramount, then josh bell would have made a hell of a lot more money in the DC subway.
Posted by: atonlprime at June 21, 2007 2:15 PM
Bell's audience was distracted, on its way to work. Not a good test group.
Posted by: Anonymous at June 21, 2007 2:19 PM
We have to believe that the product we are offering has merit and is good. Once we remember that for the most part the quality is of a very high level the questions become:
How do we Market effectively the Product that we already have?
And also, how do we become, as Orchestras, an integral part of the communities we serve? If there's a connection that makes us top of mind with our local audience, we are on the road to success.
Posted by: Anonymous at June 21, 2007 2:20 PM
The ASOL should find funders to spearhead a nat'l social networking site of "mavens" and "initiators", so that orchestras can contact these individuals in their own community and spread the word to younger demographics.

Posted by: Maven Network at June 21, 2007 2:24 PM
I think it is wrong for us to consider our art form as old, outdated, and unrelated to life today. It is equally wrong to think we must change our performances completely in order to survive. It takes a bit of both to be successful. The very best performances of Beethoven's Ninth can be just as revelatory for an audience as blowing up old buildings (that need to be demolished anyway)to Tchaikovsky's 1812 Overture. Why can't symphonies do both? Let's bring all audiences to our range of performances.
Posted by: Rachel Ligatti at June 21, 2007 2:24 PM
Mollie Fry, you make a good point. I seem to remember discussing that participation is a big reason people go to concerts- to feel as if they are a part of something larger than their individual selves.
I think that to get audiences to participate in the concert, we need to teach them how to talk about what they think of the music- and even that it is okay to have an opinion! When audience members hear a new piece, they know if they liked it or not, but I think they don't feel like they can explain why. The only reaction they feel entitled to is applause while in the hall. Whether it's on a blog, or a text message, or while sitting down for a cup of coffee, the audience members need to know they can discuss what they heard. This will make them feel involved, and like they have some ownership in what happened. Someone used Friends as an example earlier, and tv is a perfect example of this- watching a television show isn't a particularly interactive experience, and yet every day, people discuss (at length) what happened on the latest show, what they think will happen next, and the tv show becomes a part of their lives. The same thing happens with an orchestra when you can regularly listen and talk about what you heard.
Posted by: Jennifer Kamper at June 21, 2007 2:25 PM
Posted by: Anonymous at June 21, 2007 2:25 PM
Re: the greenhouse orchestra
I have work to do and therefore I have been able only to read comments quickly from time to time - not the best way to follow the thread of the discussion, it seems. The "greenhouse orchestra," an ensemble free of financial constraints, may seem like Nirvana. I suspect, however, that it is an unnatural freak of nature and therefore of dubious experimental value.
Orchestral music in particular always has been expensive to produce. The economics of converting an orchestral composition into sound waves always have been and continue to be daunting and show no sign of becoming less so. Experimenting with a singular no-cost ensemble would not seem likely to shed any light on the economic conundrum.
Furthermore, art separated from the need to engage and audience and establish a symbiotic relationship with it strikes me as meaningless in artistic terms, and absurd in economic terms given the high expense of production. The economic imperative underlies the very existence of today's discussion and cannot be ignored.

Posted by: James Hopkins, CFRE at June 21, 2007 2:26 PM
Maven Network- what a great idea...actually getting orchestras to communicate with each other on a regular basis!
Posted by: atonalprime at June 21, 2007 2:27 PM
Quite right about not being afraid to give our audiences new music and means for interaction. We've had a wonderful 3 seasons of success with the South Dakota Symphony, putting a work by a Pulitzer prize-winning composer on each program. Not everyone loves it, of course, but it surely has caused engagement with the audience. Problem is, we're still talking about the people we already serve, the audience already coming to our concerts. When you have a huge success with something new, how to get the word out in order to capitalize on it? How do you get the bloggers to find you and write about you? Yes, we can do it ourselves, but how to distribute that to a larger audience - get into that Long Tail?
Posted by: Delta David Gier at June 21, 2007 2:29 PM
Bell was giving his product (the hole) away for free and relying on his "customers" for tips. A remarkably different model than paying for the product. And hardly a receptive audience, I would say. The point is that the digital world does not mean the end of the live concert, it only challenges us to make the experience better than the home or virtual experience.
Posted by: Anonymous at June 21, 2007 2:34 PM
Is product paramount? I know hundreds of people who have attended student recitals but have never set foot in a real concert hall or listened to a real orchestra. Why? If they don't know the music, don't know the players, why would they? If you were a classical fan and listened to little else, would you go to a heavy metal concert? A performance at the Grand Ole Opry? Not unless you believed that the experience would outweigh what you might otherwise think about a particular genre. You go to concerts that you feel a connection with - yes, it's education to some extent, but it's a lot more than that. If someone hates country, he or she is probably not going to go to the Opry even if they've been very well educated regarding its history and the singers (as one is if one lives in Nashville). Lessons, as previously mentioned, personalize orchestral music (if an orchestral instrument). We have something called in 'instrument petting zoo' at our childrens' concerts, and talk about a direct connection - you see it in the eyes of kids and the parents. They're holding the orchestra in their hands; they have spat upon the mouthpieces; it's really quite a wonderful thing to see.
Posted by: Justin at June 21, 2007 2:38 PM
When I get home I'm going to get people in a room and talk to them and try and generate the same passion that I feel at this precise moment in time.
Posted by: RH at June 21, 2007 2:39 PM
Our table discussed the fact that audience demographics have not significantly changed over the past 50-70 years. Is the fact that our audience looks the same as it did 20 years ago really cause for crisis mode? (We are very optimistic about the participation of our audience)
Posted by: Table Comment at June 21, 2007 2:40 PM
It would not let some of us post comments, only preview them, so I am emailing this comment that is not timely anymore.

Regarding classical playlists:
Perhaps we should examine more thoroughly the consumers who have classical music on their playlists and have never gone to a concert. How did they come to download these pieces? Did they choose it by the piece or by the ensemble or soloist? What would lead them to experience that piece or another of the same genre in person?
I have met many people that like classical music but don't know what the buy when they want to have something at home, so the digital age has allowed them to "sample" new types of music that they might not have bought in CD format. They don't come to concerts because it seems foreign to them and takes planning, as well as a "risk".

Posted by: Cynthia Steele at June 21, 2007 2:46 PM
In response to the final three questions posted for us to answer, the one that we will mostly likely focus on is the idea of more participation from our audiences post concert. We already offer preconcert talks and will post program notes online this season. But the new idea is to offer our audiences a chance to blog their reviews/ideas of the concert through a link on our website. Unfortunately the daily issues of "putting out fires" has kept us from actually implementing some of the new technological means available to us today, even though we (staff) are aware that we should be utilizing them more.
Posted by: Janice Nelson at June 21, 2007 2:54 PM
ASOL's OLA Essentials of Orchestra Management Class of 2007's brainstorm on why people attend concerts as moderated by Ara Guzelimian:
Hear specific work
Spouse pressure
Moved
To be seen
To see and be seen
Cultural currency
Social
Planned group activity
Experience a live orchestra
Habit
Personal acquaintance
To be entertained
Tourism
Educate kids
Social prestige
Music students
To see soloist or conductor
Free tickets
Inspiration
Live experience
Response to special theme
Civic engagement
Venue
Transformative experience
Intellect
Personal education
Re-living live a familiar work or experience
See virtuosity
Invited by a friend
Hype/curiosity
Family ties
Renewal
Escapism
Spiritual fulfillment
Catharsis
Ethnic
It's good for you
Collective experience
Contact with greatness;
Religious
Sex
impress a date
ownership

Posted by: OLA: Essentials Class of 2007 at June 21, 2007 2:54 PM
Thanks for your participation!
Posted by: 2007 ASOL FELLOWS! at June 21, 2007 3:04 PM
Thank you for this rich and sometimes maddening discussion. I had a few thoughts or questions that I wanted to share. The first is that we might consider opening conversations like this up to people living and working in different worlds. One of our problems is that we mostly talk to ourselves. There is much to learn from teachers, activists, organizers, social workers, little league coaches, restaurant owners, internet ventures, pastors, and more - people who are also organizing cultural events and using creative tactics to encourage genuine human exchange and interaction. Think of how differently the conversation might go, and what we could learn if we weren't just talking to ourselves. If we think of art as a fundamental part of life - not just related, but integral - and we extend and enrich our own dialogue, then perhaps the steps toward broad cultural participation would be far less perplexing and far more organic.
I am also very intrigued by the discussion around the aging and/or struggling nonprofit model. I do believe we need to broaden or even change our definition of creativity as well as our understanding of cultural delivery systems (nonprofits, community centers, the internet, cafes, living rooms, warehouses, churches, etc). And, as we expand our understanding of the different structures that support art-making and cultural participation, perhaps the nonprofit model can evolve its way back to its fundamental purpose - which should perhaps be less about institutional ego and more about the missions that initially founded these institutions (which were certainly about art) and the evolving world around those missions. We can and must change - and we can and must do that with history in mind. In other words, it has to be about art and not organizations and it should be about what came before, where we are now, and where we want to be.
Finally, there are models that work. There are really exciting things out there. The most successful - from my perspective - are the ones that emphasize not only the product or the final cultural experience but the process of art-making (to flow with much of what has been said). I think we need to better support the things that are working - whatever they are, whatever their model - lift them up, value them. If they are doing new things - perhaps we don't need to hold them to old paradigms. We can all learn from each other - from what has happened and from what is to come.
Just yesterday, a well-known Bay Area theatre artist who started his career many decades ago paid a visit to Intersection for the Arts (where I work). His purpose was to talk about how to save the vanishing history of theatre companies that were founded and thriving in the 1950's, 60's and 70's and are now gone. As he reminisced, we at Intersection took frantic notes. So much to learn. Such similar struggles. The yellowing archives he shared seemed dazzlingly new. Along the way, he talked about the moment when three or four theatres lobbied congress in order to be designated as charitable institutions. Isn't there so much to learn in that history - the moment when the Country agreed that theatres were not just for-profit businesses with a product to sell? Indeed, why not bring people along for the ride? Why not let them share their ideas along the way? Why not create "co-authorship" and a sense of meaning and ownership from the beginning? Why not?

Posted by: Deborah Cullinan at June 22, 2007 7:25 AM
It was my first time attending the League Conference. I'm 25 and have been Marketing Director for a 200,000 budget orch. in Miami.
The blogging session was incredible as well as every single other event, party, seminar and activity at the conference.
I was especially glad to have attended the "Almost Famous" party (35-under). Maybe this is the start of a social-networking site (like Facebook) just for professional league members!!!! That'd so cool!
Posted by: Frederico Gouveia at June 25, 2007 10:06 PM
Post a comment
Tell A Friend
Resources
Engaging Art: The Next Great Transformation of America's Cultural Life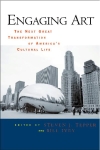 Abstracts more

Chapter downloads
Chapter 4
In & Out of the Dark - (a theory about audience behavior from Sophocles to spoken word)

Chapter 7
Artistic Expression in the age of Participatory Culture (How and Why Young People Create)

Chapter 8
Music, Mavens & Technology

(all chapters in pdf form)

MP3s


Vanessa Bertozzi on audiences and participation



Vanessa Bertozzi on involving artists in work



Steven Tepper argues the historical context of arts in America


Steven Tepper talks about technology and the future of cultural choice



Lynne Conner on the historical relationship between artist and audience


Lynne Conner on event and meaning and sports
AJ Blogs

AJBlogCentral | rss

culture
dance
media
music
publishing
visual

---
Special AJ Blogs