A few weeks back I was in NYC and had the opportunity to attend a Public Forum event featuring the brilliant Jeremy McCarter reading from his new book Young Radicals: In the War for American Ideals, and an equally brilliant panel of renowned activists and artists doing a staged reading of the timely, and at once harrowing and humorous, 1917 one-act by Susan Glaspell, The People. It was a great evening and McCarter's book is now sitting on my Kindle, next in the queue. Toward the end of the evening McCarter turned to the rather large panel of activists and artists he had assembled and asked them to reflect on the phrase Art for Art's Sake.
There was an awkward silence.
The first couple respondents squirmed a bit and then shrugged off the phrase as being all but useless these days. Others looked like they hoped they would not be called upon to answer.
Someone, as I recall, asked, "What do we even mean when we use that phrase?"
Indeed.
I remember thinking: This is so funny. A panel discussing ideals and art and activism, in a theater, and no on on stage seems willing or able to engage with the idea of art for art's sake.
Then a visual artist from Cuba stepped up to defend the concept, suggesting that these words come to signify something quite specific and meaningful if you have ever lived under an oppressive regime that censors your ability to make the work you want to make.
Some nods of ascent.
Another panelist said he valued the phrase in the sense that his very existence as a black man making his living as a poet (a rare breed, he suggested) was meaningful to black and brown youth considering their own possibilities in life.
More nods of ascent.
But the question that it seemed most were wrestling with was: If not "for" someone else, or some other purpose, then why make art?
This seems to be the stance-du-jour on l'art pour l'art.
For the past three years I have led a variety of workshops (on business models, marketing, values, transformation, change) with arts admin types. Frequently, I include a slide in my deck with the following phrase and ask people to fill in the blank (it's a question I stole from Clay Lord, who posted it on Facebook):
Art for ____________'s sake.
In three years, no one has ever said art.
The most common answers are "the society" or "the audience" or "the people."
I get it.
I wrestled with art for art's sake for much of 2014 as I designed my course on beauty and aesthetics for business school majors. That wrestling match ended the second week of class, when I brought in a graduate student from the art department, named Tara Austin, to do a drawing workshop with the students. At the end of her drawing workshop Tara talked about her own work, which is inspired by beauty in the natural world. At the time, she was doing a series of abstract orchids.
Tara showed slides of several of her orchids and then asked if there were any questions. The first business student to raise her hand said something to this effect:
So, you said that you are only painting orchids. And, I mean, do you think this could be a problem? I mean, maybe people don't want orchids, orchids, orchids. Maybe not that many people like orchids—maybe some like other kinds of flowers. Or something other than flowers? I mean, I just wonder, are you thinking about this?
Tara paused for a second and then replied,
Um. That's a really interesting question. No, I'm not thinking about that, actually. I'm painting orchids at the moment because they are really interesting to me and so I guess I will keep painting them until I'm ready to move on to another idea.
After the fact, as I reflected on this moment, I thought it was quite brilliant. A quite reasonable question from a business school student: Is there sufficient demand for orchids? Do you know your market? Do you think you may need to diversify?
And a quite reasonable answer from an arts student: I'm interested in the idea for its own sake; right now, I'm not thinking about whether there is a market for orchids.
And I could not have architected a better moment to convey the different logics or rationalities of business and art, or what art for art's sake, or research for the sake of research, or exploration for the sake of exploration, or excellence for the sake of excellence are all about. Through this brief conversation between an artist and  business student, I was able to experience the world of business and the world of art as parallel systems of value. This experience finally helped me make sense of, and come to terms with, the phrase art for art's sake.
There are other parallel systems of value. In his 2010 monograph Economies of Life: Patterns of Health and Wealth, Bill Sharpe elaborates five "economies" and their "shared denominations of value" in a table. The last of these is the experience economy of art.
| | | |
| --- | --- | --- |
| Economy | Currency | Statement of Shared Denomination of Value |
| Competitive Games | Score | The economy of scoring coordinates individual games of a particular kind into a collective competitive sport. |
| Democracy | Votes | The economy of democracy coordinates individual preferences into collective policies and powers. |
| Science | Measurement | The economy of science coordinates individual phenomena into collective 'objective' knowledge. |
| Exchange | Money | The economy of exchange coordinates individual use values of alienable property into collective markets. |
| Experience | Art | The economy of experience coordinates individual lives into the collective experience of being human |
What Sharpe's framework seeks to illustrate is the incommensurate nature of these various currencies of shared valuation. The score of a sports game may tell us who won or lost but it can't help us understand the individual or shared experience of the game, for example. Sharpe elaborates on art as the currency of experience, writing (on p. 46):
To see something as art is to respond to it as an expression of personal experience, as the trace of life. To become art, something must move from being private to circulating amongst us as a means of sharing the experience of being human, taking its place in the continuous dance of our culture. In doing so, like dance, its meaning is made, shared, and reflexively remakes our experience of our selves.
Put another way: art is the way we share with one another what it means to be human. To embrace the notion of art for art's sake in this sense, is also to say, "We need dance/poetry/theater because only the aesthetic form of dance/poetry/theater can allow us to share with one another the experience of being human, using the language of dance/poetry/theater."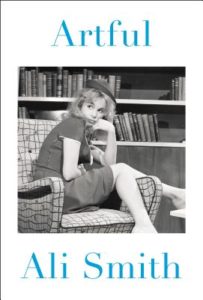 Something like this idea infuses the gorgeous 2012 book Artful by Ali Smith—an extraordinary piece of fiction cum art essay, or vice versa, that I just finished. The apt description on the back cover reads: "Artful is a celebration of literature's worth in and to the world. It is about the things art can do, the things art is made of, and the quicksilver nature of all artfulness."
In one of four sections, On Form, Smith writes (on p. 76):
Even formlessness has form.

And it suggests this truth about the place where aesthetic form meets the human mind. For even if we were to find ourselves homeless, in a strange land, with nothing of ourselves left—say we lost everything—we'd still have another kind of home, in aesthetic form itself, in the familiarity, the unchanging assurance that a known rhythm, a recognized line, the familiar shape of a story, a tune, a line or phrase or sentence gives us every time, even long after we've forgotten we even know it. I placed a jar in Tennessee. Once we know it, we'll never not know it. Rough winds do shake the darling buds of May. They always will. Rhythm itself is a kind of form and, regardless of whether it's poetry or prose, it becomes a kind of dwelling place for us.
Valuing art for art's sake is about understanding the value of this dwelling place.
And a bit earlier, Smith writes (on p. 74):
Form never stops. And form is always environmental. Like a people's songs will tell you about the heart and the aspirations of that people, like their language and their use of it will tell you what their concerns are, material and metaphysical, their artforms will tell you everything about where they live and the shape they're in.
When I read this passage I thought about seeing a presentation, four years ago now, by Georgetown professor of public diplomacy, Cynthia P. Schneider, who has argued that an important method for understanding any culture is to observe the works of its artists. Schneider has spoken and written extensively on the lessons in diplomacy from the Arab Spring, and in particular has examined the question that many were asking in the days following the revolution—Why didn't we (America), in particular the CIA, see the Arab Spring coming?
Schneider asserts that this is the wrong question because it reflects a "twentieth-century-men-in-suits-around-a-table version of diplomacy." Ultimately, she argues that we missed the Arab Spring because we were looking in the wrong place. Instead of "governments talking to governments and authorities talking to authorities," diplomats and intelligence agencies should have been listening to the music of Arab hip-hop artists, looking at the graffiti on their walls, and watching their films. If they had, they would have anticipated the revolution. While they might not have predicted its time and date, she makes the case (using lyrics, text, and visual images) that they would have, without a doubt, sensed that it was coming.
This is also what it means to value art for art's sake.
***
Just as we understand the value of research aimed at answering a question that may not have immediate utility to industry, so too can we understand the value of a set of questions being pursued through art for no other reason than because they are of interest to the artist. Scientists must increasingly defend "pure scientific research" as it is a space being eaten alive by the demands of economically lucrative industry-university partnerships. In the same vein, we need to be able to defend the "art for art's sake" end of the art world spectrum, alongside the other end, "art for civic purposes," which we have now, perforce, grown quite accustomed to defending.
[contextly_auto_sidebar]