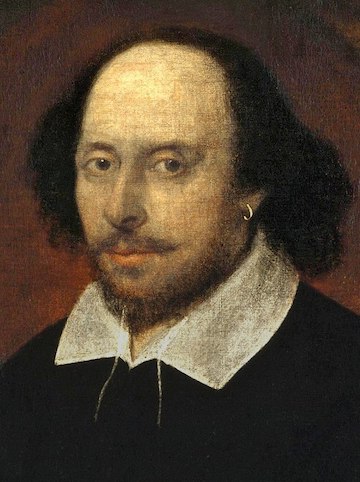 It is widely acknowledged that Shakespeare lacked a university education — there is no record of it — unlike his contemporaries or near-contempories, such as Marlowe, Greene, Jonson, Nashe, Beaumont, Fletcher, so forth. Despite that, he was a greater writer than any of them, and pilfering was part of his toolkit. As Anthony Burgess notes in his biography Shakespeare, he not only took plots and stories from others for his plays — this too is widely acknowledged — but also "filched" entire passages (plagiarized them, if you will) and in the process improved them immeasurably.
Burgess writes:
Will was later (or perhaps even in his schooldays, extramurally) to read Plutarch in [Sir Thomas] North's translation from [Jacques] Amyot's French translation. In his Roman plays he followed North closely. This is proved to take a notable example by comparison of North's description of Cleopatra in her barge with Shakespeare's astonishing blank-verse heightening of the plain North donnée. We can see Will tearing off his lines with North in front of him as his guide. Here are the prose facts; a little manipulation will turn them into poetry. Cold North to hot south (Egypt as it ought to have been, whether it was or not) with a few magic strokes.
'We can see Will tearing off his lines with North in front of him as his guide.'
Burgess cites North:
… she disdained to set forward otherwise, but to take her barge in the river of Cydnus, the poop whereof was of gold, the sails of purple, and the oars of silver, which kept stroke in rowing after the sound of the music of flutes, hautboys, citherns, viols, and such other instruments as they played upon in the barge. And now for the person of herself: she was laid under a pavilion of cloth of gold of tissue, appareled and attired like the goddess Venus, commonly drawn in picture: and hard by her, on either hand of her, pretty fair boys appareled as painters do set forth god Cupid, with little fans in their hands, with the which they fanned wind upon her. Her ladies and gentlewomen also, the fairest of them were appareled like the nymphs Nereids (which are the mermaids of the waters) and like the Graces, some steering the helm, others tending the tackle and ropes of the barge, out of the which there came a wonderful passing sweet savor of perfumes, that perfumed the wharfs side, pestered with innumerable multitudes of people. Some of them followed the barge all alongst the river's side: others also ran out of the city to see her coming in. So that in the end, there ran such multitudes of people one after another to see her, that Antonius was left post alone in the marketplace, in his imperial seat to give audience …
'A little manipulation will turn the prose into poetry … with a few magic strokes.'
This is Shakespeare:
The barge she sat in, like a burnish'd throne, 
Burn'd on the water. The poop was beaten gold; 
Purple the sails, and so perfumed that 
The winds were lovesick with them. The oars were silver, 
Which to the tune of flutes kept stroke, and made 
The water which they beat to follow faster, 
As amorous of their strokes. For her own person,
It beggar'd all description. She did lie 
In her pavilion, cloth of gold of tissue, 
O'er-picturing that Venus where we see 
The fancy outwork Nature. On each side her 
Stood pretty dimpled boys, like smiling Cupids, 
With divers-colored fans, whose wind did seem 
To slow the delicate cheeks which they did cool, 
And what they undid, did . . . 
Her gentlewomen—like the Nereids, 
So many mermaids tended her i' the eyes 
And made their bends adorings. At the helm 
A seeming mermaid steers. The silken tackle 
Swell with the touches of those flower-soft hands, 
That yarely frame the office. From the barge 
A strange invisible perfume hits the sense 
Of the adjacent wharfs. The city cast 
Her people out upon her: and Antony, 
Enthron'd i' the marketplace, did sit alone . . .
What counts, therefore, is not what's filched, but what results. Or as Brion Gysin and William Burroughs claimed for their "cut-up" technique, "nobody owns words."