A pre-owned, first edition copy of Necrophilia Variations sold yesterday on eBay with an asking price of $2,000. The author, who goes by the name Supervert, is embarrassed to brag about it. Although it wasn't Supervert who sold it, and he doesn't know who did, he tells me, "Market value helps fill the vacuum of feedback we writers are treated to."
Now read the opening paragraph:
Inevitably there came a point at which I had to pause and ask myself: How would you like it? How would you like to be lying there on the autopsy table having the coroner slice you up into a variety of sexual aids? The femur bone makes a fine dildo. Intestines are natural prophylactics. The heart, that organ of romance, can be used as a four-chambered pocket pussy. Whatever remains of your body afterward can be filled with KY instead of embalming fluid — or vice versa, perhaps a horny little necro nymph will come along and leech the embalming fluid from your body to use as a "personal lubricant." Who knows? The possibilities are endless. Do you prefer your corpse to be a waste product or a sex object?"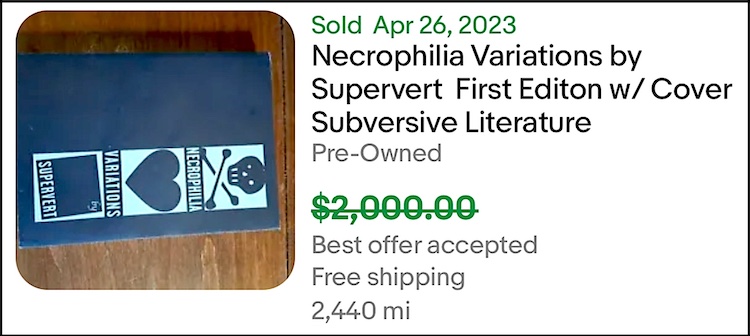 Since somebody made an offer and the seller accepted, odds are it sold for $1500. We don't really know.