This teaser appeared today at Arts & Letters Daily in its "New Books" column: "'I greet you at the beginning of a great career,' Lawrence Ferlinghetti wrote Allen Ginsberg. … Thus began the effort to publish Howl, a landmark case of attempted censorship…" The teaser linked to an article that appeared recently in Spiked apropos the publication in the U.K. of The People v. Ferlinghetti: The Fight to Publish Allen Ginsberg's Howl, which, it so happens, is closely related to I Greet You at the Beginning of a Great Career: The Selected Correspondence of Lawrence Ferlinghetti and Allen Ginsberg, 1955-1997, published four years ago here in the U.S.
Why do I mention all of this? Well, for some reason the Spiked article never mentions the fact that Ferlinghetti appropriated that fabled greeting of Emerson's to Whitman. Nor, as far as I can tell, was the appropriation mentioned in any of the reviews and articles that appeared when I Greet You … was published in the U.S., even though it is pointed out by the editor. You'd think a review would have noted the purposeful literary reference, especially given Ginsberg's reverence for Whitman—and if someone did, please let me know. In the meantime, have a look: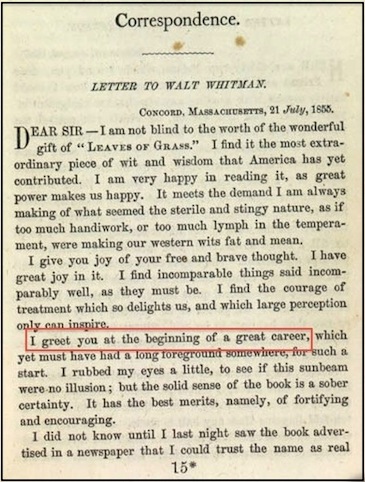 . . . One hundred years later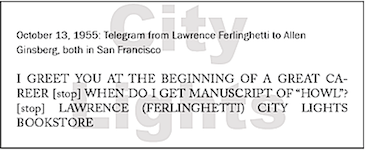 Postscript: May 14—Listen to the telegram as sent in Morse Code (courtesy Gary Lee-Nova).
.. –. .-. . . – -.– — ..- .- – – …. . -… . –. .. -. -. .. -. –. — ..-. .- –. .-. . .- – -.-. .- .-. . . .-. … – — .–. .– …. . -. -.. — .. –. . – – …. . — .- -. ..- … -.-. .-. .. .–. – — ..-. …. — .– .-.. ..–.. … – — .–. .-.. .- .– .-. . -. -.-. . ..-. . .-. .-.. .. -. –. …. . – – .. -.-. .. – -.– .-.. .. –. …. – … -… — — -.- …