The epigraph on "NO!art MAN," a major 2001 documentary about Boris Lurie, who died earlier this month, says it all: "In a time of wars and extermination, aesthetic exercises and decorative patterns are not enough." Those are Lurie's words, and now they might as well serve as his epitaph.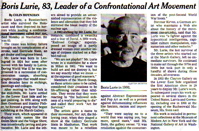 The obit by Colin Moynihan in The New York Times was an excellent if brief summary of the artist's life and historical significance. But it only skimmed the surface.
For a deeper appreciation of Lurie's prolific output, as well as his importance, you have to go to the comprehensive Web site NO!art created and maintained by Dietmar Kirves. It is revelatory. There you will find more than 100 images of Lurie's paintings, assemblages, collages, multiples, etchings, posters, sculptures and mixed media works, along with detailed biographical notes, extensive interviews, a filmography of documentaries about him, and critiques, press reports and essays that appeared over the years.
Although I've known about Lurie since 1973, when I published one of his essays in a Something Else Press anthology (long after he launched the downtown NO!art movement with Sam Goodman and Stanley Fisher), my interest was reignited by Clayton Patterson, when he included Lurie in a group show, "326 Years of Hip," at his gallery on Manhattan's Lower East Side in 2005. (I've posted other items about Lurie — "Boris Lurie's 'NO!art' and the Holocaust," "Shoah and Pin-Ups" "Boris on the Bill" — but it would be an exaggeration to say they
even barely
scratch the surface.)
It is obvious from the 1959 "Railroad Collage," above, that the Holocaust dominates Lurie's art. How could it not? He was a survivor.
Lurie clearly had the skills to fit any aesthetic mold if he chose. Have a look at the painterly, figurative craftsmanship in his "Dismembered Woman" series: "Figure and Bathtub," or "Apple Eater," or "Nude stepping," or "Pinup with Flower" (below).
But if the Holocaust dominates Lurie's work and is the substrate of the NO!art movement as a whole, other matters were addressed as well.
The Israeli filmmaker Amikam Goldman, who made "NO!art MAN," quotes art critic Sarah Schmerler on the "principle aim of NO!art … to bring back into art the subjects of real life. It thus stood in opposition to the two most popular movements of the era, abstract expressionism and pop art."
"Lurie's art has the distinction of knowing about both freedom and imprisonment, and it is no wonder his work differed from that of the same generation on these shores," Schmerler wrote in a catalog for the "Bleed Show, 1969," a retrospective exhibit mounted in 1997 at the Janos Gat Gallery in New York. "Most American artists of the '40s were fresh out of art school. Lurie was fresh out of Buchenwald."
Not surprisingly, Lurie was unwilling to curry favor with the dealers, collectors and curators whose tastes were offended by the vulgarity he prized in his work. "The art market is nothing but a racket," he said. "There is an established pyramid. … Everybody who wants to benefit from it has to participate — if he is permitted to participate."
Nor should it come as a surprise that unstinting efforts to spread the word about Lurie's work, by Kirves, Patterson and others, have largely proved frustrating, especially in the United States, even though Lurie spent most of his adult life after World War II in New York.
Although the Times obit says "his work is included in permanent collections at the Museum of Modern Art in New York and the National Gallery of Art in Washington," Matthias Reichelt, a German critic, curator and editor, begs to differ. "It might be possible that the one or the other collection holds a small print or etching," he says, "but his art is NOT at all part of the permanent collections, neither in Manhattan nor in Washington. It still has to be discovered by the museums for the U.S. public."
This 1959 mixed media painting on canvas, "Lumumba is dead," for example:
Reichelt adds:
Boris Lurie was consciously ignored in the 1960s and '70s and the following decades because of the work's content. The museums did not take care of his art at all. They kept him out while other colleagues of his — like Allan D'arcangelo, Allan Kaprow and Yaoyi Kusama, among others — made it into the museums.

Besides Clayton Patterson and the gallery owner Gertrude Stein, only a few curators and art historians, like Norman Kleeblatt from the Jewish Museum and the freelance art historian and curator Estera Milman, who organized the two major shows in the U.S. in public institutions — the University of Iowa, in 1997, and Northwestern University's Block Museum in Chicago, in 2001 — know about Lurie and his radical art.
Patterson, who is a ubiquitous figure on the Lower East Side — and an artist, photographer, documentary videographer, editor and archivist, not to mention social critic, neighborhood preservationist and rebel in his own right — has gotten used to the frustration. He still believes recognition will come. "It has to," he says. "It's much too important not to."