In today's
Wall Street Journal
I review the off-Broadway premiere of Katori Hall's
The Hot Wing King
and the Broadway transfer of
Girl From the North Country
. Here's an excerpt.
* * *
Katori Hall's plays remind me of a sign I once saw over the front door of an unpretentious little restaurant: "NOT FANCY, BUT GOOD." Sure enough, there's nothing fancy about the down-to-earth dramaturgy of Ms. Hall's kitchen-sink chronicles of family life in all its varied aspects. All she does—if "all" is the word—is tell stories about ordinary men and women who, as Jack Webb said of the characters in "Dragnet," sound "as real as a guy pouring a cup of coffee." Yet truth gushes out every time they open their mouths…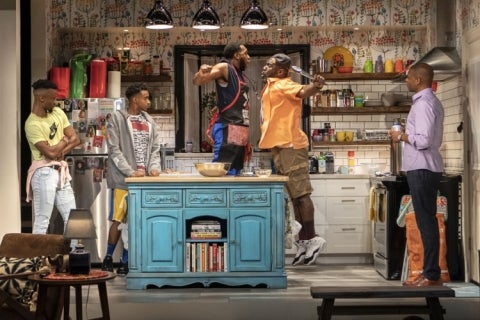 After praising "Saturday Night/Sunday Morning" (2008), "Our Lady of Kibeho" (2014) and "The Blood Quilt" (2015), I decided that Ms. Hall, who is 38, was one of the most promising American playwrights of her generation. With the off-Broadway premiere of "The Hot Wing King,"directed with galvanizing vitality by Steve H. Broadnax III, I'm now inclined to go a notch or two further…
Cordell (Toussaint Jeanlouis), the title character, is an amateur chef from Memphis who specializes in elaborately sauced chicken wings—his latest creation is Cajun Alfredo With Bourbon-Infused Crumbled Bacon—and is going for the gold at this year's Hot Wang Festival. (That's how they say "wing" down in Memphis.) He is also a straight-acting gay man who left his wife and children in St. Louis and moved to Memphis to live with Dwayne (Korey Jackson), a local hotel manager…
As for Dwayne, he has family problems of his own. TJ (Eric B. Robinson Jr.), his widowed brother-in-law, is a small-time thief who is neglecting Everett (Cecil Blutcher), Dwayne's 16-year-old nephew. Everett in turn longs to escape the chaos of his own splintered home and live with Dwayne and Cordell. Dwayne is fine with that—but Cordell isn't. That's where things get complicated…
"Girl From the North Country," Conor McPherson's self-directed jukebox musical based on the songs of Bob Dylan, has reached Broadway after hugely successful runs in London and at New York's Public Theater, slightly altered but essentially the same as the show I reviewed in 2018, calling it "a musical that does complete justice to the artistry of the great American songwriter whose genius inspired it."…
* * *
To read my review of
The Hot Wing King
, go
here
. To read my review of
Girl From the North Country
, go
here
.
Steve H. Broadnax III talks about The Hot Wing King:
Clips from the Broadway transfer of Girl From the North Country: