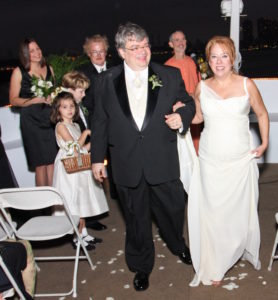 Mrs. T and I got married ten years ago today. We'd met a couple of years earlier and fallen in love at first sight—such things really do happen—and we've been together ever since.
Our wedding took place on a chartered yacht called (I swear) the Romantica. We cruised around the island of Manhattan that night with several dozen friends and family members. I've never seen so many joyous-looking people in one place at one time, starting with the bride and groom, both of whom were about as delighted as it's possible for two people to be. We still are.
I've had a lot to say in this space since then about my beloved wife. Our life together has been exciting, exhausting, and complicated. We've shared adventures of all kinds all over the country. The best ones, I think, have been on Florida's Sanibel Island, our home away from home, but it'd be hard to single out any specific occasion as uniquely special. (O.K., maybe this one.) Yet we always return with undiminished pleasure to our art-filled apartment in New York and our scruffy little farmhouse in rural Connecticut, where we sit together on the couch night after night, watching double and triple features on TCM and talking about everything under the sun. Our tastes, aesthetic and otherwise, are largely in common, our opinions less so, which keeps the talk lively, as does Mrs. T's naughty tendency to puncture whatever conversational balloon I may be feeling inclined to inflate. (This little vignette will give you some idea of what our evenings at home are like.)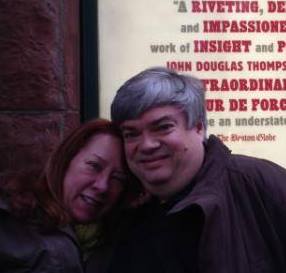 To marry in middle age is an adventure in and of itself. Mrs. T and I are both stubborn, settled creatures of long-established habit, and though we quickly made room for each other in our lives, it wasn't always easy for us to get along. Yet that never seemed to matter, and still doesn't: I know that from the night we met, I've never wanted to share my life with anyone else. She has opened doors in my heart and soul that I didn't even know existed. Among many, many other things, I have no doubt whatsoever that had we not met, I wouldn't have found it within myself to start writing for the stage. When I took my first curtain call, she was in the audience, cheering loudly and proudly. She's been there ever since.
It is a miraculous thing to suddenly find yourself living with a smart, funny, indomitably gallant woman, an everyday miracle that is far too easily taken for granted. I know I do that sometimes, and I hate myself for it, but far more often than not, I'm intensely aware of how lucky I am to have met Mrs. T, and how much luckier I am that she was willing to settle down with me.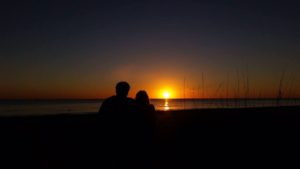 When, eleven years ago, the then-future Mrs. T and I trimmed our first Christmas tree together in Connecticut, I made the following observation: "To be happy, not in memory but in the moment, is the shining star on the tree of life." That is what I am, and she is the person to whom I owe it. Our marriage is the best thing to have happened to me in a life overflowing with good fortune. May it go on and on.
* * *
Tony Bennett and Bill Evans perform "Lucky to Be Me," by Leonard Bernstein, Betty Comden, and Adolph Green. This song was sung by Mary Foster Conklin at our wedding: