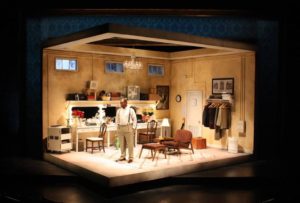 Forgive my recent semi-absence from this space, but I've been inordinately busy of late, quite a bit more than I expected to be. Among other things, the Mosaic Theater Company's production of Satchmo at the Waldorf, which began previews last Thursday, opens tonight in Washington, D.C.
This is, unlikely as it may sound, Satchmo's twelfth staging to date. It's already been produced in Orlando, Lenox, New Haven, Philadelphia, Beverly Hills, Chicago, San Francisco, Portsmouth, Colorado Springs, West Palm Beach, and Sacramento, with the Baton Rouge premiere set for next month. Craig Wallace, Mosaic's star, will be the fifth person to play the triple role of Louis Armstrong, Joe Glaser, and Miles Davis, and Eleanor Holdridge is the sixth person to direct the show.
Washington is one of the cities in which I've most wanted to see Satchmo staged, and the Mosaic's production is everything I'd hoped for. I attended the third rehearsal a few weeks ago, but I couldn't stay for more than a day (I had other shows to see). So I flew from Connecticut to Washington yesterday morning for the last preview, and I'll be in the house again for the invitation-only opening-night performance. I'm very pleased by how the production has taken shape. Eleanor's staging and Andrew Cohen's set are more naturalistic than their predecessors, but I'm good with that: I like seeing sharply contrasting approaches to Satchmo, and the up-close intimacy of this new version speaks very strongly to me. As for Craig, he's flat-out fabulous.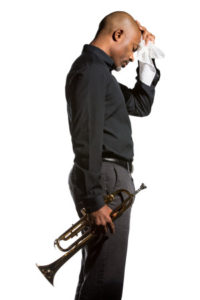 I wasn't able to make it to Sacramento for B Street Theatre's production, which opened last week, nor will I be able to go to Baton Rouge to see New Venture Theatre's two-night run of Satchmo in September. It never occurred to me when I wrote it six years ago that Satchmo would eventually become so popular that I'd find it impossible to keep up with all of its various productions. Yet that's what's happened, and I don't quite know what to make of it. More and more I find myself feeling like a father whose no-longer-young child has flown the coop at last. I can't do much for him anymore: he's on his own now, making his way in the world for better or worse as I look on from afar with a mixture of bemusement and paternal pride.
In honor of all three productions, I'm posting, as I always do whenever a show of mine opens, my good-luck video:
Break a leg, everybody!
* * *
The Mosaic Theater Company's production of Satchmo at the Waldorf runs in Washington, D.C., through September 25. To order tickets or for more information, go here.
B Street Theatre's production of Satchmo runs in Sacramento, California, through September 17. To order tickets or for more information, go here.
New Venture Theatre will perform Satchmo in Baton Rouge, Louisiana, on September 10 and 11. To order tickets or for more information, go here.