In today's Wall Street Journal "Sightings" column, I pay tribute to the underappreciated artistry of Perry Como. Here's an excerpt.
* * *
Sixty years ago, Perry Como cut a hit record of the dumbest song ever written. O.K., maybe not quite ever, but "Hot Diggity (Dog Ziggity Boom)," a stupefyingly banal novelty tune, surely ranks right up there. I place in evidence Dick Manning's lyrics: "Hot diggity, dog ziggity, boom/What you do to me,/When you're holding me tight." Recorded on Feb. 2, 1956, "Hot Diggity" shot straight to the top of the charts and stayed there until Elvis Presley's "Heartbreak Hotel" shoved it aside. Its success says much about what American pop music was like between the end of the big-band era and the rise of rock and roll.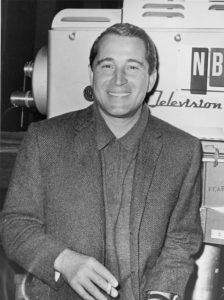 Como, who died in 2001, recorded numerous other hits of identical fatuity. To his credit, he despised them, though that didn't stop him from cashing the royalty checks. "I'd tell the A&R man, 'I can't sing that garbage,' and he'd say, 'Just do one take—one take for me,'" he later confessed to an interviewer. Alas, he ended up paying a high price for his success: Because he became so closely identified with such songs as "(A Hubba-Hubba-Hubba) Dig You Later," "Papa Loves Mambo" and "Zing Zing Zoom Zoom," few people now know that Mr. C, as his fans liked to call him, was a golden-age pop singer of the very first rank….
In addition to being a pop star, Como was also a pioneer of network TV. He appeared weekly from 1948 to 1963, followed by a four-year run of monthly specials, and throughout that time his now-forgotten variety show was one of the most popular programs on the air. Not only was his casual just-folks persona well suited to home viewing, but you could hear every imaginable kind of music on "The Perry Como Show," whose long string of celebrity guests included Luiz Bonfá, Nat King Cole, Fats Domino, the Everly Brothers, Stan Getz, Benny Goodman, Louis Jordan, Peggy Lee, Liberace, Johnny Mercer, Ethel Merman, Birgit Nilsson, the Platters, Helen Traubel and Hank Williams.
No matter who else was on the show, though, it was Como himself whom most people tuned in to hear—with good reason. His warm, light-grained high baritone voice was so technically finished that his singing seemed as effortless as his self-deprecating on-camera demeanor. Como's other nickname, "Mr. Relaxation," finally became a joke: When Eugene Levy impersonated Como on a 1981 "SCTV" skit called "Perry Como: Still Alive," he was portrayed as a narcoleptic zombie who sang easy-listening versions of disco tunes while lying in bed with a microphone propped on his pillow, surrounded by gyrating dancers.
Yet there was nothing somnolent about Como's unassuming, soft-spoken vocalism, which was intensely musical. His phrasing was unostentatiously elegant, his diction flawless…
* * *
UPDATE: A reader writes:
Years ago, I interviewed Perry Como. At the end, to make closing small talk, I said that my parents considered him the best singer of his time, superseding Sinatra and Crosby, two more of their favorites. Como surprised me by asking for their phone number so he could call and thank them. Alas, they had both passed away, but I was struck that he made such an offer. He was one of the few celebrities I've interviewed who showed such generosity and humility.
* * *
Read the whole thing here.
Eugene Levy impersonates Perry Como in "Perry Como: Still Alive," originally telecast on SCTV in 1981:
Como and Luiz Bonfá perform Bonfá's "Manhã de Carnaval" on The Perry Como Show. This episode was originally telecast on NBC on January 2, 1963: