In today's Wall Street Journal drama column I review a revival of Martin McDonagh's The Lonesome West in Washington, D.C. Here's an excerpt.
* * *
Now that Brian Friel has left us, who is Ireland's leading living playwright? Most American playgoers would likely declare the race to be a tossup between Conor McPherson and Martin McDonagh, who was born and raised in London but is still as Irish as a shot of Jameson. For my part, I always choose the one whose work I saw most recently, so this week's prize goes to Mr. McDonagh, author of "The Lonesome West," which has just been uproariously revived by Washington's Keegan Theatre….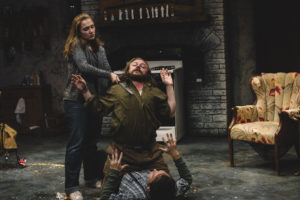 First performed in 1997, "The Lonesome West" is the third panel in a triptych of plays (it was preceded by "The Beauty Queen of Leenane" and "A Skull in Connemara") that are set in Leenane, a village in West Ireland. The title is drawn from "The Playboy of the Western World," in which John Millington Synge tells the tale of a young man who claims to have killed his father and is fêted for it. Something like that happens in "The Lonesome West," and it's played, as is Mr. McDonagh's wont, for anarchic laughter. But the joke is on Ireland, which he portrays as a violent, desperate land full of frustrated men and women who feed on embroidered memories and long-cherished grudges. Here as in the rest of his work, Mr. McDonagh savages the stage-Irish sentimentality that is the curse of his heritage, and the results are as exhilarating as a hard, cold wind….
"The Lonesome West" was first seen in the U.S. when Galway's Druid Theatre Company brought the original production, staged by Garry Hynes, to Broadway in 1999. I missed it then (it ran for only 55 performances) and wish I hadn't. Ms. Hynes' Druid Theatre production of "The Cripple of Inishmaan," which made it to New York's Atlantic Theatre in 2008, proved that she has a profound understanding of Mr. McDonagh's work. But this production, directed by Mark A. Rhea, the Keegan's founder, leaves nothing whatsoever to be desired. It's serious when it needs to be and funny the rest of the time…
* * *
Read the whole thing here.