In today's Wall Street Journal I review a New Jersey revival of Exit the King. Here's an excerpt.
* * *
Whatever happened to Eugène Ionesco? Nothing, really—he's still one of the most important and influential playwrights of the postwar era—but his plays are now rarely seen on the New York stage. Only two of them have been done on Broadway in the past quarter-century, neither successfully, and the 2009 production of "Exit the King" only got there in the first place because of the presence in the cast of Susan Sarandon (who, like most movie stars who take belated shots at Broadway, ended up not being much good). Hence it is thrilling news that the Shakespeare Theatre of New Jersey has opened an impressive production of "Exit the King," and that "Rhinoceros" will be mounted Off Broadway by the Pearl Theatre Company later this season….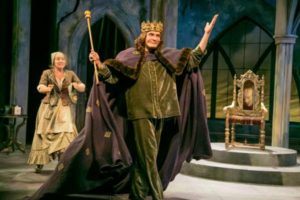 Ionesco, who died in 1994, was one of the European writers whose work inspired the expression "theater of the absurd," and "Exit the King," first performed in 1962, displays his method at its most potent. It shows us the last 90 minutes of the life of King Berenger the First (Brent Harris), a 400-plus-year-old monarch who lives in a crumbling castle. He knows the hour of his death—he's probably always known it—but has chosen to pretend that it'll never come, preferring to frolic with his nubile young mistress (Jesmille Darbouze) instead of facing the inevitable with suitably regal dignity. "Why was I born," he asks, "if it wasn't forever?" Then Queen Marguerite (Marion Adler) and his doctor (Greg Watanabe) inform him that he will die "in an hour and a half…at the end of the show." All at once his hair turns white and his body starts to disintegrate…
It isn't hard to find contemporary relevance in "Exit the King," and the 2009 Broadway revival, directed by Neil Armfield and starring Geoffrey Rush, underlined it to excess by using a new translation by Messrs. Armfield and Rush that was modernized, vulgarized and generally dumbed down. Ms. Monte, by contrast, has chosen to let Ionesco's masterpiece speak for itself, returning to Donald Watson's now-standard 1963 English-language version and setting the action in a straightforwardly rendered Gothic throneroom. (The only modern touch is the boom box from which the "derisive rendering of regal music" that sets the play in motion blares forth.) She has also judiciously trimmed the text in order to bring the running time down to the 90 minutes specified by Marguerite, a shrewd decision that improves its dramatic flow. Otherwise, Ms. Monte gives us "Exit the King" as is, trusting in Ionesco and her marvelous cast to get the job done without gratuitously "clever" directorial intrusions—and that they do….
* * *
Read the whole thing here.
A video teaser for the Shakespeare Theatre of New Jersey revival of "Exit the King":