In today's Wall Street Journal I review the new Broadway revival of Cats. Here's an excerpt.
* * *
Andrew Lloyd Webber's "Cats" opened in New York in 1982 and closed 18 years later, the fourth-longest run in the history of Broadway. It helped make the Great White Way what it is today, a theme park dominated by long-running, child-friendly "destination" shows that tourists come to town to see. Now it's back, this time in a restaging by Trevor Nunn, the director of the original production, that is substantially identical to its predecessor and whose marketing slogan, "Let the Memory Live Again," translates more or less as follows: "You loved it as a kid—now bring your kids!"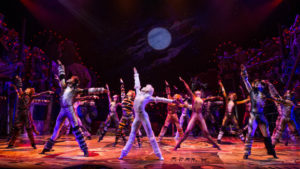 This puts me at a disadvantage, for not only am I childless, but I didn't see "Cats" in my youth. In fact, I never saw it at all, whether on Broadway or anywhere else. On the other hand, I'm now seeing it free of the overstuffed baggage of nostalgia. I came to the show as fresh as I came to "Hamilton."
So how does "Cats" differ from the musicals that have opened on Broadway since 1982? It has…
• No plot. Nothing much happens in "Cats," and there's barely any spoken dialogue. Most of the musical numbers are ballads that describe the appearance and personality of the characters but suggest no particular stage action. It follows that the results are, like "Tommy" or Baron Lloyd-Webber's own "Jesus Christ Superstar," dramatically static, a string of vignettes that sounds more like a pop oratorio than a musical (though "Cats" also has much in common with England's Christmastime "panto" shows).
• One tune. "Memory" is the only number in "Cats" whose melody is at all striking (in part because it's Puccini-based). Some of the other numbers are chanted, both individually and chorally, and the rest consist of unmemorable jingle-like fragments.
• Old-fashioned lyrics. Except for "Memory," the lyrics are virtually all by T.S. Eliot, the author, among other things, of "Old Possum's Book of Practical Cats," the 1939 volume of light verse on which "Cats" is based. It stands to reason that they're formal-sounding to the point of quaintness…
* * *
Read the whole thing here.
Betty Buckley and the original cast of Cats perform on the 1983 Tony Awards telecast: