In today's Wall Street Journal I file the second of three reports on my recent visit to the Oregon Shakespeare Festival, where I saw Mary Zimmerman's revival of Guys and Dolls. I also review a Pennsylvania production of The 25th Annual Putnam County Spelling Bee. Here's an excerpt.
* * *
Broadway musicals have long lured audiences by overwhelming them. Even now, the hottest new musicals ("An American in Paris") and revivals ("The King and I") typically operate on the bigger-is-better principle. Yet most of the best regional musical-comedy productions of the past decade have been small-scale stagings, and the recent success of "Fun Home" and "Hamilton," neither of which is operatically lavish, suggests that new ideas about an old genre are percolating upward into the commercial arena.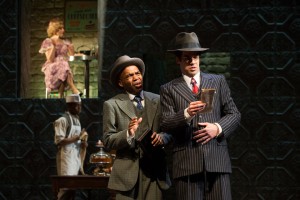 All this was on my mind as I flew out to the Oregon Shakespeare Festival to see Mary Zimmerman's pared-down "Guys and Dolls." The OSF has emerged of late as a font of fresh thinking about musical comedy, and Ms. Zimmerman, who hit big on Broadway in 2002 with "Metamorphoses," her riotously creative visualization of Ovid's ancient tales of love, struck me—in theory, at least—as the ideal director to put her own spin on a musical that's been around long enough to profit from a makeover. On the other hand, her 2010 Goodman Theatre staging of "Candide" was hectic and over-stuffed, which made me wonder what she'd do with a show that is, unlike the famously flawed "Candide," so close to perfect that it resists retouching.
Well, hang onto your snap-brim fedora: Ms. Zimmerman's fetching revival is as good as any production I've ever seen of the greatest of all the golden-age musicals. No small part of its excellence is rooted in the work of Daniel Ostling, the set designer, who places the action in front of a tin-ceiling backdrop on a mostly bare stage, with a couple of miniature skyline set pieces rolling on and off from time to time to remind us that we're in Damon Runyon's New York, a Depression-era town where there's never quite enough cash to go around….
All this accords well with the overall tone of Ms. Zimmerman's production, which underlines the romanticism of Frank Loesser's score without stiffing the well-honed punch lines of the Abe Burrows-Jo Swerling book….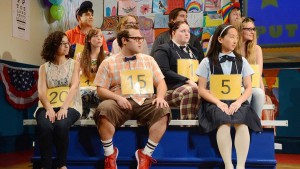 Ten years ago, "The Light in the Piazza" and "The 25th Annual Putnam County Spelling Bee" opened on Broadway in close succession, and all at once it looked as though there was hope for the future of the musical. No such luck: Not until "Hamilton" did another new musical of comparable excellence ring the box-office bell on Broadway, though "Piazza" and "Putnam County" were promptly taken up by regional theaters and continue to be revived there to fine effect. So when the Bucks County Playhouse announced that it would be putting on "Putnam County" this summer, I decided to see what that promising company would do with a show whose New York production, superlatively well-directed by James Lapine, remains bright in my memory. Fear not: Jessica Stone's staging is very nearly as strong as the breathtaking "Company" that Hunter Foster directed for Bucks County earlier this year.
The original "Putnam County" was cast so well that anyone lucky enough to have seen it will find it hard not to think of its stars, especially Celia Keenan-Bolger, when watching any subsequent version. It's a special pleasure, then, to report that Caitlin Houlahan's fragile, waif-like Olive Ostrovsky owes nothing to Ms. Keenan-Bolger's example: She tugs at your heart in her own individual way….
* * *
To read my review of Guys and Dolls, go here.
To read my review of The 25th Annual Putnam County Spelling Bee, go here.
The trailer for Guys and Dolls: