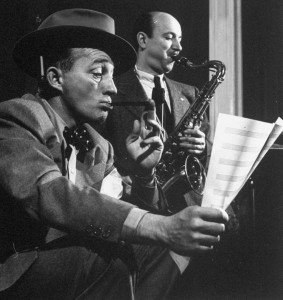 PBS aired a well-made, unexpectedly forthright "American Masters" documentary last night that implicitly made the case for Bing Crosby as—among many other things—a jazz singer.
I did the same thing more directly in Commentary in 2001, calling Crosby
a nonpareil jazz singer who has been unfairly written out of the history of the music he helped to shape, as well as a balladeer of magical sensitivity and irresistible vitality….

Musically, Crosby combined [Louis] Armstrong's infallible swing with [Bix] Beiderbecke's lyricism. Such early 78 sides as "I'm Coming, Virginia" (1927), "Ol' Man River" (1928), and "Make Believe" (1928) show him to have been astonishingly light on his rhythmic feet, more so than any singer of the period besides Armstrong. He reworked melodies with the self-assurance of a master improviser, adding ornaments and altering rhythms as his fancy dictated, and his "scat" singing (the made-up nonsense syllables popularized by Armstrong), heard to especially good advantage on the electrifying version of "St. Louis Blues" he recorded with Duke Ellington's band in 1932, was wonderfully bold.

The young Bing Crosby was, in short, a jazz singer, arguably the first one after Louis Armstrong, and without question one of the best who ever lived….
Read the whole thing here.
* * *
Bing Crosby, Louis Armstrong and the All Stars perform Cole Porter's "Now You Has Jazz" (written for and originally performed in High Society) on The Edsel Show in 1959: