In today's Wall Street Journal I file the first of two reports on my recent visit to Chicago. This week I review the Court Theatre's Porgy and Bess and TimeLine Theatre's The Front Page, both of which are sensationally good. Here's an excerpt.
* * *
Nowadays most people think of "Porgy and Bess" as an opera, but it began life on Broadway, and there's a strong case to be made for performing the American "Carmen" (which is what "Porgy" is) not as a big-house opera but as a straight-from-the-shoulder music drama (which is what "Carmen" is). That's what Charles Newell has done in his soul-stirring revival, a radical rethinking of George Gershwin's rambling masterpiece that transforms it into a concise two-act chamber opera for 15 singers and six instrumentalists. Though it's nothing like the "Porgy" that Gershwin and his collaborators envisioned, Mr. Newell's new version is so emotionally true to the spirit of the piece that any lingering reservations you may have about its modest scale will quickly be swept away.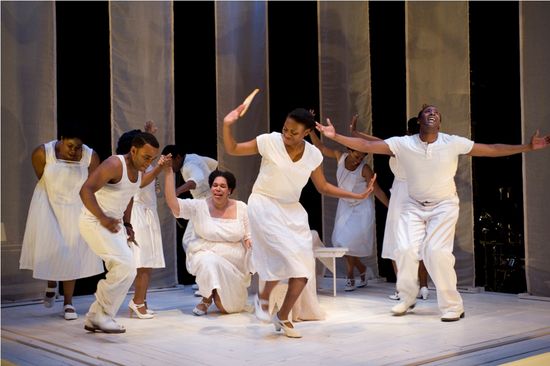 No sooner do you walk into the 250-seat Court Theatre than you see what Mr. Newell and his production team are up to. The set, designed by John Culbert, is a wooden platform whose bleached planks evoke a one-room country church. The cast is dressed in white (the only splash of color is the blood-red negligée that Porgy buys for Bess) and the atmosphere is that of a revival meeting. One might almost be present at the evangelical equivalent of a 13th-century liturgical drama, a latter-day "Play of Porgy" in which the timeless tale of a crippled Catfish Row beggar (Todd M. Krygar) who falls for a cocaine-snorting tramp with a heart of gold (Alexis J. Rogers, who is devastatingly sexy) is enacted before the altar.
This is not, in other words, a stripped-down Broadway-style "Porgy" but a genre-transcending theatrical experience staged in such a way as to shift the emphasis from Gershwin's score to DuBose Heyward's often-underrated libretto….
Just as "Porgy and Bess" is now best known as an opera, so is "The Front Page" now best known as a movie. In the original 1928 stage version, Ben Hecht and Charles MacArthur introduced Broadway audiences to the scoop-hungry crime reporters who covered Chicago in the age of Al Capone. But when Howard Hawks made "His Girl Friday" in 1940, he turned Hildy Johnson, the tough-guy reporter of "The Front Page," into a woman, in the process changing a hard-nosed farce about journalism in America into a screwball comedy about the perils of workplace romance. The results were so funny that no one complained, but the play got lost in the shuffle, and revivals are now as scarce as evening papers.
All praise, then, to Chicago's TimeLine Theatre for resurrecting "The Front Page" and giving it a staging so full of brassy brio that you'll wonder why you ever settled for less. Performed in the round in the company's 99-seat theater, it puts you so close to the action that you can actually smell the ketchup on the hamburgers eaten by the characters in the first act. The acting fizzes with outrageous, nose-thumbing vitality–PJ Powers and Terry Hamilton couldn't be better as Hildy Johnson and Walter Burns, Hildy's unscrupulous boss–and the ultra-realistic set, designed by Collette Pollard, is so suitably grubby that you'll want to grab a broom and start sweeping….
* * *
Read the whole thing here.