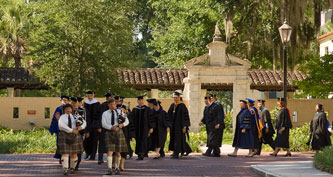 Over the weekend I flew down to Winter Park, Florida, to deliver the commencement address at Rollins College's Hamilton Holt School. Having spent the past two winters as a scholar-in-residence at the Winter Park Institute and given a half-dozen lectures and other public presentations at Rollins, I've become a modestly familiar face on campus, and Mrs. T and I now feel very much at home there. This, however, was the first time that I'd taken part in an official college function. It was also my first stint as a commencement speaker, as well as the first time that I'd been present at a graduation since I received my own college diploma some thirty-two years ago. Rollins, I found, puts on quite a show: not only was I decked out in full academic regalia, but the dignitaries with whom I shared the platform marched from the president's office to the auditorium, accompanied by a pair of kilted pipers. Rarely have I felt so regal.
My seat was directly behind that of Lewis Duncan, the president of Rollins College. This meant that I got a good look at all the students who received diplomas. I had no idea how moving an experience this would prove to be. The Holt School is Rollins' night-school division, the place where you go if you want to earn a college degree while holding down a full-time job. The men and women to whom I spoke ranged widely in age–one was in his seventies–but most of them were young enough to look like ordinary college graduates. Appearances, however, can be deceiving, for you have to work fearfully hard to get a diploma after hours, and each and every person to whom President Duncan said "Well done!" on Saturday morning had in fact done something for which the word "extraordinary" is far too mild. I've never seen so many proud and hopeful faces lined up in a row. I don't mind admitting that I teared up more than once as I listened to the cheers of the friends and family members who had come to celebrate their collective achievement.
What can you possibly say to such remarkable people on so auspicious an occasion? Here's part of what I told them. They seemed to like it, and I hope you do, too.
* * *
One more story and I'm done. Since I'm a drama critic, I'll make it a Broadway story. It's about Leland Hayward, who used to be a big Broadway producer. He was going to put on a play by Maxwell Anderson called Anne of the Thousand Days, and he asked Anderson who should play Henry VIII. Anderson gave it some thought, then he played it safe and suggested a good, solid actor with no flair, no panache.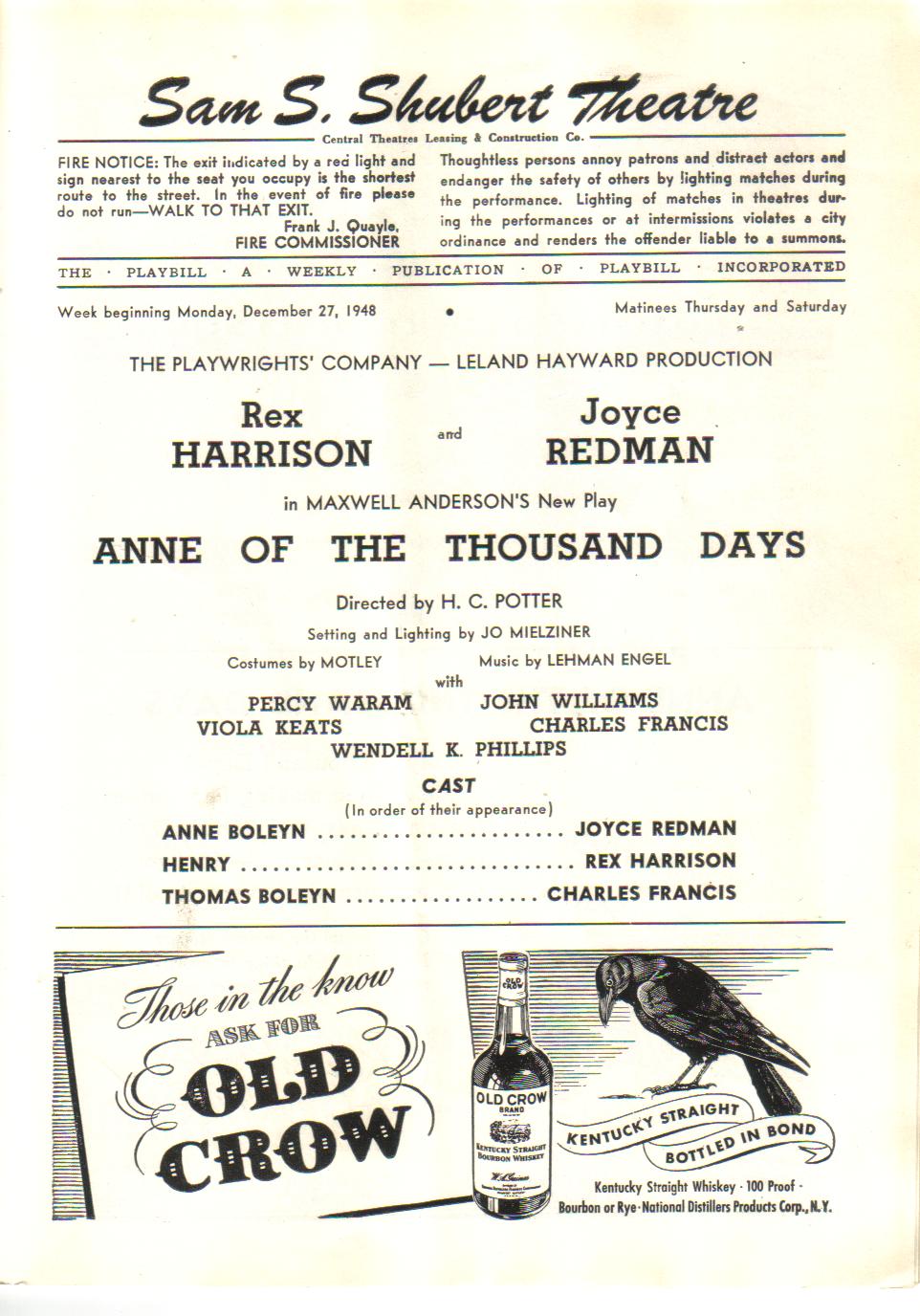 Hayward got red in the face, banged on the desk, and said, "No, no, Max! Suppose there were absolutely no problems in getting anyone in the world you wanted. Who would you pick?"
Anderson didn't hesitate for a moment. He said, "Rex Harrison–but you'll never get him."
And Hayward grinned and said, "Why not ask him?" He picked up the phone and started placing calls, and an hour later, Rex Harrison had agreed to play Henry VIII.
Then Hayward hung up, grinned again, and said, "There's a lesson in this, Max. Never start out asking for someone you'd eventually settle for."
You see the point. If there's ever a time in life for you to shoot high, it's now. So take a long, cool look at yourself and say, What do I really want out of life? What would keep me interested until the day I die? Do I have a realistic chance to get it? And if you think you do, then go for it. Work as hard to get it as you worked to get your degree here. Settle later, if you must–but don't spend the rest of your life eating your heart out because you didn't give it your very best shot right now.