I began this year's summer travels for The Wall Street Journal with a trip to San Diego, where I saw the U.S. premiere of Life of Riley, Alan Ayckbourn's latest play. It's terrific, and so is the production. Here's an excerpt.
* * *
Prolific artists tend to get taken for granted. Alan Ayckbourn, for instance, has written 74 plays (with a seventy-fifth now being readied for its premiere in September). This figure, coupled with the fact that most of his plays are comedies of one sort or another, leads a great many people to wrongly suppose that he must be a lightweight. But Mr. Ayckbourn is in truth one of the half-dozen greatest living playwrights in the English-speaking world, and "Life of Riley," his latest effort, is outstanding in every way. That it has received its U.S. premiere not on Broadway but at San Diego's Old Globe is yet another nail in the coffin of New York's fast-waning reputation as the vital center of theater in America.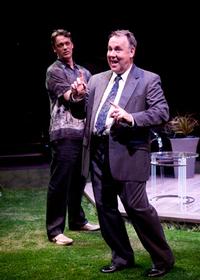 Though the plot of "Life of Riley" is simpler than is Mr. Ayckbourn's wont, it contains a typical twist: The title character is neither seen nor heard, only talked about. When George Riley, a suburban schoolteacher, learns that he has a terminal illness that will kill him in a matter of months, his approaching fate becomes the subject of passionate interest to three people: Monica (Nisi Sturgis), his ex-wife, and Kathryn (Henny Russell) and Tamsin (Dana Green), two married women who have taken a more than friendly interest in him. Stir in Colin (Colin McPhillamy) and Jack (Ray Chambers), the not-at-all-complaisant husbands of Kathryn and Tamsin, and Simeon (David Bishins), the farmer with whom Monica is now living, and you've got a sure-fire recipe for a frenetically complicated farce.
That, however, is where things start to get really interesting, for Mr. Ayckbourn specializes in sad comedies whose laughter is tinged with regret, and "Life of Riley," like "The Norman Conquests" before it, is not a standard-issue farce but a darkly shadowed portrait of three middle-class marriages that have been steeped in the sour brine of chronic disappointment….
American directors and actors sometimes make the mistake of overegging Mr. Ayckbourn's comic puddings, trolling for easy laughs instead of playing his scripts straight down the middle and letting the audience draw its own conclusions. Not so Richard Seer, who has staged "Life of Riley" with particular subtlety, striking an impeccable balance between cleverness and seriousness. As usual, the Old Globe has fielded an exceptional cast, only one of whose members, surprisingly enough, is English. (All praise to Jan Gist, the dialect coach, who has evidently done yeoman service.) Mr. McPhillamy, the lone Englishman, is ideal as the latest in Mr. Ayckbourn's long line of unhappily oblivious husbands of a certain age…
* * *
Read the whole thing here.