Perhaps because I didn't do much traveling until I reached adulthood, I still find it disorienting to fly from the East Coast to the West Coast in a single day. I almost always spend the better part of the trip seated by a window, goggling at the changing landscape far below me. How is it possible that one can fly over farmland and mountains and deserts in the course of five hours, looking down at the Atlantic Ocean in the morning and the Pacific in the afternoon? Just five years before I was born, Edward R. Murrow launched See It Now, the first weekly TV newsmagazine, with a sequence in which he showed live pictures of New York and San Francisco on a split screen. Once it was a miracle. Now it's a cliché.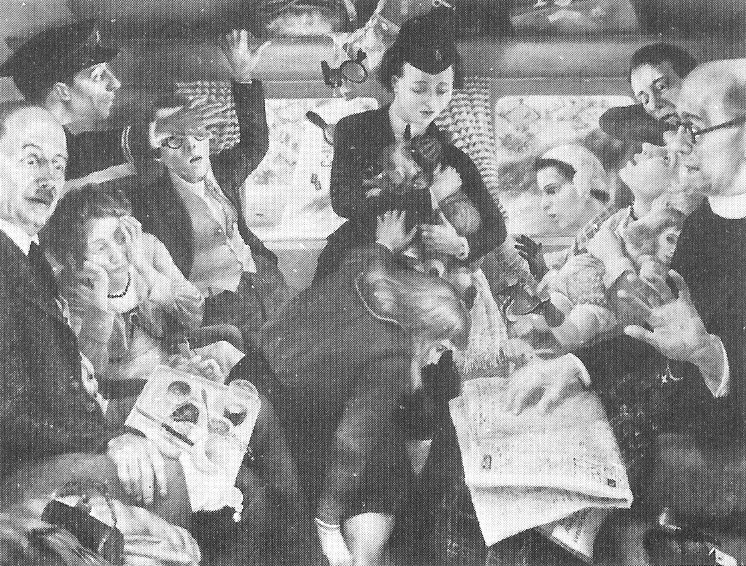 I confess, however, to relishing my own naïvete, because it means that I never take for granted the often-problematic joys of travel. Evelyn Waugh, that most curmudgeonly of curmudgeons, owned a pair of canvases by the Victorian artist Robert Musgrave Joy called "The Pleasures of Travel: 1751 and 1851" that contrasted coach and rail voyages in the eighteenth and nineteenth centuries, the first terrifying (a highwayman was holding up the passengers) and the second sedate. In 1951 Waugh commissioned a macabre companion piece that showed the interior of an aircraft whose terrified occupants were all too clearly plunging towards disaster.
Me, I don't like flying, but I adore the things that it makes it possible for me to do. On Monday morning Mrs. T and I clambered aboard a miserably cramped Continental jet, and that same evening we were dining with friends in San Diego, a small-townish city whose straightforward virtues are near to our hearts. Tomorrow we'll be flying from San Diego to Chicago, which we love, if possible, even more, and come Monday we'll be in Washington, D.C. What's not to like?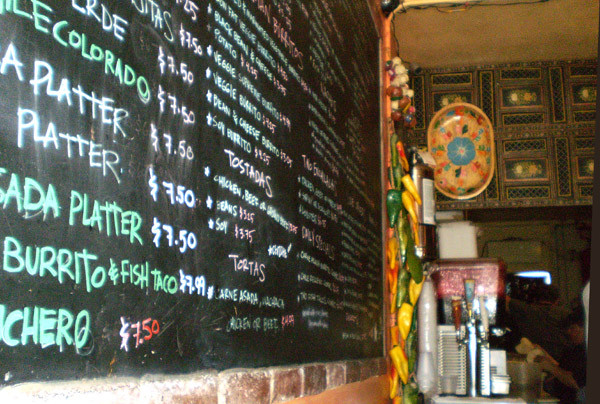 The answer, of course, is plenty. Travel can be madly exasperating, especially if you write for a living. One of the reasons why Mrs. T and I tend to gravitate to familiar lodgings when on the road is that, like most writers, I prefer to work in familiar surroundings. If I can't write at home, I like at the very least to do it in a place that isn't entirely anonymous. Hence our near-reflexive decision to spend our three-day stay in San Diego at Park Manor Suites, a wonderfully grand and shabby old place that is our favorite non-fancy hotel in America. Park Manor may not be home, but it's homey, and it has the advantage of being all but equidistant from the Old Globe, the theater where we saw Alan Ayckbourn's Life of Riley last night, and El Zarape, the hole-in-the-wall taqueria where we'll be lunching on the best scallop burritos in the world.
To get away, you have to go away, and in middle age I find that I love getting away from New York, where most of my paths are well and truly beaten, and exploring a country whose myriad wonders continue to excite me after some five years of near-nonstop theater-related travel. No doubt a time will come when I've had enough, but it hasn't come yet, and until it does, I mean to make the most of it. If that means I have to put up with the quotidian horrors of modern air travel, that's O.K. by me. There are worse fates than spending a few unpleasant hours nibbling on cheap pretzels and listening to noisy babies–and it's a small price to pay for Alan Ayckbourn and scallop burritos.
* * *
The opening of the first episode of See It Now, telecast by CBS on November 18, 1951: