David Ives and the Classic Stage Company have a hit on their hands with The School for Lies, which I review in today's Wall Street Journal. Here's an excerpt.
* * *
When not writing plays of his own, David Ives writes plays based on the works of other men. Sometimes, as in his English-language version of Georges Feydeau's "A Flea in Her Ear" or the many musical-comedy books that he has freshened up for City Center's "Encores!" series, these are more or less straightforward adaptations meant to make the works on which they are based more accessible to modern audiences. "The School for Lies" is something else again, an uncategorizable rewrite of Molière's "The Misanthrope" in which Mr. Ives has done the seemingly impossible: He has taken a beloved masterpiece of Western theater and created a parallel version which, though unmistakably based on the original, is both wholly personal in tone and similarly dazzling in effect.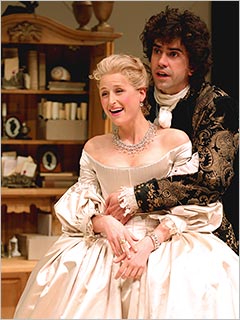 At the center of both plays is a disillusioned curmudgeon (called Alceste by Molière and Frank–a nice touch–by Mr. Ives) who has resolved to tell the truth to everyone he meets, no matter how disconcerting or offensive they may find it. This being a comedy, Frank (Hamish Linklater) is diverted from his high-minded path by his love for Celimene (Mamie Gummer), an aristocrat with an equally sharp tongue. In "The School for Lies," though, Mr. Ives transplants into "The Misanthrope" the fully articulated plot that Molière eschewed, showing how Frank and Celimene fell for one another in the first place, in the process transforming what began life as a high comedy of bad manners into a slapstick-laden farce whose flavor is more Anglo-Saxon than French.
All this is far more than clever enough–one expects no less from so accomplished a farceur–but what makes "The School for Lies" so memorable is its author's virtuosic use of language. Like "The Misanthrope," "The School for Lies" is written in rhyming couplets, and Mr. Ives, an amateur poet of no mean accomplishment, has got a million of 'em. What's more, it was his ingenious conceit to write his play not in a pastiche of pseudo-French circa 1666 (the year in which "The Misanthrope" was written and "The School for Lies" is set) but in a completely contemporary English that derives much of its sparkling charm from being pressed into the incongruously tight mold of iambic pentameter….
Brilliant though "The School of Lies" is, it's Walter Bobbie's apply-foot-A-to-banana-peel-B staging that makes the play take wing. Mr. Bobbie, who speaks Mr. Ives' idiosyncratic theatrical language fluently, is very much in tune with the high-low contrasts that drive "The School of Lies," and has put together a cast that pushes every comic button at all the right moments. Mr. Linklater froths with the violent hauteur of a man who does nothing but suffer fools all day long…
* * *
Read the whole thing here.