In today's Wall Street Journal drama column I review the last two openings of the current New York season, Lynn Nottage's By the Way, Meet Vera Stark and Tony Kushner's The Intelligent Homosexual's Guide to Capitalism and Socialism with a Key to the Scriptures. The first is good, the second long. Here's an excerpt.
* * *
Fame caught up with Lynn Nottage when she won a Pulitzer for "Ruined," but by then she was already known in the world of theater as a writer of real quality. One of her most noteworthy talents is the ability to write "political" plays in which the focus is not on abstract ideas but on ordinary people whose lives have been shaped–or twisted–by those ideas. "By the Way, Meet Vera Stark," a portrait of a black film actress of the '30s, is a choice example of her method. In the hands of a less accomplished artist, it could easily have become a droning study of Discrimination in Action. Instead, Ms. Nottage has given us a sharp-toothed comedy that makes its points through indirection rather than with self-righteous indignation. As ingeniously constructed as it is amusing, "Vera Stark" is a worthy successor to "Ruined," and though Second Stage's production doesn't do justice to the play's multi-layered subtleties, you should see it anyway.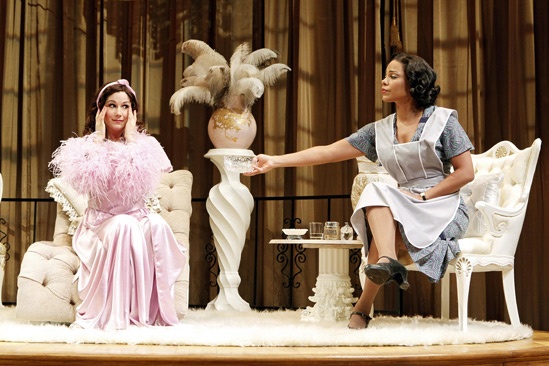 In the first act, set in 1933, we meet the title character, a spunky young black woman (Sanaa Lathan) who works as a maid for a white film star (Stephanie J. Block) but longs to break into the movies herself. When Gloria, Vera's employer, gets a shot at the lead role in a high-calorie weeper called "The Belle of New Orleans" that also has a small but choice part for a slave, Vera contrives through elaborately silly means to audition for the part. Then we flash forward to 2003 and learn that she not only got it but became one of the most successful black actresses in Hollywood–though she was never allowed to play anything other than slaves and maids. The second act is set at an academic colloquium called "Rediscovering Vera Stark" in which three pseudo-hip film-studies professors (Daniel Breaker, Kimberly Hébert Gregory and Karen Olivo) wrangle over the meaning of Vera's career and show a clip of a 1973 talk-show appearance in which she and Gloria are reunited for the first time in years.
This too-tight précis only hints at the barbed irony with which Ms. Nottage sketches the proliferating complexities of Vera's life. Desperate to become a star, she learns that Hollywood stardom is a better-paid form of enslavement in which stereotypes are the shackles….
If you think that Tony Kushner is a genius, then you're likely to be surprised and disappointed by "The Intelligent Homosexual's Guide to Capitalism and Socialism with a Key to the Scriptures," which is a garrulous, rambling mess. If, on the other hand, you think that Mr. Kushner is a flawed artist who's never learned how to make fully effective use of his gifts, then you're more likely to see "The Intelligent Homosexual's Guide" as all of a piece with his earlier plays. Like "Angels in America" and "Homebody/Kabul" before it, "The Intelligent Homosexual's Guide" is too long–three hours and 40 minutes, to be exact–and too diffuse to be easily endured by anyone lacking the patience of a secular saint….
* * *
Read the whole thing here.