Now that I spend so much time seeing plays in New York and elsewhere, I have that much less time left over to do anything else. Prior to Saturday afternoon, Mrs. T and I had been to exactly one movie together in the past three years, and I can't remember the last time I went to Carnegie Hall or the New York State Theater for any reason whatsoever. (The joke in our family is that the only operas I see these days are the ones that I write.) Because so many shows opened on Broadway in March and April, I didn't have time to do much of anything else but see and write about them. So when I realized that we were going to have four "dark" days prior to leaving for San Diego this morning, I decided that we'd better take full advantage of the hole in our schedule, and we spent a sizable chunk of those four days making up for lost time.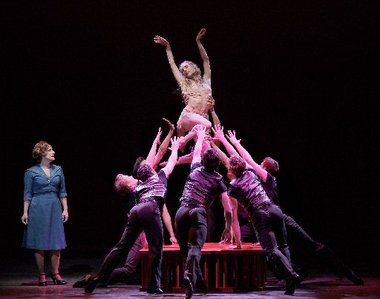 Mrs. T couldn't get to New York to see New York City Ballet's premiere of Lynne Taylor-Corbett's Seven Deadly Sins on Thursday, so I went by myself. This ended up being a good idea, since it allowed me to be alone with my thoughts. Once I went to the ballet as often as I now go to the theater, but that period of near-total immersion, which led to my becoming a dance critic, ended when I published a biography of George Balanchine in the summer of 2004, a little more than a year after I started covering theater for The Wall Street Journal. After I started writing about out-of-town shows as well as Broadway and off-Broadway openings, I had no nights to spare for dance, and though I didn't love it any less, I stopped going to performances save on extra-special occasions.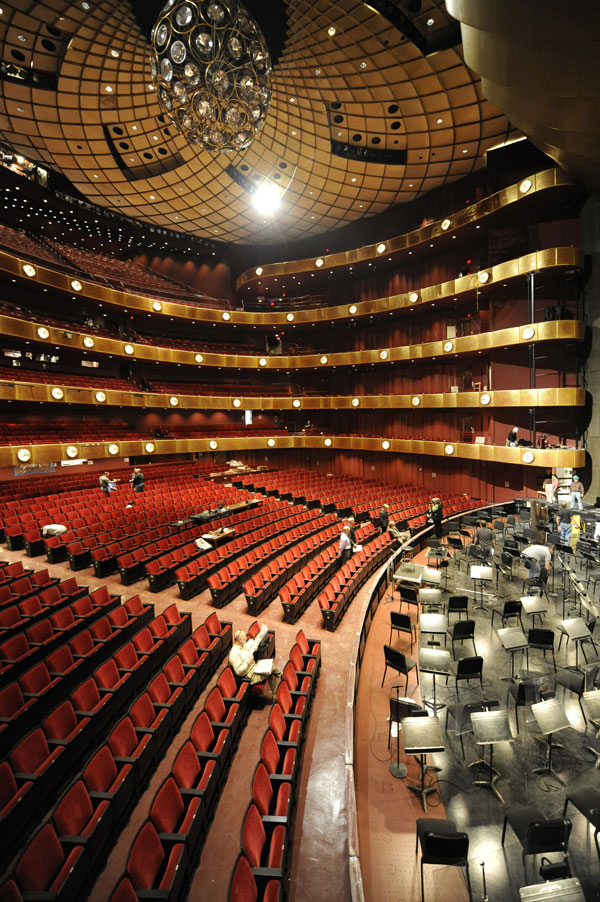 Visiting the New York State Theater on Thursday was something of a jolt, for I hadn't been there since the auditorium was remodeled two years ago and renamed the David H. Koch Theater (a change that I am no more capable of taking in at this point in my life than I am capable of referring to the Triborough Bridge or Shea Stadium by their new names). I was amazed to see that two aisles now run down either side of the orchestra seats and that the public areas of the theater have been slicked up extensively. Nor was I quite ready to confront a stageful of dancers who were still in school back in the days when I was getting to know the ballets of Balanchine and Jerome Robbins.
The sad truth is that I felt rather like a ghost at the party, looking at Maria Kowroski in Vienna Waltzes and remembering Suzanne Farrell's farewell performance in the same ballet twelve years ago. Of course I was more than glad to see The Seven Deadly Sins and to hear Patti LuPone singing the music of Kurt Weill with her usual ferocious pungency, but I knew long before the evening was over that I no longer felt altogether at home in the world of ballet, and it wasn't until I left the theater that I regained my equilibrium and was myself again.
Carnegie Hall seemed almost as strange to me the next night, but the auditorium was full of familiar faces, making it easier for me to keep my psychic footing. The occasion was the New York premiere of Carlos Drummond de Andrade Stories, an orchestral song cycle that my old friend Maria Schneider had composed for Dawn Upshaw and the St. Paul Chamber Orchestra, and seeing Maria conducting the orchestra on stage was still more reassuring. Or perhaps it was just the fact that music is naturally more central than ballet to my sense of self: I love dance passionately, but only as a spectator, whereas I am as much a musician as anything else. Whatever the reason, sitting down in my aisle seat with Mrs. T at my side felt like pulling on a beloved old pair of slippers.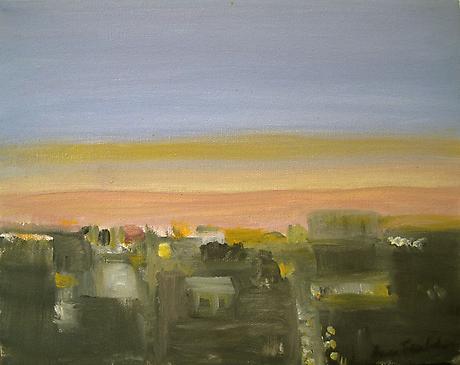 I felt almost as comfortable the following afternoon when we popped into two midtown galleries, Tibor de Nagy and Michael Rosenfeld, to look at a pair of exhibitions by Jane Freilicher and Romare Bearden. Freilicher is near to my heart–I've written about her work on many occasions, and Mrs. T and I own one of her aquatints–and I've spent more hours at Tibor de Nagy Gallery than I can count. Thus it was a wholly uncomplicated pleasure for us to wander through a roomful of her latest paintings and wrangle companionably over which ones we liked best (I was especially taken with a small urban landscape called "City at Twilight").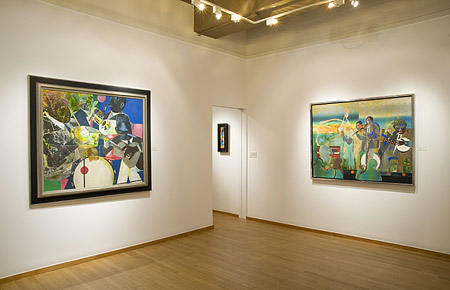 If anything, Mrs. T was even more excited by Bearden's collages, for his work is largely unfamiliar to her, and I knew that he'd be right up her alley. Not surprisingly, Bearden's fractured scenes from the world of jazz rank high among my favorite works of modern art, and "Collage: A Centennial Celebration" contains several examples that the two of us coveted mutually and fiercely. And even though I don't hit the galleries nearly as often as I did in the days when I was putting together the Teachout Museum, the fact that our apartment is full of works on paper by our favorite American artists means that no matter how long I go without visiting a gallery or a museum, I never feel disconnected from the world of visual art.
Not so movies: I stopped writing about film five years ago, and I can count on the fingers of one hand the number of first-run releases that I've seen in a theater since then. This vexes Mrs. T no end, and after we saw The King's Speech in Florida two months ago, I promised her that we'd do it again soon. On Saturday afternoon I redeemed my promise by taking her to see Tom McCarthy's Win Win. It was a joy to do so: Our Girl in Chicago had already told me that it was a must-see film, and everything she said was on the nose. Not that it was a hard sell, for Mrs. T and I both loved McCarthy's The Station Agent, and Win Win is as poignant and ideally cast as that lovely little film. For me it was a special pleasure to see Nina Arianda and Bobby Cannavale on screen, having seen them both on stage a couple of weeks ago, and though the trailers that preceded the feature were uniformly fatuous and depressing, I went home determined yet again to make more room for movies in my life.
Time was when it would have seemed silly for me to feel the need to make such a resolution. I used to be the quintessential cultural boulevardier, so much so that I wrote a column for the Washington Post in which I reported each month about my widely varied doings about town. But I've been so deeply involved with theater for the past eight years that I've found it increasingly difficult to carve out space for anything else, and now that I not only review theatrical performances but help to create them, it's become harder still. Add to that my parallel life as a biographer and you can see why I've had to pull my head partway into my shell.
That said, I found the events of last week so exciting that I'm all the more determined to repeat them as soon as possible. We'll see whether this newfound resolve survives the grueling test of summer travel, but there'll be plenty of opportunities to visit museums as Mrs. T and I make our way from San Diego to Chicago to Washington, and it's usually possible to squeeze in a movie between shows if you put your mind to it.
I'd almost forgotten how aesthetically stimulating it is to explore the whole world of art rather than just a piece of it, even one as all-encompassing as theater. I wasn't born to be a specialist–the whole point of my career as a critic has been my determination not to be limited to a single field–and I believe devoutly in the truth of the slightly overripe but nonetheless sincere speech that Gary Merrill delivers in All About Eve:
The Theatuh, the Theatuh–what book of rules says the Theater exists only within some ugly buildings crowded into one square mile of New York City? Or London, Paris or Vienna? Listen, junior. And learn. Want to know what the Theater is? A flea circus. Also opera. Also rodeos, carnivals, ballets, Indian tribal dances, Punch and Judy, a one-man band–all Theater. Wherever there's magic and make-believe and an audience–there's Theater. Donald Duck, Ibsen, and The Lone Ranger, Sarah Bernhardt, Poodles Hanneford, Lunt and Fontanne, Betty Grable, Rex and Wild, and Eleanora Duse. You don't understand them all, you don't like them all, why should you? The Theater's for everybody–you included, but not exclusively–so don't approve or disapprove. It may not be your Theater, but it's Theater of somebody, somewhere.
I don't claim to understand them all, but throughout my life I've tried to appreciate and learn from as many of them as possible, and I don't plan to stop now.