Somehow or other I've managed to keep up with my regular writing for The Wall Street Journal while barnstorming on behalf of Pops, though both of this week's columns were written not at my desk in New York but in a Chicago hotel room. I hope the quality didn't suffer!
In today's Journal I review two New York shows, the Broadway revival of A Little Night Music and the second installment of Horton Foote's Orphans' Home Cycle. The first is disappointing despite occasional bright spots, the second…well, read for yourself. Here's an excerpt.
* * *
How is it possible that "A Little Night Music" is now being seen for the first time on Broadway since the original production closed there in 1974? It is without doubt one of Stephen Sondheim's greatest achievements, a musical version of Ingmar Bergman's "Smiles of a Summer Night" that comes close to surpassing in quality the worldly-wise comedy of upper-class manners on which it is based. "A Little Night Music" is revived often by regional theaters around the country, and one can never see it often enough, even in a production that fails to bring out its myriad beauties.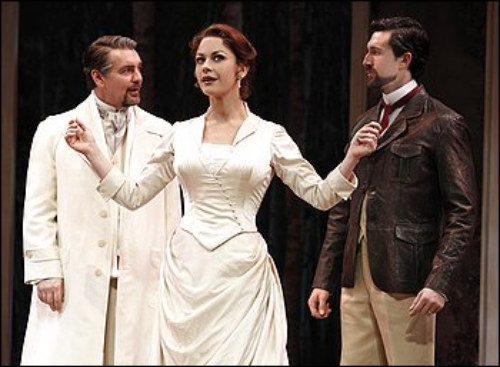 I'm sorry to say that such is the case with Trevor Nunn's small-scale staging of "A Little Night Music," which has just transferred to Broadway from London's West End. Despite a good cast and a great set, Mr. Nunn gets the tone of the show dead wrong, and the presence of Catherine Zeta-Jones and Angela Lansbury, though it will undoubtedly keep "A Little Night Music" running for some time to come, doesn't make up for his blunders. Above all, Mr. Nunn has made the fatal mistake of favoring Hugh Wheeler's coarsely farce-flavored book over Mr. Sondheim's sublimely urbane score. As a result, everything about this production feels exaggerated and overplayed. The staging is fussily detailed (though some of the details are quite striking) and most of the performances are heavy-handed in a way which clearly indicates that the director, not the actors, is at fault.
Ms. Zeta-Jones plays Desirée, the aging actress who longs for a quieter love life, with a flamboyance that too often lapses into crassness. That she is capable of much better things is obvious from her tender, deeply musical singing of "Send in the Clowns" and the grace with which she and Alexander Hanson play the last scene, which leads me to suspect that Mr. Nunn egged her on elsewhere….
The second part of "The Orphans' Home Cycle," Horton Foote's family album of plays about a turn-of-the-century Texas family and its struggles with the coming of modernity, has just opened at Signature Theatre Company. It upholds the immeasurably bright promise of the first installment. Not since Tom Stoppard's "The Coast of Utopia" has so self-evidently significant a large-scale theatrical endeavor come to New York….
Much of the play takes place on front porches, and much of the talk overheard there will remind you of a line from James Agee's "A Death in the Family": "They are not talking much, and the talk is quiet, of nothing in particular, of nothing at all in particular, of nothing at all." But don't be deceived by the uneventfulness of "The Story of a Marriage," a play about nothing that turns out to have been about everything: love, loss, death, hope….
* * *
Read the whole thing here.