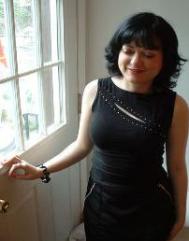 • I'm busier than I like to be, but I still made time to read Maud Newton's Los Angeles Times essay about the difference between an autobiographical novel (which she's writing) and a memoir (which she's not).
In her words:
At 19, at the University of Florida, I took a fiction class from the formidable Harry Crews. When Crews handed back an inchoate story I'd lamely based on my father, I could feel his scorn radiating off the paper. "The creation of a monster is not the creation of fiction," he'd written, in all caps.
Crews taught me that an event doesn't make for a resonant story merely because it's weird and bad and actually happened; he helped me to see that the books I love most–such as Graham Greene's "The End of the Affair"–are powerful and moving because the author breathed life into them with words and hard work and imagination.
Since then I've written–in a more nuanced way, I hope–autobiographical essays about my family. But the "novel" I imagined writing as a child has transformed, through thousands of hours and countless drafts, into actual fiction….
This is a book I long to read. Until then, Maud's essay is here.
• Anyone who writes book reviews–or any other kind of criticism–should take this piece to heart.
• Clive Davis wrote a smart piece about Broadway musicals for the London Times in which I figure prominently (which isn't what made it smart, needless to say). Here's an excerpt:
[D]o we place too much of a burden on musicals when we expect them to reach the heights of, say, the 1930s or 1940s? After all, as the impresario Cameron Mackintosh pointed out to me, one reason the great shows of yesteryear created such an impact is that they grew out of a popular culture in which the art of writing show tunes played a central role. Moreover, it was an age when theatre songsmiths and producers did not have to compete with the computer games industry or the juggernaut that is rock music….
Read the whole thing here.
• Schadenfreude is definitely not nice and may actually be sinful. That said, I couldn't help but titter when I read Scott McLemee's brutal Inside Higher Ed takedown of Cornel West, in which he quoted this passage from West's latest book, a memoir that shall remain nameless and linkless:
The basic problem with my love relationships with women is that my standards are so high–and they apply equally to both of us. I seek full-blast mutual intensity, fully fledged mutual acceptance, full-blown mutual flourishing, and fully felt peace and joy with each other. This requires a level of physical attraction, personal adoration, and moral admiration that is hard to find. And it shares a depth of trust and openness for a genuine soul-sharing with a mutual respect for a calling to each other and to others. Does such a woman exist for me? Only God knows and I eagerly await this divine unfolding. Like Heathcliff and Catherine's relationship in Emily Bronte's remarkable novel Wuthering Heights or Franz Schubert's tempestuous piano Sonata No. 21 in B flat (D.960) I will not let life or death stand in the way of this sublime and funky love that I crave!
I can't top the reaction of McLemee's wife: "Any woman who reads this needs to run in the opposite direction when she sees him coming."