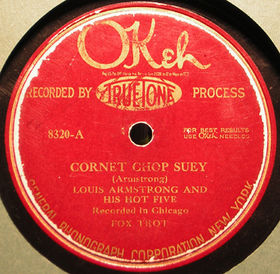 I lost my grip on the continuing saga of Pops: A Life of Louis Armstrong at some point in the past week. After that everything became a blur, and now that I've hit the road again after a two-day pit stop in Manhattan, it's gotten even blurrier–especially since Pops is now being covered so widely and enthusiastically that I can no longer keep up with the incoming reviews. All I know is that at the moment I'm in Chicago with Mrs. T and Our Girl, that we saw Steppenwolf's production of American Buffalo last night, and that I'll be in St. Louis on Wednesday and New Orleans on Thursday. Beyond that I'm clueless, albeit in the nicest possible way.
If you live in or near Chicago, I'll be appearing on WGN's Extension 720 at nine p.m. tonight to talk about Pops. For information on my Pops-related public appearances in Chicago, St. Louis, and New Orleans, go here. If time and geography are favorable, come say hello and get your book signed.
If you're where I'm not, here's a sampling of links that might interest you:
• Armstrong scholar-blogger Ricky Riccardi raves about Pops in the San Francisco Chronicle:
Thirty-eight years after Louis Armstrong's death, Terry Teachout has made the possible, possible: He has written a definitive narrative biography of the greatest jazz musician of the 20th century….It took decades to finally get a comprehensive biography of Armstrong, but the wait was worth it.
Read the whole thing here.
• William H. Pritchard, a critic whom I greatly admire, writes at length about Pops in the Boston Globe:
[Teachout] has produced biographies of H.L. Mencken and George Balanchine and is also a trained musician with a special love and expertise in jazz; thus his decision to write a biography about Louis Armstrong, our greatest American jazz musician, though not inevitable, should be welcomed….his sharp, often witty sentences make reading him a delight.
Read the whole thing here.
• Seth Colter Walls writes about the state of jazz in the current issue of Newsweek, making reference to my controversial Wall Street Journal column on its increasingly dire prospects and praising Pops in no uncertain terms:
It's easy to see how Teachout came to ask if contemporary jazz can be "saved" in light of comparing its modern station with the past glories. Pops, his valuable new biography of Louis Armstrong, is a study of international jazz fame that credibly treats its subject as a figure of complexity on par with politicians…
Read the whole thing here.
• The St. Louis Post-Dispatch calls Pops a "masterpiece." To find out why, go here.
• The Washington Post's review of Pops hasn't run yet, but it must be good, since I just made Book World's list of the ten top books of 2009. Louis Bayard calls Pops "an exceptional biography of, in Teachout's lovely phrase, 'a major-key artist.'" To see the full list, go here.
• As if the New York Times hadn't done enough for me lately, Pops is at the top of the Times Book Review's "Editor's Choice" list of weekly picks. To see the full list, go here.
• Maud Newton came to hear me speak about Pops in New York last week and blogged about it here.
• I've been doing a lot of Pops-related radio appearances in recent weeks, with still more to come. Many of them are making their way to the Web, and one of the best ones to date, Marty Moss-Coane's interview on Philadelphia's WHYY-FM, is now available as a podcast. Go here to listen.
• Big Think, the online video magazine, interviewed me at length a couple of weeks ago about Pops and my work as a critic, blogger, and opera librettist:

To see the interview at Big Think's own site, go here. I strongly recommend that you pay them a visit. The other interviews posted there are amazingly wide-ranging and unfailingly interesting. (Coming attraction: a chat with Maria Schneider.)
• Finally, mark your calendar for Monday, December 21, when ABC's Good Morning America will feature Pops as part of its holiday book roundup.
And now…back to the tour!
* * *
In case you didn't guess, I'm up-to-my-ears busy and having more than a little bit of trouble keeping up. I promise to answer your mail and/or calls sooner or later, but for the moment it may be a bit more on the latter side (i.e., later). Be patient–I'll get back to you.