In a past post, I said that if we want classical musicians to look like their future young audience — or the audience we hope will be there in the future — a lot of these musicians will have to have tattoos.
I didn't quite put it that way. I was talking about a new young audience in Washington, DC. But I think it applies more or less everywhere.
I also thought I was exaggerating. Meant tattoos to serve as only as a symbol of what younger people look like, the ways in which they're different from the classical music norm.
But I didn't know how right I was. Recently in the Guardian I read that nearly half of American millennials have tattoos!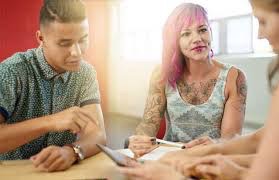 So my point is reinforced. If (at least in the US) we want millennials to feel at home at classical performances — if we want them to feel that they're with people like themselves — then a lot of the musicians need to have tattoos.
Not that tattoos are unknown among classical musicians. But no way half the young ones have them. Just another way that classical music hasn't kept up with the culture around it.