Simon Rattle wants the musicians in his orchestra to look like the city they come from. Or so I read some time ago in the Guardian. Since he's now music director of the London Symphony, he's saying that he wants the musicians in his orchestra to look like London. "Why do our groups of classical musicians not look like London looks," he said, "and what can we do about it?"
This sounds like a great goal. But it's a heavy lift. Suppose I try the same thinking in the city I live in, Washington, DC. If the musicians in our orchestra, the National Symphony, looked like DC, half of them would be black.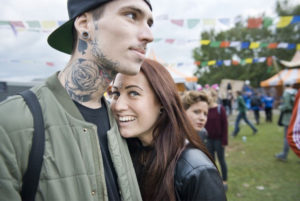 And many of them — given DC's growth as a destination city for younger people (even if they don't work in politics) — would be millennials. Many with tattoos, some with pink or purple hair.
Could that happen?
I can imagine how a DC-like orchestra would look. And I love it (putting aside for the moment practical questions like what happens to the musicians already in the NSO; a thorough change would take a generation).
But what's harder to imagine is how we'd get there. We know why the people I've just named aren't in our orchestras. They don't become classical musicians because, by and large, they don't have a classical music culture. They like other kinds of art, art that's more contemporary, that reflects the lives they live.
So to attract them, we'd have to do more than educate them (as many of us advocate) in classical music. Why would they want to be educated? They're not interested! No, we'd have to become more like the art they love. Which means a giant change in what classical music would be, giant changes in the music that we play and in how we play it.
I think that would be a great leap into renewed artistic excitement. Raising our standards, rather than lowering them.
But how could it happen? Who's planning for it, apart maybe from the many moves to create special concerts for younger audiences, and to create a few opportunities for more diverse musicians? But what we need isn't to create something special. It's to revamp everything we do.
And yes, I realize that what I'm saying needs to be fleshed out. What would classical music be like, after it's reborn as a contemporary art? When it involves people far more diverse than what we see now? I'm not going to address this now. But just to be clear — I know I have to.
Time to be more specific
So back to Simon Rattle. I admire him for wanting what he said he wants. A terrific goal for any classical music institution right now.
But it needs to be defined. What do we mean, exactly, when we say we want our musicians to look like the world outside them?
I tried to define what that might mean, when I talked about DC. But mostly, when people get excited about a goal like this, they don't define it very clearly.
And if we're not clear, if we don't know in specific terms what the goal really is, how can we know how far or near we are to it? Or how to measure when we've reached it? Or what we'd have to do to get there? We're saying something that sounds good, but what we say (and, I fear, what we think) is really pretty vague.
That doesn't mean we're doing anything bad. We're taking a good first step. Starting to be upbeat, progressive, socially conscious, realistic, and future-oriented. But after our first steps, we have to get serious, and figure out exactly what we mean.
To finish…
One thought. Why should we think that classical musicians would ever look exactly like the outside world? Look at audiences. The audiences for other musics don't look alike, and none of them completely reflect the world at large.
I noticed, when I was a pop music critic, that each artist, each band, sliced the demographic pie its own way. And some large divisions were obvious. To look only at race: I think I was the only white person at a Luther Vandross show. The only African-American I saw at Bruce Springsteen was Clarence Clemons, Springsteen's sax player. At Prince concerts and at hiphop shows, the crowds were evenly divided.
So if pop music crowds can vary, and if the musicians in different kinds of pop acts vary, too, why wouldn't classical music have its own kind of people? So yes, we have to be far more diverse. Can't survive into the future as  the ethnic music — and I'm saying this with an affectionate smile — of friendly, well-off older white people.
But exactly what our demographic mix can be is yet to be discovered.
And now a warning. I'd beware of any thought that classical music somehow is universal, that somehow it could or should appeal to everyone. Look around at everything else in our culture, and you'll see the world just doesn't work that way.
A story, told by one of my Juilliard students, some years ago:
Someone in his family came to visit him, someone who'd never been in NY before. This visitor loved the mix of people on the streets. A mix of races, cultures, nationalities, lifestyles.
Then my student took her to a Lincoln Center concert. She looked around, and said, dismayed: "Where is everyone?"