[contextly_auto_sidebar id="t2pbrH2KB3OBsaByIS6DZnVptkA34PE7″]
Continuing my thoughts about how to make old masterworks sound contemporary. In my last post, I said what I think the problem is. At most classical music performances, the old works don't immediately sound like they come from the time when they were written. (Compare reading Dickens: One paragraph and you know what century you're in.)
But they also don't sound like they fit anywhere in our current world. Or at least not in the world outside classical music.
So one way to fix this — such a wonderful paradox — is to go back to the past. These days, to cite just one contemporary trait, we value individuality in performances. Especially in music. I'm not going to claim there isn't any imitative junk in pop (or in other genres), but smart people, listening to today's music, want musicians to have something of their own to say.
That happened in classical music's past. And does today, of course, with some performers. But more commonly, real personality is absent. And is discouraged at the schools where classical musicians are trained.
So one way to bring personality back would be to ornament or otherwise change the music we perform, as routinely happened up to at least the mid-point of the 19th century. Of course that won't work for all pieces. You wouldn't want to do it in a Bruckner symphony. But in music written to be ornamented, we should bring ornamentation back, by which I mean the full range of it, as practiced in the past.
We've lost touch
What would that full range be? It's one of many signs of trouble in our field that we've lost touch with what that is, even though musicologists have shown in great detail what happened in the past. I remember reading, in a standard book on Mozart's ornamentation — Frederick Neumann's Ornamentation and Improvisation in Mozart — a remark that equates ornamenting written music with "taking liberties."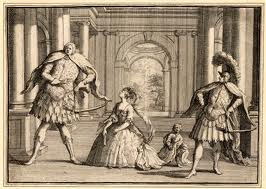 That's not how it was thought of in Mozart's time. On a similar note, I once asked a musicologist who specializes in Baroque opera to recommend a recording of a Handel aria, in which I might hear the kind of ornamentation we know that Handel's singers did. The recommendation I was given (something by David Daniels) was beautifully sung, but very restrained — timid, even — in how much the music was changed from the written score.
I've read about 18th century performances in which the da capo repeat had almost no trace of the original melody. And I think that was the point. We tend think of baroque opera as stylized and restrained. All those da capo arias, one after the other, all with the same form, ABA. Sing something, sing something that contrasts with it, sing the first section again. Over and over, until the opera is finished.
But if the repeat of the A section is really wild — and really original — then the form isn't severe at all, especially if singers also are going to town on the cadenzas. The audience sits, talking, taking in (or not) the A and B sections. And then when the repeat of the A section comes, the singer goes wild, and everyone cheers. Especially since all this was embedded in spectacular visuals, whether they were costumes (which could be fashion statements, or which might involve plumes many feet high on somebody's helmet) or stage effects (which could be spectacular: someone makes an entrance on a flying chariot, pulled by dragons).
Add the orchestra improvising, and maybe conversations shouted from the audience to the stage and back again, and you've got a show. Here's a recording of Eva Podles, the Polish contralto, singing "Or la tromba" from Handel's Rinaldo, with the kind of show-stopping ornamentation Handel might have recognized. And, if it was done this well, approved of.
I can imagine Handel's singers doing longer, wilder, freer cadenzas, and the solo trumpet in the orchestra making more than the modest changes the one on this recording does, maybe even competing with the singer. But the Podles performance is a shot of Red Bull. (It's from an album called  Famous Arias, on the Forlane label, with the Collegium Instrumental de Bruges conducted by Patrick Peire.)
Where I'm going with this
I'll stop here, to keep the post manageable, both for you and for me. Btu consider what you'd find, if you lived in Handel's time, and went to one of his operas more than once. The singers might sing different notes, because they might be improvising ornaments, and coming up with different things on different nights.
And think of going to a repertory opera like Lucia di Lammermoor in the 19th century. (Most operas performed then were new, at least in Italy. But some caught on, and were done repeatedly.) Suppose you heard it in Bologna, and then later on in Rome, with a different cast. You'd have singers with — as we have today — different looks, different ways of singing, different sounds, and different interpretations of their characters. (Or maybe none at all, something probably more common back then than it is now.)
But they'd also be singing different notes, because they'd all be ornamenting and rewriting their music, all in their own ways. So here we have real individuality in performance — the kind that people in our culture now expect to see.