[contextly_auto_sidebar id="YEJkw3attbuMW2eNDMPgWuIa2CwKifkG"]
[The story so far: Julia Villagra, 30 years old, might be a reasonably typical New Yorker of her generation. As she said in her first post, "My Spotify playlists are a mishmash of Jay-Z, Ravel, Dirty Projectors, Lorde, Britten, M.I.A, Macklemore, Beethoven, Brahms, Daft Punk, and the Gotan Project."
[But note the classical items. This is one way that Julia isn't so typical. She has a degree in classical vocal performance from Boston University. When she decided she wanted to draw people like her — starting, perhaps, with her coworkers at a financial tech company — to classical concerts, she looked, as she says, "to combine the sexy sophistication of a night at Lincoln Center with the flexibility of a night at a jazz club." 
[How she did that — by partnering with successful restaurants — is something all of us can learn from.]
I approached the series the way a restless, mid-twenties New Yorker might approach her career, her social life, her relationships, or her hobbies. I wanted variety, freedom, structure without rigidity, and social stimulation with intellectual reward. I wanted appeal. I knew I needed to compete with all the distractions that are slowly eroding young people's interest in classical music. At the end of the day, Tertulia is a business like any other. I needed to attract the people in my target market by understanding their motivations and habits. I needed to build brand recognition. But most important, I needed to design a product consistent and trustworthy enough to ensure loyal customers.
Before I ever presented my first Tertulia I wrote a detailed business plan.  I created my mission statement and objective, gathered statistics, identified market gaps, researched and assessed the competition, found my target customers, and made projections for how much initial capital it would take to get started and stay afloat.
I read books about nonprofit tax structure and about how to build an effective board of directors. I trusted my gut on nearly every step of the way, and when I was unsure, I sought advice, or did more research. Keeping the Tertulia concept pure and straightforward became a key component of our early success. When the concept became overdeveloped, I simplified it.  If the execution threatened to be overcomplicated, I simplified more. If I sensed I was biting off more than I could chew, I put the brakes on.
I had the foresight to know that if my first concert was a success, I would need the infrastructure to host again quickly if I wanted to maintain momentum. And for that, I'd need publicity. After my beta-Tertulia (as I call it), which was a private proof-of-concept event for friends and family, our first public concert ever was listed by Time Out, a major New York weekly. By then I had already built my website, designed my logo, and made darn sure that no one had reason to question the credibility, professionalism, or quality of our product.
Our venues are reputable, intimate, restaurants, usually in lower Manhattan, a special New York neighborhood whose loyal residents don't often deign to go uptown. We are careful to observe concert etiquette basics that preserve the integrity of the performance, but also to abandon practices we believe to be superfluous, or worse, that discourage people from going at all. For example, clapping is encouraged between movements. Or if a piece is long, lasting 35 minutes or so, I will program only part of it, maybe a movement or two, a choice I sometimes make to keep the evening balanced (and to minimize fidgeting).
Ticket prices range from $25 without dinner, to $75 to $100 including dinner, or up to $540 for a table for four. One important detail to note is that when a restaurant hosts us, only Tertulia ticket holders are allowed in that evening. This is a critical to our ability to create a concert-like setting while the music is being performed.
So there's a balance: The music whets the artistic and intellectual appetite, while wine, food, and conversation put people at ease. But what keeps both experienced and new listeners coming back to Tertulia, over and over, is that the music is paramount. Classical music is inherently communicative, and oftentimes passionate and uncontained. So it fits beautifully into the social context of a Tertulia. To me it is unnatural to stifle it with rules and rigidity, but unacceptable not to give it the respect it deserves.
Here's what it's like.
A night at Tertulia
Just before 7:00 pm, guests begin to arrive at the restaurant. They check in, pick up a program, and an usher directs them to an assigned table. A lively, young crowd settles in, orders drinks, peruses the program, and selects a main course and dessert from a prix fixe menu. Around 7:20 p.m. I, as the host, tap a glass to get people's attention. Briefly, I introduce myself, Tertulia, and the performers, but I like to leave introductions of pieces to the musicians themselves; it is an important part of getting them engaged in the performance, and in engaging the audience.
Tertulia is intentionally cozy and intimate, with no stage to elevate the performers above the audience. Audience members in the front are seated just far enough away from the musicians to prevent a renegade bow from striking someone's knee. The distance between artist and audience is gone, and a palpable energy fills the room.
The first performance of the evening begins, and for the duration of the piece the audience listens with rapt attention. Each Tertulia has three performances. I see them almost as if they were food — a musical appetizer, main course, and dessert. While this leaves a lot to individual interpretation, I try to start with music that will challenge my audience. Just as any inventive chef would want to expand the flavor repertoire of his or her guests — and in particular of regular diners — I want to develop the aural palate of my listeners. It has been fascinating to see my regulars develop a sharper ear. They often notice musical details they surely would have missed at their first Tertulia. Therefore, a taste of something new, whether it is a living composer or simply a lesser-performed piece, is an important part of selecting our repertoire.
The musical appetizer lasts around 20 minutes, and after enthusiastic applause, waiters resume their duties, and once again the room is humming with conversation. Then comes a longer repertoire staple, with something sweet and perhaps a little lighter to end the evening. Between the pieces, my guests eat. While they eat, the Tertulia musicians are eating alongside them at a restaurant table. People from the audience often stop and introduce themselves and compliment the players on their performance.
Programs are printed for all Tertulias, not only as information, but also as a way to keep the focus of the evening on the music and the musicians. I try to provide insightful and approachable program notes, which include personal narratives the musicians write. These aren't the conventional bios you see in concert programs, because they highlight events and collaborations the musicians are proud of, and intentionally leave out information that means little to most nonmusicians, such as conductors the musicians have played under, concert halls and festivals they've played at, and teachers they've studied with. Tertulia bios are meant to help my audience build meaningful, personal connections to the musicians.
But in pieces of any length, the best part of a Tertulia is, without a doubt, the level of musicianship. I am very fortunate that the wonderful violinist Stefan Jackiw was a regular performer and early believer in the series. His reputation among his colleagues and in the industry was instrumental in enabling us to attract top talent. Any uncertainty a musician had about performing in a restaurant was put to rest with Stefan's endorsement. As word has spread that Tertulia is more fun than a typical concert, as well as musically rewarding and well paid [added later], the problem isn't finding talented players – it's scheduling Tertulia often enough to present all of them.
Into the future
I'm left with one final thought. In part because of Tertulia, I feel optimistic about the future of classical music. The imminent threat that Greg has focused so intensely on these past few years may in fact be what ultimately saves it. Desperate times call for desperate measures, and I finally sense a changing landscape that is brimming with opportunity.
I recognize that traditionalists may be slower to embrace the Tertulia approach; we present only 60 to 75 minutes of music compared to a more standard 90 to 120 minutes, and have made intermissions a more substantial and deliberate part of the concert experience. But I would argue that if a more balanced experience results in a sold-out classical music concert, I'd rather give more people some exposure than have no exposure at all. It will be Tertulia audiences who, later on, will seek out the traditional concerts, buy recordings, discover and eventually fall for classical music. Some day the purists may thank us for it.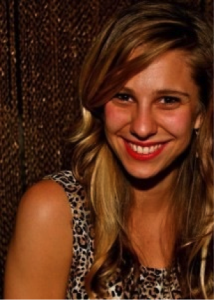 In addition to serving as Tertulia's Executive and Artistic Director, Julia Villagra is the Head of Human Resources and Recruiting for Hudson River Trading, an automated trading firm based in Manhattan. Julia has used her experience working in the competitive and demanding world of quantitative finance to build her chamber music series.
As a graduate of Boston University's College of Fine Arts, it was a difficult decision to pursue a career outside of music. Tertulia is a labor of love that is fueled by Julia's passion for chamber music and her concern for the future of classical music.
Julia's series Tertulia has been featured in the New York Times, on WQXR's "Top 5 @ 105" and on Musical America's popular blog "Ask Edna."