From Greg: 
Back in November, I spoke at a conference at Boston University on the future of classical music, an ambitious project of BU's music school, and its dean, Benjamin Juarez. I gave opening and closing keynote talks, a great honor. 
But — without meaning to put myself or the conference down — I've given keynote talks before. What stood out for me, over this weekend, was (as is so often true at conferences) the people I met. When I gave a presentation last June at the League of American Orchestras annual conference, I met Virginia Paterson, who wowed me with stories about how she gets full houses (and attention beyond those) for the new music group she runs with her husband Robert, the American Modern Ensemble. 
That led to Virginia writing a guest post here, about her success, which got her lots of well-deserved attention. 
In Boston, I had the great pleasure of meeting — in person for the first time — Sarah Robinson, the co-head of Classical Revolution: L.A., whose dissertation on classical musicians who play in clubs is the definitive study of that subject. Her guest posts here about what's in her dissertation, and about her own experience playing in clubs, are terrific to read. 
But I think Sarah and I both would say that a highlight of our Boston trips was meeting Julia Villagra. Julia, a BU graduate, spoke on a panel with Sarah, her subject being her own project, a wildly successful concert series in New York restaurants, called Tertulia. I think I can speak for Sarah when I say that both of us sat just about open-mouthed over dinner with Julia, as she explained how her series works. 
Many people have addressed, with some success, the problem of getting a new generation — whose culture is wildly different from the culture classical music comes from — to go to classical performances. Sarah's work in clubs addresses that, with great success, by adapting both the music and the way it's presented to the club scene.
But Julia takes another approach. Her concerts are more purely classical than many I've seen, or heard about, that draw a nonclassical audience. The music she programs is strictly classical. And the audience is asked to be silent while the music is played, a request they're thrilled to comply with. 
Why does this work? Because, as Julia makes clear, in this post and another to follow, she's found a sweet spot not everyone (and I'll include myself in that) knew could exist. She's found the perfect overlap between classical concerts and the evenings out that her target audience — young New York professionals — enjoys on its own. 
It's one of those ideas that seems obvious, once you hear of it. Go to a successful, attractive restaurant, offer to take over one of the nights when they're typically not busy, and — with the restaurant as partner — offer chamber music along with a prix fixe dinner. Does she succeed? How about a 62% retention rate? 62% of people who come to one of Julia's events come back for at least one other. 
She does that by being both a savvy entrepreneur, and — very important — someone who knows that, even though she's studied classical music and her ticket-buyers haven't, she's in every other respect a member of her target audience. So she's well able to understand what's likely to work. 
When I talk to people in the big classical music world about Tertulia, they're greatly impressed. One executive director of a major orchestra immediately starting riffing with me about how something like this could work in his city. 
But I'll stop here, and turn the stage over to Julia. I think we can all learn a lot from her — both from her ideas, and from how she's put them in practice. 
For almost three years now I have been presenting a successful series of chamber music concerts in restaurants around New York City. The series is called Tertulia, a Spanish word meaning a public social gathering where people meet to discuss the latest in art, music, literature, etc. It's in equal parts social and serious. Nothing sustains vitality like good food, wine, and company, but music is Tertulia's heart and soul.
When Greg asked me to contribute here as a guest blogger, he suggested I write about what makes Tertulia successful. I give concerts, on average, every six weeks, in various restaurants around the city. And my customers return. 65% of my audience has attended, on average, two or more Tertulias.
But before I talk about how we achieved such success, I want to reflect on why I decided to start a chamber music series, and how I knew before a note was ever played that the odds were it would succeed.
Gap in the market
In 2011, I saw a gap in the classical music market. Like any entrepreneur, I sensed an opportunity. My observation, based on my own habits and those of my peers, was that beyond attending concerts at the city's major venues like Lincoln Center or Carnegie Hall, young New Yorkers who were occasional concertgoers rarely, if ever, sought out classical music.
The grassroots classical and chamber music scenes in NYC are vibrant. In many new and alternative venues we see enormous risk-taking, flexibility, and creativity — which by and large are characteristics absent in many of the major concert halls. Daring new presenters are attracting and nurturing a younger, distinct generation of classical music lovers, but ironically, the vast majority of my peers wouldn't know where to find even one of these concerts.
Unless you're already a part of it, this grassroots classical movement is obscure. It is the truly committed music-lovers and musicians who attend these concerts because their newsfeeds and inboxes are full of announcements. For the rest of us, outsiders, the ones who instinctively opt for big, recognizable halls, the scene is effectively nonexistent. This is because the majority of grassroots presenters lack the funding — private and public — to invest in the costly marketing and PR campaigns needed to reach my peers and me. And there is also a catch-22. Many of these presenters, in a well-intentioned attempt to make classical music more accessible and to nurture new music (bravo!), may be alienating those who seek out more traditional repertoire and ambience. And also, as a consequence, alienating the bulk of the patronage dollars classical music institutions so desperately rely on.
This brings me to why I started my chamber music series, Tertulia.
Not your typical presenter
What I felt was missing was an option that finds a happy medium between grassroots classical and what I like to call "brand name classical." I was looking to combine the sexy sophistication of a night at Lincoln Center with the flexibility of a night at a jazz club. I wanted to steal all the best parts of both experiences to create a new type of concert that could change how we listen to live classical music. My goal was to create something simple, where no single element was particularly original, and build originality by blending the parts in new ways, and perfecting the execution.
But before I go further, let me tell you why I'm not your typical classical music presenter.
I am 30 years old, live in Chelsea, and work for a financial tech company. My Spotify playlists are a mishmash of Jay-Z, Ravel, Dirty Projectors, Lorde, Britten, M.I.A, Macklemore, Beethoven, Brahms, Daft Punk, and the Gotan Project.  I graduated with a degree in vocal performance and, despite being personally defined by classical music from the time I was five, I abandoned my hopes of becoming a professional musician (a violinist turned vocalist with a dream of becoming a conductor) for the security of what those in the music world jokingly call a "real job." Being a musician taught me discipline, resilience, and commitment. Now, my job is in human resources and recruiting for Hudson River Trading, an automated trading firm based in Manhattan. I've been with the company for six years and it has taught me more than I can list here in terms of skills and knowledge. But above all, it has taught me how to execute. Any entrepreneur knows that execution is everything. Looking back now, if it hadn't been for my job, I might not have started Tertulia.
But back to why I started this project. In December, 2010, my passion for music resurfaced and manifested itself in a desire to bring change and innovation to the classical music world. I had gone to a music school in Manhattan for a concert featuring two wonderfully talented friends performing Ravel's Sonata for Violin and Cello.  I mentioned the concert to a few of my coworkers, hoping to entice them with the promise it would be excellent, but also telling them that we could always leave at intermission.
I remember feeling anxious: Would my friends enjoy this? Without a big celebrity performer or recognizable concert venue, would they consider it worthwhile? Could they forgo our social tradition, of relaxing over a glass of wine or cold beer at the end of a long day? Would they skip dinner for this concert?
Troubled by these superficial, but unfortunately real concerns, I began to design a concert series in my head. I did not believe that people my age were uninterested in classical music, but other temptations simply took precedence. As a classical music insider, but sharing the outsider's reluctance to endure the traditional two hour-plus concert, I realized that I needed to come up with a classical music experience that would woo and wow my peers. I knew that would take a very creative solution.
Out of this crucible, Tertulia was born.
[Tomorrow: Julia's business plan, her views on the future — and what a night at Tertulia is like.]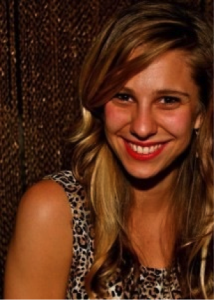 In addition to serving as Tertulia's Executive and Artistic Director, Julia Villagra is the Head of Human Resources and Recruiting for Hudson River Trading, an automated trading firm based in Manhattan. Julia has used her experience working in the competitive and demanding world of quantitative finance to build her chamber music series.
 As a graduate of Boston University's College of Fine Arts, it was a difficult decision to pursue a career outside of music. Tertulia is a labor of love that is fueled by Julia's passion for chamber music and her concern for the future of classical music.
 Julia's series Tertulia has been featured in the New York Times, on WQXR's "Top 5 @ 105" and on Musical America's popular blog "Ask Edna."