In part one of her guest post, Caroline told her story. Born in the Yukon Territory in Canada, success as a jazz singer when she was just 19, vocal trouble, lessons from a classical voice teacher — and revelation! She devoted herself to classical music, and got a master's degree as a classical soprano. 
But: 
Like you, I hear and read about classical music attendance dwindling and I get a pit in my stomach.  Firstly, because it affects my and my husband's livelihood, and secondly because I've come to love this music so much that it deeply hurts my heart to know that it could be lost or deemed unnecessary.  I cannot fathom a day when classical music is irrelevant.  To me, it feels like putting all of my energy into the hopes of a career based on an outdated model would be a disservice to my  aspirations, and to the love I have for this music.  If I know that I want to fully be part of this classical music revolution, I'll have to design my own career and muster up the courage to think outside the box.
Now, in part two, she tells how she did this. 
Inspired by the work being done at the Vancouver International Song Institute (VISI) and its director, Rena Sharon, I set off on an experiment.  Since song recitals are dreadfully attended these days. (I recently attended a Renée Fleming recital here in Vancouver and one could hear crickets chirping because the audience was so small.) I wanted to present a recital of my own, on the model of a recital that I would like to attend.  I wanted to see what an audience's reaction would be if I made some very small changes.  So I got on the phone to the director of Whitehorse Concerts and booked a recital for the fall of 2011.
Firstly, I decided not to have program notes.  Personally, I hate reading program notes because there's never enough time between sets or songs, there's never enough light to properly read, and trying to read while the performers are singing or playing is just plain distracting.
Instead, I had the tech guys at the theatre put out a microphone for me so that I could talk to my audience.  I was terrified, but I just prepared some interesting bits of information and history, nothing groundbreaking, and just spoke to my audience like we were all in my living room.  The feeling of warmth that came over the concert hall when my audience and I began to develop a familiarity with each other — like strangers getting to know each other at a dinner party — was something I hadn't felt before.  And to judge from the emails I got afterwards, it was a new feeling to many audience members too.
Secondly, I especially despise trying to read text translations during the performance because then I can't watch the performers, and isn't that the point?  So instead of printed text translations I did my own surtitles, like at the opera.  It took me a good number of hours to do them properly and make them professional looking, but it was worth every minute of preparation.  The positive response was overwhelming!
A story was relayed to me afterwards by a friend who talked to a first-time classical recitalgoer, who said that when she found out that surtitles aren't the norm at all recitals, she couldn't understand why not.  She was apparently quite confused and concerned as to why one would try to make an audience read and watch at the same time.Exactly my point!  I fully understand that surtitles aren't technically possible at all recitals, but I knew that I had the tools at my disposal and wanted to take full advantage of them.
Thirdly, I decided not to leave the stage between groups of songs.  I acknowledge that there can be a time for this, and that it is nice to have a moment's break in between sets, but I often find that the energy of the performance drops, and that it's sometimes hard to get it back again.  Also, as a performer, when you develop a comfortable rapport with your audience, and there's a palpable energy going back and forth, that can be a precious thing.
I wanted to see what it would be like to keep the thread going throughout the entire concert.  This change, combined with talking to my audience, gave me a feeling like I hadn't had before.  There was a continuous ebb and flow to the energy of the evening.
Did my experiment work?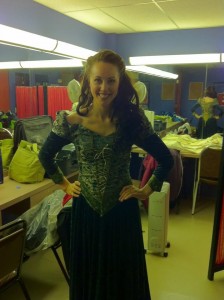 The head of the Whitehorse Concerts said afterwards that the response to my recital was electric!  The best comments being from a woman who said that "she didn't think a recital could actually be fun", and another woman saying that she felt like I "took care of my audience."  What a concept! Taking care of an audience. I have to say, that is the response which makes me most proud.  I love going to concerts and feeling that I was taken care of by the performer; that I was involved, appreciated for having paid for a  ticket.  To know that I created that experience for someone else left me elated!
I was also informed afterwards that sales for the rest of the Whitehorse season increased after my recital, with most tickets being bought by first-timers who had come to see me.  Mission accomplished!
Fast forward to September 2012.  As I launched into the last year of my M.Mus in Winnipeg and started to look at my life post-school, I couldn't help but notice that the performances I wanted to do hadn't been created yet.  With the help of my professors I had some brainstorming sessions. (If you're a music student and reading this post, I highly encourage you to do this). Being able to visualize my performing dreams helped me realize that I'm going to have to create them myself.
This was also the time when I began to realize just how important it is to me to introduce new audiences to the classical repertoire.  The words "collaboration" and "introduction" kept coming up in my conversations with my professors.
Around October 2012, I felt a huge weight lifted off my shoulders for two reasons.  First, the feeling that I could actually create the opportunities I wanted that I didn't always have to audition for the chance to perform, and that I didn't continually need to feel like I was putting my career in someone else's hands, made me feel more empowered than I ever had before.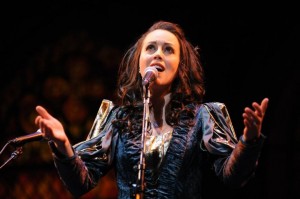 Secondly, I immediately felt like I was going to be part of something big.  I didn't know what it was at the time — I hadn't yet heard of the term "classical revolution" and I was a year away from discovering Greg's blog and reading about all the amazing work being done all over the world, but I felt plugged in to a "greater good," and I felt connected to people and ideas I hadn't encountered yet.
Then the floodgates of inspiration opened, and idea after idea, not only for single concerts, but for entire concert series started pouring into my mind!  All of this also took the pressure of time off of me.  As a music student, it's easy to feel like the clock is ticking because everyone wants quick success or else we might not be considered successful upon graduation.  Now, because of my ideas, and as I begin to discover the resources I need to make them happen, I've started to develop a one-, three-, five-, and seven-year plan for my career.
It's so exciting to begin to imagine what my ideas will become in seven years!  Also, what thrills me most is thinking about the ideas that I don't have yet: the unknown variables.  There are so many new ideas that will come from the collaborations I have planned that my little brain can't conceive of yet.  Now that will be where the real excitement lies!
Since I finished my M.Mus in Winnipeg in April, and have now moved back to Vancouver, I've been able to put some of my ideas into motion. I've been in contact with a string quartet with whom I want to collaborate and are like-minded in thinking out of the box.  I've had a meeting with an arts manager, a brainstorming session with a musical entrepreneur (as I like to call anyone following an "unclassified" musical path), and had another brainstorming session with an arranger who knows about writing for both jazz ensembles and classical ensembles (blending the two is something that excites me!). And I have more meetings with concert producers, a composer, and a play-write on the horizon.  And of course, I've started applying for funding.  This is a business after all.
What exactly are these grand, world-changing ideas, you might ask?  If I had to write them all down it would take ten more blog posts to get through them all, but in a nutshell they involve presenting classical music in non-traditional spaces and venues; arrangements/commissions that blur the lines between classical and jazz; an independent theater show based on the lives of a few of my favorite composers and framed around some of their most inspiring works; popup concerts; concerts of emerging artists playing music by emerging composers (all performed in non-traditional venues); and of course touring my concerts when my ideas come to fruition.

If you want to know more, you'll just have to stay tuned and watch my ideas evolve (I do plan on keeping people updated on my progress over the next few years).  But one of the reasons why I'm thrilled to have been asked by Greg to write for his blog is because I desperately feel that the real classical music revolution is going to come when we all give ourselves permission to think outside the box, and that's especially true for us  new graduates. There is absolutely no credible reason why the modern world and the classical world cannot evolve together.
And where do the traditions of classical music fit into my grand plans?  Believe you me, if I could go around the world singing Bach cantatas as part of my career, I would die a happy lady.  The traditional performances must continue to take place, but it is from an introduction to a new audience in inventive and non-intimidating ways that our traditions and our beloved music will continue to survive. And isn't that the point?
Canadian soprano Caroline Márkos is a recent graduate of the M.Mus program at the University of Manitoba studying with sopranos Tracy Dahl and Monica Huisman.  Always having had an entrepreneurial spirit, and musically feeling most at home singing early music, new music, and jazz, she plans to build a career that suits her unique strengths, and is based on collaboration and introducing new audiences to classical music. You can follow Caroline on Twitter: www.twitter.com/carolinemarkos