From Greg:
A  few months ago, I got email from a singer in Canada, who'd just found my blog. She was thrilled, because she'd been thinking some of the same things I and others here, readers and guest bloggers, think, and it was what she thought, too. Thoughts about how classical music needs to change. She'd never known that so many others agreed with her.
I get email like this often enough, and it's heartening. Always makes me happy that I'm doing this blog. The singer — Caroline Márkos — and I exchanged a few messages, and in one of them I asked if she'd tell me about herself. The response was a joyful outpouring, a life and career story that wasn't quite like anything I'd run into before. Caroline had great success as a jazz singer, developed vocal problems, went for help to a classical voice teacher, discovered classical music, and changed her life and career.
She threw herself into classical music. But why read it from me? Let Caroline herself tell you. When I read her happy shout from the heart, the long email about herself that she sent me, I asked if she'd turn it into a guest blog post, and the result is what we've got here. A post long enough to run in two parts, the first one now, the second tomorrow. 
Caroline, as you'll see, is full of ideas and excitement. And her ideas and excitement get results. I don't want to anticipate too much of what she has to say, but wait till you read, in part two, her account of a recital she gave, one shaped to welcome an audience. Not only did it have (as Caroline says) an "electric" effect on the people who came to see it, but it also increased ticket sales for all the other events on the concert series it was part of, events that Caroline had nothing to do with. 
Enough from me. Here's Caroline:
I grew up in a small city in northern Canada called Whitehorse, in the Yukon Territory, and I don't come from any resemblance of a musical family—unless you count my dad's wickedly awesome Joe Cocker impression.  I studied a bit of classical voice as a teenager because I wanted to take singing lessons and the only credible voice teacher in the city just happened to be a classical one.  I studied with her for some time and made good progress, however, because I wasn't completely sold on classical music I got involved with a jazz quartet in my last year of high school.
Things progressed quickly for us as we were all in our late teens but could interpret the music at a much higher level. We made our first CD when I was just 18 years old (I turned 33 this past July), and I went on my first three-month tour at 19.  Over the next eight years we recorded four albums, spent an average of six months of the year on the road touring all over North America, and by the end of our affiliation, I had two business managers, one booking agent, a record label, and we had sold close to 30,000 copies of our albums. Needless to say, I still count myself beyond lucky.  (In case you're curious about my past musical life you can check out this link and this one.)
As any touring artist can attest, the road can easily wear on you.  I didn't have any solid vocal technique, and believe it or not I never learned to read music; I did everything by ear.
In 2005 I met the man who is now my husband, and he's a cellist with the Vancouver Symphony Orchestra.  At the time I was having a lot of pain when singing, and since he was in the classical music scene in Vancouver, I asked him if he knew any good singing teachers.  He introduced me to a wonderful mezzo-soprano named Sarah Fryer.  In my first lesson we did some vocal exercises then she took her hands off the piano, turned to me with bright eyes and said, "You've really been singing jazz?!  I don't get it…you're a soprano!"
I walked out of the lesson invigorated.  I also knew that I needed to let my current musical life go.  I was exhausted from all the years of touring and doubly terrified that if I didn't take time to learn how to sing properly I'd ruin my voice permanently.  I was also mesmerized by hearing Sarah sing Schubert lieder as she tried to help find some repertoire for me to begin with.  I had never heard anything like that in my life—it was breathtaking!
Resolved, I made the appropriate appointments with the appropriate people and I walked away from it all: the agents, managers, and the record label.  I still don't really know what happened to me in that first lesson, but I got this incredible fire in my heart to learn how to sing properly, learn how to read music, and really find out what I was made of vocally and artistically. And not just to follow the musical path that was laid out for me, or rely on what kind of singer or artist everyone told me I was.
I spent a year preparing to do an audition at the University of British Columbia for the opera performance program.  I had to start at the beginning to prepare for what a lot of my colleagues had known how to do since they were six years old, like how to read music for the theory entrance exam— all the F.A.C.E. and All Good Boys Deserve Fudge kind of stuff.  I had to learn what a triad was.  And those blasted intervals…oh my!  All this at 26 years old!
Naturally, I was denied entrance to UBC on my first try.  Not dismayed, I did my diploma in voice performance at a smaller institution, Kwantlen Polytechnic, to which I am forever grateful because it was a safe, non-intimidating place for me to hone my basic musicianship skills. When I started my classical music degree I thought that Verdi was short for Monteverdi! You can imagine my learning curve.Thankfully, I had encouraging professors all along the way who saw my determination and curiosity, and helped me find my own ways to fall madly in love with classical music. Also, the fact that my husband is a classical cellist helps too.  I had never been to see a live symphony until we met!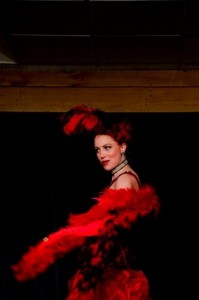 After two years at Kwantlen I was finally accepted into the UBC Opera Performance program to finish my B.Mus degree.  As of this past April, I am proud to have just finished my M.Mus at the University of Manitoba in Winnipeg, studying with sopranos Tracy Dahl and Monica Huisman—and on a full scholarship and stipend.  A very proud accomplishment since eight years ago I couldn't even read music.  Now I find that analyzing music (especially post-tonal music) is such a fun exercise of discovery for me.  Who would have known?
Now that you understand where I started on this classical music journey—and how late in life I started it—you can appreciate why I felt (and still do sometimes feel) like an outsider coming into an exclusive club.  I was welcomed with open arms, but the classical music business always felt different, for me, from how it felt to my school colleagues who had grown up in this musical tradition.
One of my observations is how we're often told that a classical music career can only come in the form of one kind of package: auditioning and winning, or competing and winning, and having that "big" agent notice you, sweep you off your feet and the next thing you know you're singing at the Met next to Jonas Kaufmann.  Not likely.
Here is this amazing classical music universe with infinite possibilities, and I can't help feel that most everyone is chasing an outdated model, a career of auditioning and hoping that someone will hire you. And most music schools continue to ignore the fact that this is what they're teaching us.  (I would like to insert a note to say that my professors at the University of Manitoba are the ones who helped me put together a model of my own "outside-the-box" dream career, and continue to support my ideas.  If you're a music student and are reading this, I beg you to find professors in your institution who will do the same with you.  It is essential to our growth as artists).
Like you, I hear and read about classical music attendance dwindling and I get a pit in my stomach.  Firstly, because it affects my and my husband's livelihood, and secondly because I've come to love this music so much that it deeply hurts my heart to know that it could be lost or deemed unnecessary.  I cannot fathom a day when classical music is irrelevant.  To me, it feels like putting all of my energy into the hopes of a career based on an outdated model would be a disservice to my  aspirations, and to the love I have for this music.  If I know that I want to fully be part of this classical music revolution, I'll have to design my own career and muster up the courage to think outside the box.
In part two: How Caroline did this.
Canadian soprano Caroline Márkos is a recent graduate of the M.Mus program at the University of Manitoba studying with sopranos Tracy Dahl and Monica Huisman.  Always having had an entrepreneurial spirit, and musically feeling most at home singing early music, new music, and jazz, she plans to build a career that suits her unique strengths and is based on collaboration and introducing new audiences to classical music. You can follow Caroline on Twitter.