Quickly, this week:
The Music Ride
"The Cincinnati Symphony and one hundred people on bikes celebrate their city with The Music Ride ~ a fanfare of kazoos and wheels through the historic neighborhood of Over-the-Rhine." The music (as they don't mention here, or on another site where this is talked about) was the Fanfare for the Common Man. With people on bikes adding a kazoo chorus to the backbone of brass and percussion.
Here's the other description: "We gave 100 people a kazoo and a music lesson. Then we all got on our bikes and rode ~ a fanfare and wheels through a historic neighborhood. One rider went to the symphony for the first time after the ride. Another said he had a new respect for musicians after trying the kazoo band."
And here's the video. Which, with all respect for the project and for the fun everyone must have had, seems too short to me, and also a little too blah. Compare it to this — Handel played by a pianist trucked with her piano through the streets of Amsterdam, while passers-by so joyfully love it.
The Burlington Ensemble
This is a longer story that'll take up another blog post, later on. But the Burlington Ensemble (from Burlington, VT) is unique, as far as I know, among classical music groups, because it operates on a profit-making basis. Which seems impossible. And, to some, even reprehensible, because wouldn't they have to sell out their art, in order to get a wide enough following to make a profit?
But look how they do it. They team up with community groups, often large ones, which provide some of the financing, in exchange for performances. And they raise money for charitable causes.
Here's part of a press release they sent out today, in which they announced some July and August concerts:
Burlington Ensemble does not solicit tax-deductible contributions. Instead, Summer Serenades concert ticket income provides the financial resources to pay Burlington Ensemble bills (90% towards programming and 10% admin). Your ticket purchase provides you with high quality entertainment while financing musicians to perform fundraising concerts that benefit many non-profit organizations year round (approximately $34,000 raised through concerts over three years!). Among many other rewards, we think our idea represents tremendous value, efficiency and sustainability in the arts and community, and we are grateful for your ticket purchases and investment!
More on this group later on. They seem to have invented a new financial model, one that really might work.
Mostly Mozart
Go to their website. Beethoven. Le Nozze di Figaro. The International Contemporary Ensemble. Wait, what? A new music group getting equal billing at this long-established New York festival, which used to be old music, wall to wall?
Yes. Times have changed. Even Mostly Mozart does new music. Giving it, at least on their website, equal billing with all the things they've always done.
Beatlesfest
Someone I know was in Budapest, and saw a Beatlefest advertised. She went, and found (if I remember correctly what she told me) all the city's big performing arts groups, each doing a Beatles tribute. And having great fun.
Just imagine that in New York. The Met Opera, the Philharmonic, Carnegie Hall, the New York City Ballet, BAM,  the Roundabout Theater, all getting together to have fun with the Beatles. I'd love to see that happen.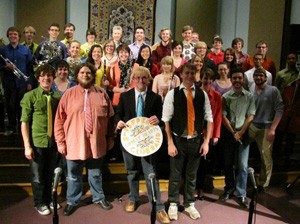 And then there's Baldwin-Wallace University, in Ohio. Where each year there's a Bach festival, and growing up as counterpoint to that, a student-run Beatles Festival. With performances by students (not all of them music students), faculty, staff, and people from the community. All having tremendous fun, as you can see if you watch a video of "Penny Lane," with the trumpet solo nailed by the trumpet teacher at Baldwin-Wallace's conservatory.
And something I love: the school endorses this:
"The growth and success of the Beatles Festival is a result of the entrepreneurial spirit and sheer determination of the Conservatory students involved with this project," said Susan Van Vorst, director of Baldwin Wallace's Conservatory of Music. "The BW Conservatory encourages students to push the boundaries of their talent and seek collaboration. When you combine gifted artists with an environment that fosters exploration and creativity, everybody wins."
Not every conservatory head would say that.