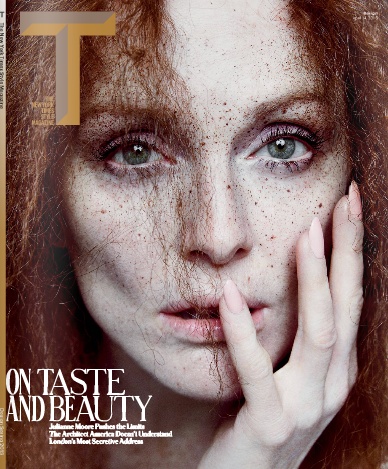 This stopped me dead in my tracks the Sunday before last, when I was browsing through the New York Times.
It's a photo of Julianne Moore, on the cover of T, the Times's fashion magazine. Arrestingly beautiful, I thought. And certainly not an old-fashioned, clear and simple kind of beauty. Hair everywhere. And all those dark spots. Spots of dirt, my wife and I first thought. But in fact they're some of the freckles that (as Moore says in the interview that goes with the photo) shower her body. 
Contemporary beauty. Layered, deep, not entirely reassuring, grainy, with an undercurrent of focused visual noise. Elements of edge and danger.
There were more photos: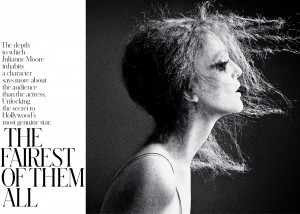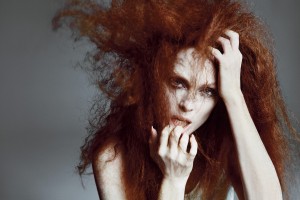 And see how these photos are offered as exemplars of beauty, without any caveats about upset, dirt, or anything even a little bit strange. Moore is the fairest of them all. And the theme of this issue of the magazine, we're told on the cover, is taste and beauty, with Moore's photo as exhibit A. 
So now we're in a world very far from what we usually see in classical music. In classical music, beauty in its older forms still reigns. When we say, as we so often do, in conversation, in marketing blurbs, in classical music advocacy, that a masterwork is beautiful, we mean that its beauty is radiant and pure. Untroubled. The beauty may be threatened. The people who have it may meet a tragic end. But the beauty itself is never questioned. It's simply…beautiful.
And we glory in that. But that's not what our culture does now. The threat to beauty, the complexity of its existence, of its unfolding in the midst of many things that aren't beauty (in the older sense) — all that has mingled now with beauty itself, so beauty now can be dangerous, unsettled, unclear, ambiguous.
As it is in lyrics I quoted years ago, in the blog, from Björk:
Emotional landscapes,
They puzzle me,
Then the riddle gets solved,
And you push me up to this
State of emergency,
How beautiful to be,
State of emergency,
Is where I want to be.
 (From "Jóga," on the Homogenic album.)
We need to understand this. I read so many eager hopes for classical music: strategic plans, ideas for advocacy, strategies for bringing classical music to a wider world, all based on the sweet but naive notion that classical music speaks for itself, that its power and (yes) beauty will sweep away nearly anyone who has a chance to hear it.
This might be called the "we love it so much" strategy. Because we love it, you will, too. Very sensibly, the people who — with all their hearts — buy into this understand that the presentation has to change, that we have to be less formal, more embedded in the world around us.
But what's almost never talked about are the people we want to reach. Who they are, how they think, what their culture is. T magazine drops us, with no warning (because in its world none is needed) right into the coldest water in the deepest part of the pool. This is what the people we want to reach are looking at. This is what's normal in their world. (Those photos weren't in some obscure art or fashion journal. They were in the New York Times.)
And for the most part we don't offer anything similar — anything contemporary, anything that fits the world the people we want to reach are in. Album covers for Naive's Vivaldi series are exceptions: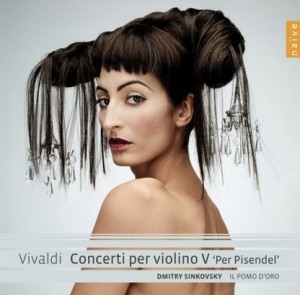 And also ads on the sides of New York buses, from the Met Opera. And there are others. (I'm talking about mainstream classical music. When get to the indie classical world, then contemporary images are far more common: Sally Whitwell's album covers, or the recent one from Lara Downes. (To cite just two of our guest bloggers here.)
Of course, we'll hear that classical music doesn't compete with fashion (T magazine) or movies (Julianne Moore). Or that it offers, like gentle rain on a junkyard, an antidote to horrid modern culture.
But in fact we compete with everything out there, because people who spend time with us choose to do that, when they could have spent time with something else. And the people we want to reach don't think — no surprise — that their culture is horrible. As in fact it isn't.
Besides, who in their right mind — in the world outside ours — would plan strategies to reach new people, without learning who these people were? When I was an editor at Entertainment Weekly, we surveyed our present and potential readers, learning everything about them, even what vegetables they liked. Not the same ones, it turned out, that readers of Rolling Stone preferred. Vegetable research sounds a little silly, and may, for all I know, have been overkill. 

But there it was. We tried to learn about the people we wanted to reach. If we in classical music don't do that — and we don't need high-priced research; just open eyes and common sense — our bright and optimistic strategies  may well be doomed.