Here's the start of Jon Pareles's review of Bob Dylan's terrific new album, from the New York Times:
Bob Dylan's voice isn't getting any prettier. At 71, on his 35th studio album, "Tempest" — and a full 50 years after he released his debut album in 1962 — Mr. Dylan sings in a wheezy rasp that proudly scrapes up against its own flaws. That voice can be almost avuncular, the wry cackle of a codger who still has an eye for the ladies. But it can also be calmly implacable or utterly bleak, and it's completely believable when Mr. Dylan sings, in "Narrow Way," "I'm armed to the hilt, and I'm struggling hard/You won't get out of here unscarred."
The songs on "Tempest" are written for that voice alone — one that can switch from memory to prophecy, from joke to threat, and from romance to carnage within a line or two.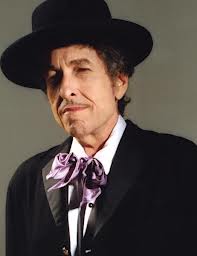 That sounds exactly right to me. And isn't it interesting? Compelling. Wouldn't many people — you? — want to hear someone who sounded like that?
This shows a problem classical music has. We don't — mostly don't know how to — make ourselves seem compelling. One reason for that seems obvious enough. In pop music, the presumption is that every artist is an individual. Unique. Writing her own music. Having something to say, and a particular tone to say it in. This can be exaggerated, especially in PR. Not everyone really has all that. (And in some genres — top 40 pop, R&B — singers might not write the songs they sing.) But the good people really are distinctive, and they're much loved for it.
In classical music, the presumption is that the point of a performance is to realize the composer's intentions. Immediately that mutes the individuality we'd expect — or even allow — from any musician. It's not about you! It's about the music you play. Even though, as anyone with any experience in our field knows, performances by artists respected for their fidelity to composers' scores can sound very different.
We don't encourage that, though, and the music students I've taught for almost two decades don't exactly fall over themselves telling me how much their teachers encourage any personal approach. Let along singing (or playing) in a wheezy rasp! Even when — go back to my post about the start of Rite of Spring — that might be both compelling and appropriate.
Hence the first of my four keys to the future: Understand and respect the culture outside classical music. This can mean many things, but maybe the most important thing it means is to understand how much more gripping the culture outside classical music can seem. Can seem to the very people we're trying to reach! Some of them — the ones who read newspapers, anyway — may have read the Pareles review. Or other writing like it. Some quickly resonate with what they read. And some don't — not everyone has the same taste. But then that's a very specific response, underlining what I said about the specificity of pop music, and the way it's talked about. People turned off by Jon's review can say, "I get what he's saying, and that's not music I'd like."
i'm not saying that writing like that about classical music doesn't exist. But it's rare. So one job we have is to create such writing. Especially if you're a performer, or a publicist, or work with an institution that wants a new audience. How do you make yourself sound as compelling as that Dylan album? And, yes, Dylan is a great artist. And a unique one. Most of us aren't. So it's unfair, maybe, to make this what we should compete with.
Still. Once we go out in the world to find a new audience, we find ourselves talking to people who read things like Jon's review. What do we say that might make them care about us?