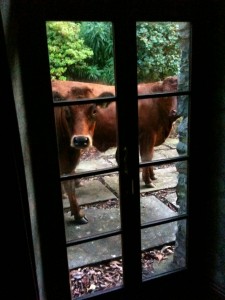 I'm on vacation, till September. Gone off to the gloriously lovely spot we go to nearly every summer, in Britain's Yorkshire Dales. Staying in a 17th century house that might be visited by cows, if they escape from a farmer's field. And then peer through the French doors of our dining room!
(Cows are easy to chase away. They're timid. Sheep — which also escape, and visit us — are much more stubborn.)
So I won't be blogging again till after Labor Day. I'll approve comments for a week, perhaps, and then look at them very lazily, if at all. Which — a word to the wise — will be mean that comments posted after this week may not show up until September. My apologies, but that's what vacation means.
And now I'll leave you with a story, a footnote to my posts (this one and this one)  in which I said classical music should be played more vividly.
Some years ago, I was working with a major orchestra, one of the largest in the US. In the end, the things I worked on didn't see the light of day (for reasons that were unavoidable), though I'm still warmly friendly with the two people who brought me in, both of whom are still working with orchestras, both on a very high level.
For one project, I talked to musicians in the orchestra about the Sacre du printemps. We wanted to write program note for that piece, in which musicians would tell the audiences their thoughts about playing it.
I started, reasonably enough, with the principal bassoon, and asked him what it was like to play the opening solo. It was easy, he said, because all bassoonists mastered it in music school.
But then he offered something I hadn't asked about at all. Completely on his own — I want to stress that; I wasn't fishing for controversial remarks — he said he thought the solo must have sounded strained and extreme when the piece was new, because nobody had written that high for the bassoon before.
Stravinsky, he said, must have wanted a rough, extreme sound, because the piece, after all, is about a pagan sacrifice. And he, the bassoonist, would love to make the solo sound rough and strained. But couldn't do it, he said, because the conductor and the audience would think he couldn't play well.
Later on, I talked to two clarinetists from the orchestra, and told them what their colleague had said. They felt the same way, they replied, about the section of of Ein Heldenleben in which clarinets imitate the whining, kvetitching  voices of critics. They thought their instruments should shriek and quack. But they, too, thought they couldn't do it, because what would the conductor and the audience think?
So there you have it — musicians from a major orchestra, who felt they couldn't play as vividly as they wanted to. (And who, let's note, evidently also felt they couldn't communicate their wishes to conductors, or to the audience. Which isn't their fault. Most orchestras are run, artistically, from the top down, and musicians haven't always told conductors what they think, or told the audience what their intentions were.)
I'd rather these musicians had told me something happier. And, in the future, I'd like to think that orchestras will change, and that musicians will do new and daring things. Even if those things are already either stated or implied in the composers' scores!
One last story, corroborating the bassoonist's instinct about his solo. When the Sacre du printemps was first played in concert — a season after its tumultuous premiere as a ballet score — Alfredo Casella was in the audience. He went on to be a leading neoclassicist composer, and, from 1927 to 1929  (how many people remember this?), principal conductor of the Boston Pops.
But when the Stravinsky piece was premiered in concert, he was a student in Paris. And, as he writes in his memoirs, there was no controversy about the first concert performance. Instead, there was great interest in it.
Except from one distinguished name. As Casella writes (I'm paraphrasing, since I don't have the book with me in the Yorkshire Dales), shortly before the performance started, a figure draped in furs entered the box where he and other students sat. It was Saint-Saëns, at that time a leading musical conservative.
The piece started, and the bassoon began to play its solo. "What instrument is that?" Saint-Saëns asked.
"Maestro, it's the bassoon," came the response.
"It most certainly is not," Saint-Saëns said. And then got up and left.
Apparently the bassoonist I talked to was right. The solo, at the very least, sounded nothing like a bassoon.
Have a lovely August, everyone, doing whatever you most care about, whether it's work or play. Or baking in the sun. (Not that I'll be doing much of that in England!)