[Continuing my thoughts about why we should play more vividly, if we want a new audience.]
Here's an exercise.
Look at the score of a Haydn or Mozart symphony. You'll see contrasts between piano and forte, between soft music and loud, occurring throughout, clearly marked by the composers. Who — very clearly — wanted parts of the music to be loud, and other parts to be soft. And, evidently, relished the contrast.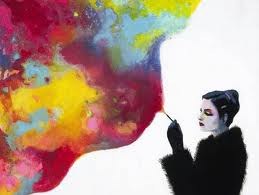 So now listen to performances, live or recorded, and ask yourself if you're hearing the contrasts the composers clearly liked so much. Often I don't. Maybe even most of the time, I don't. Often I can tell that contrasts are intended, that the musicians mean to make them. So the music meant to be loud might be played with a little more vigor, with a somewhat sharper attack.
But is it really louder? So unmistakably louder that anyone listening — even someone who never pays attention to classical music — would say, "Yes, that's the loud part"?
Very often not. And so the music — how expert everything else about the performance might be — is subtly (or not so subtly) emasculated. It doesn't sound lively. It doesn't sound vivid. Or certainly not as vivid as it should.
And remember why I'm making these points. Our current audience is disappearing. We need a new one. So now imagine a new audience, full of smart people who listen to lots of music (nonclassical), who read books, go to movies, and — even if they're new to classical music — can perfectly well hear much of what's going on.
What's their reaction going to be to the expert, well-bred performances I've been describing, where many things are elegantly done, but where loud and soft passages don't sound loud and soft?
Well, first, they won't hear what the composers intended. Second, they may get the idea (and who could blame them?) that the music doesn't have many contrasts. That it goes along, sounding nice, but from moment to moment in many ways the same. They may think it's more or less uneventful (or "calm," as nonprofessionals who love classical music so often describe it).
So, while they'll like what they hear, they won't get much energy from it. They'll come to a concert, think it sounds nice (which it certainly does), and then won't return. If you ask them, they may well say that they mean to come back (I've had this experience). But then they don't, very likely because nothing they hear makes them eager to.
And of course the same thing happens in music of other periods. And in other genres, in chamber music, choral music, art songs, you name it. (I once heard a live performance of the Schoenberg Suite, Op. 29, conducted by Pierre Boulez, so uniform in loudness that you'd have thought Schoenberg marked no dynamics in his score, which isn't remotely the case.)
So now I'd suggest another exercise, something that will sound elementary, maybe even insulting. But try it! If you perform classical music — whether you're a violinist or a mezzo-soprano or the Cleveland Orchestra — find some smart people well-schooled in nonclassical music, and ask them to listen to you play, or sing. Ask them (silly as this might sound) to raise their hands when the music gets loud.
If they don't do it — right away, all of them, immediately, with crisp precision — every time the score is marked forte, then you're not playing as vividly as you should. Many things about classical music are subtle. If you were playing a piece in sonata form, and — with this same nonclassical audience — asked for a show of hands at the point when the recapitulation diverges from the exposition, I'm sure no hands will go up.
And that's nobody's fault. This audience hasn't learned sonata form yet.
But loud and soft? That's basic. Fundamental. Easily heard, or it ought to be. A matter of the body — of the ears and the gut — not the mind. So if people who know how to listen, how to pay attention to music they hear, can't tell, with razor precision, when you mean to be singing or playing loudly, then it's your fault.
The existing classical audience? They don't seem to mind, if they don't clearly hear piano and forte. I'm sure that's because they love classical music so much — because they love the whole experience, the beauty, the elegance, the  silence of the concert hall, the formality, everything.  They don't ask for more.Some, of course, have a deep and loving knowledge of the music they hear, its history, forms, meaning. But still they largely take what they're given, preferring one performance over another, often enough, sometimes vociferously, but still not asking for major change in how classical music is played.
Which is fine. These are, as I've known them, lovely people, caring people, people who shouldn't be lectured to, or told that what they want, what they love, is somehow deficient.
But the new audience! That's another story. They haven't built up any love for the classical concert hall, or the opera house, or the intimate theater where they'll hear chamber music. Or for the performers they'll hear, or for any style of playing that's commonly met with. They don't hate classical music, they're curious about it, many of them (most of them?) like it, from hearing recordings. But if they're going to come to performances, they want something that makes an impact.
So, a couple of thoughts. If you're a performer, if you're a soloist, or if you play or sing in an ensemble (of any size) — and you're playing for a new audience — ask yourself: Are the contrasts in the music I play clear enough? Can anyone hear them? Contrasts of volume, of tempo, of sound, of emotional tone (that last is especially crucial in Beethoven).
And what about climaxes? Are they unmistakable? If you're playing the Eroica Symphony, and you come to that moment in the first movement development section, where the chords are sharply dissonant, can anyone in your audience hear that's a climax? Does it feel like one, again not in theory, but, unmistakably, as you're playing it?
And now a word about pandering. Some people, I'm sure, will say that I'm simplifying classical music, asking for less subtlety in how it's played, and instaed wanting performances to stress things that are obvious. I'd say that's not true at all, that you can be as subtle as you like, but that contrasts of loud and soft still should be heard. They're meant to be obvious. Climaxes likewise, though I'll grant that there are styles of playing, highly favored by some connoisseurs, that mute contrasts, focusing instead on an overall flow, and structural detail.
But I think something's wrong if that becomes the dominant playing style. To return to things I said in my last post, we may once again be asking classical music to be restrained and well-bred, as if strong contrasts were vulgar.
And Brahms — as serious, as classical a composer as ever lived — had what today would seem like a surprising view of all this. I'll quote from an thought-provoking book by Robert Philip, Performing Music in the Age of Recording:
Joachim was to conduct an early performance of Brahms's Fourth Symphony in Berlin in 1886, and he had written to the composer asking for more guidance about tempi. Brahms then sent Joachim a marked-up score of the symphony with a letter: 'I have marked a few tempo modifications in the score with pencil. They may be useful, even necessary, for the first performance. Such exaggerations are only necessary where a composition is unfamiliar to an orchestra or a soloist. In such a case I often cannot do enough pushing or slowing down to produce even approximately the passionate or serene effect I want. Once a work has become part of flesh and blood, then in my opinion nothing of that sort is justifiable anymore.'" The view of Brahms, Boult and Billow, that audiences and performers need more underlining of changes of mood in a new  work than they do in later performances, is an idea that would be unlikely to occur to a modern musician.
So Brahms wanted contrasts enhanced, when musicians don't know a piece! And, of course, when an audience doesn't know it.
But Philips says more:
Quite apart from the performance of new works, there is a more general point to be made about the approach to performing in concert. In the days when music was not accessible on CD and audiences had fewer opportunities to hear a work, the most important task for the musician was to put the music over, and to make clear what was happening in the piece. Each performance was unique. Once it had started, it continued inexorably through to the end, with or without mistakes, bad tuning, moments of confusion. It was an attempt to put over a narrative in a way which would make sense to the audience at a single hearing. It was not primarily an exercise in giving a perfect rendering of the score. Many of the old-fashioned habits, which have now died out, can be seen in the light of this need to put over the narrative thrust of the music to an audience. This applies particularly to the old-fashioned ways of creating points of emphasis: portamento, tempo rubato, changes of the tempo itself. Good modern musicians have their ways of rendering the narrative clear too, but by comparison their playing tends to be more even in pace, and less highly characterised in detail…. There are no doubt many reasons for this development, but one of them must be that there is less sense that audiences have only one opportunity to understand what is going on. Today, most music is available on CD, and a member of the audience can always acquire it after the concert. At a concert a hundred years ago, it was 'now or never', and this was reflected in the manner of performance.
Yes, as Philips says, those times aren't ours. But if we want to build a new classical audience, the past (at least in this way) has returned! People who don't know the music, who haven't listened to it on a recording, who are as new to the Brahms Fourth Symphony as Joachim's audience was in 1886 — they're the ones we'll be playing for. If we don't make the music we play clear to them, the first time they hear it, they may never come back.
I'd hoped to link to some music, to performances that demonstrate what I'm talking about. But my work time is winding down. Thursday I go on vacation, and for the last few days, I've been in the midst of a large, ongoing family gathering. A happy one. but it hasn't left me much time to blog.
So let me give just one musical link. It's to a performance of the overture to the Marriage of Figaro, recorded live in 1940 from a Metropolitan Opera radio broadcast. The conductor is Ettore Panizza, who's not remembered as a great name. Irving Kolodin, in his detailed history of the Met (one of my favorite books on classical music, because Kolodin goes year by year, telling us what things were like in detail — repertoire, casting, performance quality, finances) calls Panizza routine.
But this performance is anything but. It's exciting, sharp, happy. And, above all, theatrical. These musicians, you'd swear, aren't just sitting in the pit. They've jumped onto the stage, where they're setting the scene — exuberantly — for the comic opera that follows.I've heard this opera many times live, and many times more on recording. But I've never, not once, heard the overture played like this.
The soft parts, I think, could be softer. (At least on the close-miced recording. I can imagine they sounded softer out in the house.) But the loud parts ring out joyfully. In the test I proposed, every hand would shoot up. And just when you think you've heard everything the musicians can do — and loved every bit of it — the final crescendo, in the overture's coda, is the loudest, most joyful explosion of all. The scales shooting downward right after that have to be heard to be believed. They're not notes on a page. They're a pure surge of adrenaline, just what we need to bring the overture to a close. 
This is what I mean by a vivid performance.