An oddball item here, maybe more interesting to musicians than others. Or maybe not! Your call.
First a conundrum. Or at least a conundrum for me. Twenty-five bars from the end of the third movement, in a passage marked Presto, Mahler writes what follows for the three bassoons (in unison) and the tuba (joined, with a slightly different configuration of notes, by the contrabassoon and the bass clarinet). It's in the bass clef, of course: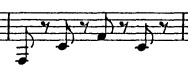 And then two bars later comes this, for the same instruments:

So — bassoonists, tuba players, clarinetists, conductors, and anyone else who might have dealt with this in performance…what's the difference, at a very fast tempo, between eighth notes and staccato quarter notes? Which is shorter? My instinct might be to play the staccato eighth notes longer than the eighths, but my instinct might not be very well informed. But what decision do people playing the piece make?
Of course, that might vary from performance to performance. This is one of the places I understand very well from a composer's point of view. It's where musical notation becomes a kind of poetry. You have something in mind, something not quite describable, something that lies beyond what notation can directly indicate. So you find a way of writing that suggests what you want — or, anyway, suggests it to you. What the people playing your music make of it is of course another question. Your poetic notation might not be clear to them at all.
I think that's the case here. A staccato dot, of course, tells us that a note should be shortened. But by how much? That's an impressionistic thing, guided by knowledge of a composer's style, and by pure feel. And normally it's easy to handle that. But when you have two kinds of short notes in quick succession — eighth notes, whose length is precisely defined, and staccato quarters, whose length is a subjective thing — what do you do?
I'd love to be enlightened. Mahler's throwing a curveball here.
Many thanks to the IMSLP – Petrucci Music Library, an invaluable (beyond invaluable) library of online, downloadable scores and parts. Took me just seconds to download the bassoon part in the symphony, and then take screenshots of the measures I wanted to quote. Petrucci's scope is just about unbelievable. Any musician who wants access to classical scores needs to know this site!