One night–ONE NIGHT–I spend meeting my lawyer friend's visiting Argentinian quasi-boyfriend at Please Don't Tell and not at a classical music concert, and look what cocktail I had to go and order: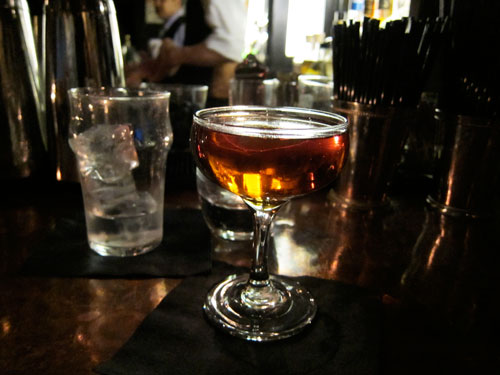 It was delicious. I had two.
(No, I sit on a throne of lies: I had three.)
I did some light internet stalking of this "classical musician and mixologist" Lydia Reissmueller, and here's what I found:
Lydia Reissmueller
was born in Orange, California USA
a great and famous lady mixologist
she likes to put natures gifts into her work life!
working with herbs, spices, and a lot of fresh botanicals
she also loves to plant and growing her own garnishes!
greating bitters, and a vermouth that everybody want to taste!
lydia travels around the world to give the people a diferent angle of
making cocktails! !
And also this: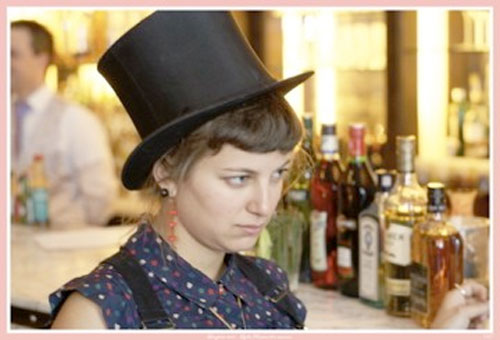 Lydia has won her fair share of competitions, so we won't fault her for hosting the Shake it! Virgin Cocktail Competition. Her most well-known drink appears to be the "Sweetie Pie", which consists of aged rum, allspice liqueur, apple juice, and a pinch of sea salt. She's engaged to Joshua McFadden, an up-and-coming chef who loves lovage.
-noun

a

European

plant,

Levisticum

officinale,

of

the

parsley

family,

having

coarsely

toothed

compound

leaves,

cultivated

in

gardens.

---

Origin:

1350-1400;

ME

loveache

<

AF

luvesche

(by

assoc.

with

ache

celery

<

L

apium

) <

OE

lufestice

(by

syncope)

<

ML

levistica,

for

LL

levisticum,

alter.

of

L

ligusticum

lovage,

n.

use

of

neut.

of

Ligusticus

Ligurian



Let it never be said that we don't all learn something new every day here on
Life's a Pitch.
Sadly, I could not find anything about Lydia's classical music background, but I think we need her help! She could be our Official Industry Mixologist! My personal contributions to the classical music cocktail canon are the Castratini, for the release of Cecilia Bartoli's Sacrificium album last year, and The Well-Hammered Clavier, for a Bach CD release party my colleague Christina Jensen was throwing. Erm, yeah: we need Lydia.