Apologies for being M.I.A. (and not of the truffle fries variety). I've had
Hilary
,
Nico
and
more Nico
, and
Eric
on the brain.
That said, I have had time to watch Mad Men. It's…about advertising, so it's…work-related…right? I won't give anything away, but if you too have been watching this season, you saw the episode where the cousin of Roger Sterling's (annoying and skinny) wife is applying for a job. This lad's portfolio includes other people's ads that he admires (Don Draper = not amused by this), and a series of slogans that all say "[Brand Name]: The Cure For the Common [Product]."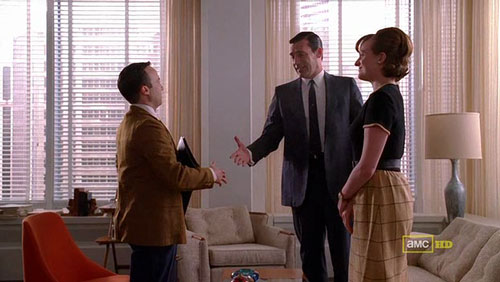 A few months ago, Gayle Stamler from The Clarice Smith Center in Maryland sent me an e mail asking if I knew of any branding slogans from the arts field. The only one that came to her mind immediately was Wolf Trap's "Where the Arts Come Out to Play", and the only ones that popped into mine were the Met (Opera)'s "Let Yourself Go" from two seasons ago, and the Met (Museum)'s "It's Time We Met". Gayle, I'm sorry I didn't get to this post in time to help you brainstorm for your current season. I hope you came up with a good one!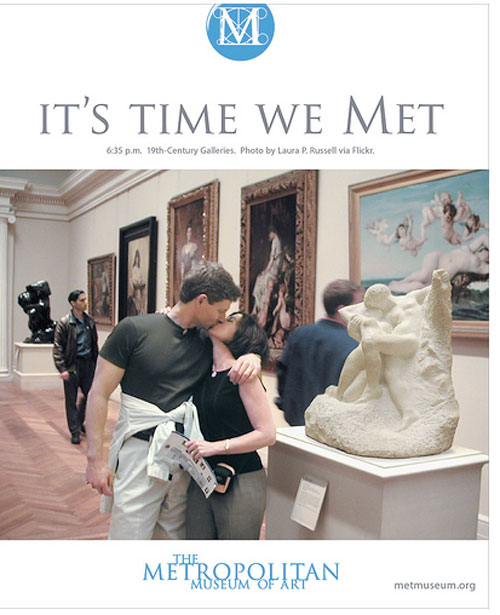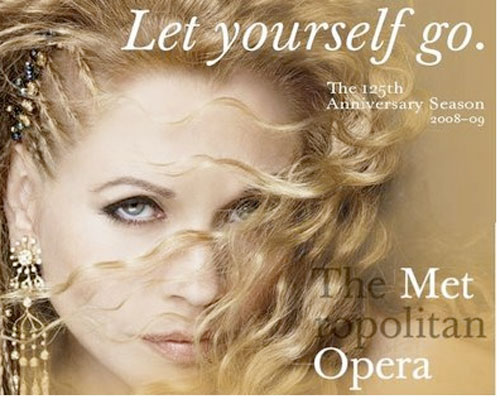 We faced the same challenge as The Clarice Smith Center at a Spring for Music meeting a couple weeks ago. Here's the description of the festival from the website:
Spring for Music will be a concentrated
festival of concerts by North American symphony and chamber orchestras
presented annually at Carnegie Hall to broad music-loving audiences at
affordable prices, sold through a unique marketing structure and with
an artistic profile built around innovative and creative programs. The
festival is designed to allow participating orchestras to showcase
their artistic philosophies through distinctive and adventurous
programming in one of the world's most competitive musical
environments. In pre-concert talks, each participating orchestra will
describe how that night's program relates to its artistic philosophy.
The festival becomes a musical laboratory with lively and attentive
audiences that can foster greater innovation in each orchestra's home
market.
We were looking for "Spring for Music: something something something, Carnegie Hall 2011, $25 tickets". I (only 15% jokingly) suggested "Size Doesn't Matter," but we decided that was too insider baseball; only people in "the biz" know American orchestras are ranked by size and that orchestras of a certain size don't usually perform at Carnegie Hall. The marketing expert on the project said also said that he can't sell tickets with a slogan that doesn't actually mean anything. The tagline would have to be meaningful and include a command of some kind. Anything too descriptive, though, probably wouldn't be attention-grabbing. This is why "Let Yourself Go" is so fantastic: its gentle double entendre is commanding but not pressuring, not unlike the more famous and obviously successful "Just Do It" by Nike.
Neither "Just Do It" nor "Let Yourself Go" actually describes a product. Rather, they describe an action that you should be taking, and because the words "Nike" and "The Metropolitan Opera" are right there on the ad, you associate the peer pressure-laden command with that which follows. Sure, I could "let myself go" into Barneys, but no, if I'm spoiling myself, changing my routine, or both, I'm going to let myself go to the Metropolitan Opera, because that's what I'm thinking about. The Nike slogan and swoosh logo are now so well known that some of their ads don't even say "Nike" at all.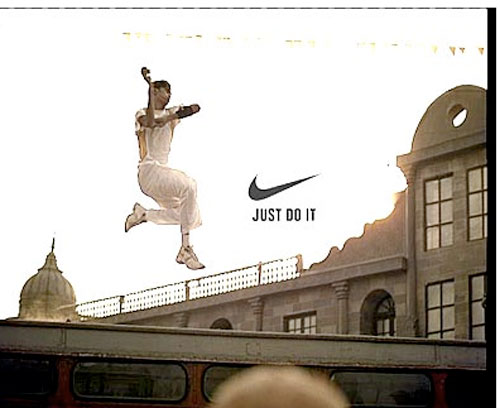 Brevity also seems to be the name of the game with slogans; both "Just Do It" and "Let Yourself Go" are three words (as is "Size Doesn't Matter", for those of you playing at home).
The Chamber Music Society of Lincoln Center has taken out ads in the subways of New York, and there's nothing that hurts my soul more than arts organizations spending a lot of money on bad marketing. Their slogan, at least for the season, appears to be, "Chamber Music. It's not what you think. It's what you feel."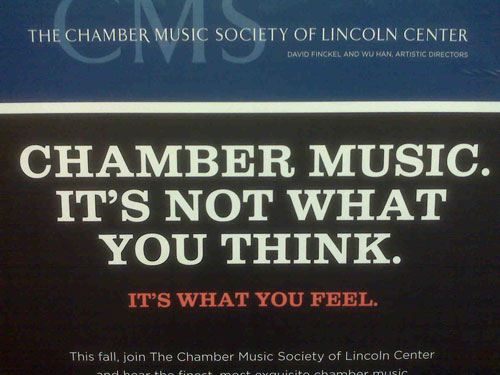 First of all, the punctuation choices are unfortunate, I think, but more importantly, what does this tagline mean? Why does that make me what to go to see a Chamber Music Society concert? Was the concern that chamber music is too intellectual, but it's really more visceral?
"Chamber Music: It's not what you think." would actually be an excellent tagline, that is, if the photo below it wasn't…exactly what anyone would think: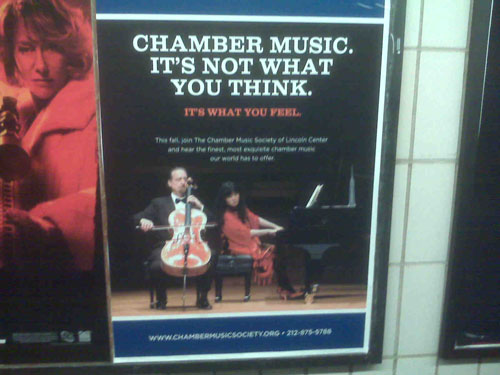 Maybe if there was a photo of Stefon Harris or So Percussion, but this is basically what one thinks of when one hears "chamber music." A good slogan on its own, then, isn't necessarily powerful: the messaging and aesthetic of an entire campaign has to support the words on the page.
Does anyone have a good venue, series or season slogan they'd like to share with the whole class? Have their been interesting debates at your organization about it? In the meantime, I leave you with this: